OpenEmu rethinks emulator gaming for OS X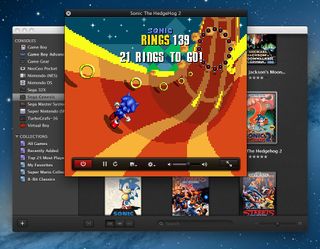 Old school gaming fans on the Mac have a new tool to add to their arsenal thanks to the efforts of OpenEmu's developers. It emulates several older game systems and handhelds, according to Cult of Mac.
The software supports game controllers and provides a unified interface to keep track of the ROM files you've downloaded. While we certainly don't condone game piracy, you can make a case for playing ROM files for games you've purchased legally and still own, and for an old-school gamer like me, that means playing classics like Super Mario Bros. and Sonic the Hedgehog.
Game ROM files are displayed with their original box art, much like album art in iTunes. And the best part of OpenEmu is the depth and breadth of emulation it can manage: vintage 8-bit and 16-bit Nintendo and Sega home consoles and handheld gaming systems are well-represented, along with TurboGrafx-16 and NeoGeo Pocket.
OpenEmu operates using several different open-source emulation cores, and keep tracks of game ROMs for each system in an independent list that appears on a sidebar. You drag and drop ROM files into OpenEmu to add and run them.
If you're not sure where to download ROM files from, OpenEmu offers a starter pack of homebrew games you can download to get started.
Source: Cult of Mac
Get the best of iMore in in your inbox, every day!
This emulator looks and works pretty well in my opinion.

I have to try this! Looks pretty good and I'd love to play some classic Mario again :) Sent from the iMore App

This is legit! I have been playing Mike Tyson's Punchout with my PS3 controller all day on my iMac. Don't get much better..... Sent from the iMore App

First time I've heard an emulator running on a Mac. Interesting...

I've been using emulators on the Mac for a very long time - like, since the PowerPC days - but this is one of the better packages I've seen. OpenEmu makes it fantastically easy to play ROMs without miring you in weirdness. I hope they add support for more cores, too, but these are a great place to start. So many classic 8-bit and 16-bit games to resurrect! I've got dozens mouldering in the basement because I don't have the consoles hooked up anymore.

Thanks for the review! Sent from the iMore App

Or you could of downloaded the beta testing version that had all 29 systems cores on it.
http://kickass.to/openemu-with-all-cores-1-0-0b10-intel-t7811124.html
set that up, then download the official version and replace the old one. all cores and stuff are stored in application support. so you will retain all 29 systems, just with the new application bug fixes.
your welcome!

As an emulation fan, I love this.
It works great, supports many of the 8 and 16-bit consoles I used to own; Gameboy, MegaDrive/CD/32X(yes I had that too) and is superbly presented with the option to add or download the original box art, for added nostalgia.
I love how easy it is to alter the controls to your liking and the nice attention to detail with the icons and other graphics.
This app is so good.
I wish there was an iOS version.
Thank you for signing up to iMore. You will receive a verification email shortly.
There was a problem. Please refresh the page and try again.