Paw Patrol: On a Roll: Everything you need to know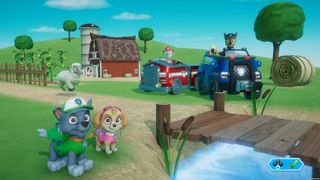 A fun family game is rolling onto your Nintendo Switch soon. It's Paw Patrol: On a Roll. You might be familiar with this franchise if you have children because I know my niece and nephew are downright obsessed with it. Here's what's headed your way.
What is Paw Patrol: On a Roll?
"Paw Patrol! Paw Patrol! Be there on the double!" If you have kids, that song is likely stuck in your head a lot of the time. Paw Patrol is one of the biggest kids' shows on TV today. Produced in Canada, it's an award-winning show about a group of puppers who serve as search and rescue dogs. Led by a young boy named Ryder, The Paw Patrol go around the neighborhood of Adventure Bay helping folks whenever needed.
Paw Patrol: On a Roll will look to bring kids an interactive day in Adventure Bay with their favorite characters. The game is described as a puzzle adventurer and should offer simple gameplay that children (and maybe even adults) of all ages can have fun with.
The game is being developed by Outright Games, the studio responsible for games based on Hotel Transylvania, Adventure Time, and even one set in the Crayola universe. Nickelodeon is the official licensor.
Play with all your favorite pups
Paw Patrol: On a Roll will feature all eight of the pups everyone has come to know and love. Ryder will be featured in the game as well, though it's not yet clear if he will be a playable character. The game will also feature Jake and Farmer Yumi. Here's the list of pups in case you need a refresher:
Marshall (Dalmation, Fire Rescue Dog)
Rubble (English Bulldog, Construction Dog)
Chase (German Shepherd, Police Dog)
Everest (Siberian Husky, Snow Rescue Dog)
Tracker (Chihuahua, Jungle Rescue Dog)
Rocky (Unknown Breed, Recycling Dog)
Zuma (Labrador Retriever, Aquatic Rescue Dog)
Skye (Cockapoo, Aviator Dog)
Each pup has special abilities that they'll use to help people in each of their missions and rescues. They'll also have access to all their special vehicles, such as the fire truck for Marshall, the police car for Chase, and even a helicopter for Skye.
The dogs usually make use of their own unique sets of tools in the show, too. These will likely tie into the abilities they have access to over the course of the game.
Go on over a dozen adventures
We're told there will be 16 adventures for you to go on. There are two adventures per location, which means there will be eight different places to explore in this game.
Revisit locations like Farmer Yumi's Farm, Jake's Mountain, the depths of the ocean, a desert canyon, and more. You'll be solving puzzles, collecting treats, and rescuing and helping townspeople along the way.
When can you play it?
Paw Patrol: On a Roll launches October 23rd. You can play it on Nintendo Switch, Xbox One, PlayStation 4, and PC. There are no pre-order bonuses to be had, but it's probably worth securing your copy early anyway just to ensure you'll have it on time.
Get more iMore in your inbox!
Our news, reviews, opinions, and easy to follow guides can turn any iPhone owner into an Apple aficionado