Pencil by 53 is the perfect stylus accessory for artists and doodlers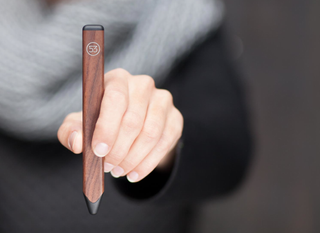 Pencil is a new stylus by 53, who is also responsible for the wildly popular iPad sketching app, Paper. Don't be fooled though, as Pencil isn't your ordinary stylus. Made from harvested wood, not only is Pencil sturdy, its design is unlike any stylus you've ever seen.
The body of Pencil is made from harvested wood and is available in both graphite and maple. The other end of Pencil features an eraser tip.
Since Pencil is made to work with the Paper app, some features such as palm rejection, erase, and blend will only work inside it. You can, of course, use Pencil with other apps as a normal stylus.
Pencil is currently available for an introductory price of $49.95 and ships to US and Canada in about 2-3 weeks. You can hit the 53 website via the link below to order Pencil and to find out if all the features are compatible with your device.
$49.95 (Introductory price) - Buy Now
Get the best of iMore in in your inbox, every day!
iMore senior editor from 2011 to 2015.
Looks cool. Expensive though. :(

This thing looks really cool. It is extremely expensive for a stylus though. Sent from the iMore App

This is right up my ally... Except for the price. Don't get me wrong, I'm sure 53 has done their homework and provided a comparable product at a reasonable price; I'm also sure that if I purchased this wonderful stylus I wouldn't lose any sleep over the cost... At the same time, this is an introductory price? I've been burned by $50 styli before - It's too bad there's not a retail store I could demo this at. I do so love the look and flat styling.

It looks nice, but I would much rather have a thinner tip. I like to see what I'm drawing on my iPad Sent from the iMore App

iPads can only recognize a certain size tip. The input has to have a diameter of ~5mm to be accepted as a fingertip rather than a mistaken touch. Adonit, the makers of the Jot series styli, have a stylus with a smaller tip that runs a current through it that the iPads screen thinks is 5mm, but it's not as accurate as the iPad has a harder time determining the boundaries of the input.

This looks great but IMO it's expensive. But to an artist/illustrator it could've worthwhile. This could be a great product for my mom who was an illustrator years ago, now she just doodles here and there for fun... This can also bring her into the tech world because she is still in paper and pencil times. Sent from the iMore App

It looks awesome, but I'm not sure how you do fine work with a tip so bulky. Is there a way to swap tips? Otherwise, I love the natural wood, and the eraser feature is killer. Sent from the iMore App

I'm with you about the thickness of the pencil and it's tip. I also wish they could've added a sharpener accessory (it can work as a keychain where you can attach the pencil when not in use). Sent from the iMore App

How the hell would you sharpen a rubber stylus nib? The point is it look and feels like a carpenters pencil, which has a rectangular tip. iPads have a minimum diameter (I think it's 5mm) for input devices so they are recognized as fingertips.

I love their app and I use it a lot. But my bamboo stylus duo does a great job already. I don't think my iPad parts with out it. Sent from the iMore App

Looks cool enough, but the question is how comfortable it is to use for long periods of time. Carpenter pencils bug me due to the irregular shape. Sent from the iMore App

I love the paper app. This pen is amazing, I'm gonna get this Sent from the iMore App

Most stylus don't have much appeal to me but this one is very nice. I could see myself using it. Sent from the iMore App

I never liked the fat pencil when I was young, not sure I would use now. But, it wasn't designed for me. Nice look! Sent from the iMore App

Love the idea. A little on the expensive side. 29.99 would probably better priced. But of course I would end up buying one. Sent from the iMore App

I think I'll spend a little more and get the pressure sensitive stylus from Wacom. Sent from the iMore App

I ordered the wood version for my new iPad. Love the app, this looks like a great supplement. Hope it also works outside their app. For a company named FiftyThree, they priced it off by $7. Sent from the iMore App

Lol... Great on the price thing. When you get it, Please lê tua know your opinion! Sent from the iMore App

Hi guys, i would love, really really love if you could get One of This to give away.. I think a lot of us would do anything to get our hands on One of This !! It seems Awsome !!! Hope to see a full review about it soon! Sent from the iMore App

At that price this is aimed squarely at serious doodlers and professionals. I was thinking it would be cool to mess around with until I got down to the price. I'll stick with my current free stylus aka my finger. Sent from the iMore App

This is at the top of my Christmas list this year! I have published a picture book in iBooks that I drew for my niece and all the illustrations were done with Paper. I used a cheap stylus and it did the job, but connecting with Bluetooth for more precision is exciting. I can't wait to try this out. Does anyone know where it is available other than online? Sent from the iMore App

Wow. Their support forums kept giving inquiries about jot touch 4 support the cold shoulder. Now we all know why. One stylus to rule them all and if you want to use another brand pic a different app I guess.
Thank you for signing up to iMore. You will receive a verification email shortly.
There was a problem. Please refresh the page and try again.