PEOPLE Magazine for iPad available, free for print subscribers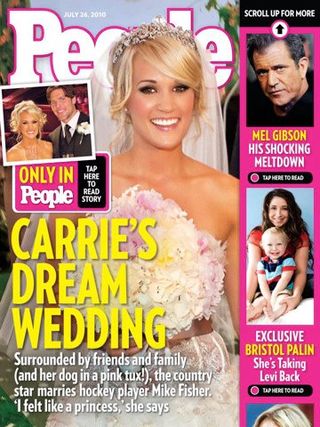 PEOPLE magazine is now available for iPad. The application is free to download, but each issue is a $3.99 in-app purchase. However, if you are a subscriber to the print version of PEOPLE, you get the iPad version for free! Unfortunately, there is not a subscription model in place with the app. So subscribing to strictly the iPad version is not an option.
In addition to the content of the print version of PEOPLE, the iPad version offers even more:
Double the number of Star Tracks pics, plus bonus, iPad-only, photo galleries throughout the issue
Special celebrity videos
Movie trailers, TV previews, song samples and other entertainment extras
Instant breaking news updates on our top stories throughout the entire week
It's great to see big media making a step in the right direction concerning digital distribution. I initially found it odd that PEOPLE magazine did not implement an in-app subscription model, but this decision was likely made because Apple gets a 30% cut from subscriptions. If I'm interested in a digital subscription to PEOPLE magazine, I can subscribe to the print version and get the iPad one for no extra charge. Meanwhile, PEOPLE is getting 100% of my sign-up fee instead of only 70%.
Is this a smart choice, though? PEOPLE would cut the cost of making and shipping prints if they had an iPad-only subscription available to customers. But would these savings balance out the 30% cut to Apple? Also, it's much less convenient for me to sign up for the print version than just a quick tap for the iPad version. I likely may never actually sign up for the magazine even if I intended to. So PEOPLE magazine just lost me as a customer. How many potential customers are being lost by not having an iPad subscription available? These are all things that PEOPLE magazine and Time Inc need to take into serious consideration.
One exciting thing about PEOPLE magazine's iPad release is that it's a good sign that other Time Inc magazines will be hitting the app store soon. It is expected to see the rest of their apps in the next 30 days.
Any PEOPLE subscribers taking advantage of their free digital copy? I purchased the most recent issue and find the app to be very well made. Does availability on the iPad entice anyone to purchase a print subscription? Are you subscriber to a different Time Inc magazine and eagerly waiting the release of an iPad app? Lastly, what are your thoughts on their current business model? Are they making a good choice, or do they need to provided an in-app subscription to customers?
Sound off in the comments below!
[All Things Digital, PEOPLE Magazine (opens in new tab) - iTunes link]
Get the best of iMore in your inbox, every day!
Former app and photography editor at iMore, Leanna has since moved on to other endeavors. Mother, wife, mathamagician, even though she no longer writes for iMore you can still follow her on Twitter @llofte.
I do not subscribe to People Magazine but I did in fact purchase the first edition to hit the iPad and I enjoyed the digital layout very much. I would consider a subscription but I do not want a printed edition to be mailed to my house. I believe Apple is not entitled to a cut of the subscription price period. I think the digital price should be the same price or less than the print edition.

I saw this on a different blog, glad you caught it too and did a nice write-up. This is a huge step in the right direction, I'd say 95% of the way there. All that TIME needs to do is let you subscribe online just to their eMagazine, just like their regular edition. So right next to the print option, choose a subscription w/out delivery-just online and iPad. WSJ does this, but they don't include the iPad edition. Of course, buying your iPad subscription at time.com would mightly annoy and invoke the wrath of el Jobso but this can be solved by making it a subscription to all online services-iPad and online.
Another important point in this is that of subscriber and student discounts. Using the web to sign up for magazine subscriptions allows me to receive a small additional discount for being a college student. More importantly, it allows all of us to receive deep discounts for signing up for a year(kinda like buying an iPhone!). For example, I formerly subscripted to TIME magazine. They recently sent me an ad advertising the magazine and giving me a "special" price of $20 for a year plus a bonus six months free, so effectively a year and a half for $20! If only I could get the Economist at that rate! Given that discount, I'd gladly pay the print rate and just tell them to save a tree and not send me the print copy. Anyone try that yet? Sorry, I'm not interested in any subscription to People, no matter how good the app is. I will be trying it when they get a some of their other offerings up in app form. Thanks for the post Ms. Lofte.

I believe they are doing this to preserve or even bump up their print circulation numbers; there is much more advertising in the print version that could be on the iPad. This way they can sell ad space on iPad plus keep print rates at current or more level. Good idea on their part.

Could just be me, but I've never seen an app crash so many times! Does look good when it runs though. ;-)

@Bruce - Really?! It hasn't crashed once for me!

Why can't we have an 'in-app' subscription purchase?
Is Apple not allowing it, or the magazine publishers are loath to give a 30% cut to Apple? Perhaps there is an additional issue of Apple controlling the subscriber data (location, credit card number, etc.) that the publishers desperately want to target ads according to region.

Apple will NOT allow a Digital-Only Subscription yet.... YET!!!! We are waiting!

Too expensive for issue!!

I just purchased the iPad for reasons of getting digital books, magazines and newspapers and personally I would not want to subscribe to a print version so I am purchasing issues on the iPad due to the clarity of the magazine. I sm not someone who buys printed versions but it just seems easier on the iPad to grab a copy if you're planning go travel and want a magazine handy to read. I love it and hope morer magazines choose the electronic version.

I have a 64 GB iPad (Wi-Fi), and I personally do not subscribe to People Magazine, but I have linked to a friend's subscription, and I really enjoy this app! It's a very creative way to display a magazine :) You can download the latest editions via wi-fi and view the new stories. Overall I give it a 8/10!

So glad to see an ipad app for it but taking a l-o-n-g time to download even though I'm downloading using my home wi-fi, not 3G. Hope they come up with a way to fix that at some point. As far as having to buy a print subscription - I'm thinking I can buy the print subscription for my mother-in-law for the holiday and use the digital version for my ipad.

I subscribe to People Magazine and I get the iPad version. I love both! Since I'm at school, I can read my magazines two hours away from home but then when I'm home I can read the print. I LOVE it.

I truly wanted to post a simple message to be able to express gratitude to you for all of the fantastic advice you are showing on this website. My time-consuming internet lookup has at the end of the day been paid with good quality insight to exchange with my co-workers. I would repeat that most of us website visitors are really lucky to be in a superb network with very many perfect people with interesting strategies. I feel rather happy to have used your entire weblog and look forward to so many more brilliant minutes reading here. Thanks a lot again for everything.

I've been trying to sign in to People Magazine on my iPad for weeks. I keep gettine "error 4010 try again" - is there a way I can get around this?

Would appreciate if someone would share how to delete old issues. I tried the Edit button - the black X came up in the left corner, but clicking on it does not delete the issue.

i have the same problem as Cheryl. How do I delete old issues of People? I touch the x but nothing happens.