PhotoSweeper for Mac review: Rid yourself of duplicate pictures effortlessly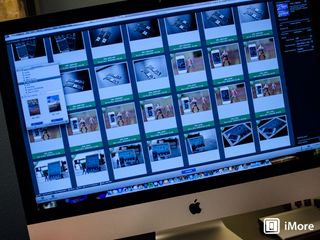 PhotoSweeper for Mac really only has one main goal, and that's to help you clean up unwanted duplicate or like photos from your Mac, no matter where they're hiding. If you're anything like me, you most likely take many photos in order to get the perfect one. While this practice almost always helps you get the results you want, it also results in lots of cleanup duty on your Mac later. That's where PhotoSweeper comes in...
With PhotoSweeper, it doesn't matter where you store and organize your photos since it supports iPhoto, Aperture, and Lightroom libraries. You can even search and navigate to any folder on your hard drive too. Where PhotoSweeper dumps duplicate photos will depend on what program you use though. For example, if you use Lightroom, it'll simply put them in a collection for you to dump. If you use iPhoto, the photos that you choose to clear away are moved to the iPhoto Trash where you can dump them permanently from there. Nothing too terrible.
The thing I like about PhotoSweeper over other duplicate photo removers I've tried is that you can fine tune control what PhotoSweeper actually considers a duplicate. You can go off time stamps or my image likeness. Heck, you can even change and customize what details about the picture PhotoSweeper looks for in order to determine if it's a duplicate. These details include color mode, preprocessing data, and color sensitivity level. There's also a general slider that lets you vary between partial or exact matching.
After you've fine tunes what results you want, just use the media browser or the standard folder browser to highlight the photos you'd like to compare. For me, this is typically hundreds of photos I haven't had the time to sort through yet. I just select them all in the media browser out of an event or album and then drag them into PhotoSweeper. Hit compare on the bottom and I can start weeding through them.
When it comes to actually detecting and removing duplicate photos, you have two main views - Face-to-Face and Group List. Face-to-Face gives you a nice large view and compares photos that PhotoSweeper thinks are duplicated. Just click on the one you'd like to remove and mark it. Then move on to the next one. Group List is a quicker way and shows everything in an easy to use scroll view with smaller thumbnails. This is easy for large events or folders that may have many duplicates to look at. Just mark the ones you'd like to delete and that's all there is to it.
The good
Interface makes sense and isn't overwhelming to non-photographers
Face-to-Face and Group List views make detecting and marking duplicates as time consuming or as time saving as you'd like
Match detection tools are far more superior than many tools I've seen at this price level
The bad
Marking a photo took me a minute to figure out as its in the bottom navigation, but once I got it, the rest of the interface made complete sense
The auto-mark feature actually works quite well and makes good choices, that doesn't happen very often with photo selection software
The bottom line
If you've got a Mac and lots of photo organization to tackle, you need PhotoSweeper. Not only is it one of the best duplicate photo detection apps I've used, it's the best one you're going to find in this price range. If you're a photographer and you want a quick and easy way to sort through and dispose of duplicate photos before beginning to edit, PhotoSweeper makes for a great companion for this as well.
Get the best of iMore in in your inbox, every day!
iMore senior editor from 2011 to 2015.
Thanks for the review. This is something I dread doing and have put it off for way too long. This looks like it automates the process enough that it's actually bearable. Sent from the iMore App

Same! Great review! Sent from the iMore App

Love the reviews! I'm not sure this for me, but can definitely suggest to others. Sent from the iMore App

Wish I ha a Mac this would come in handy. Sent from the iMore App

Shouldn't that second bullet point under "The bad" actually be under "The good"? Saying that the "auto-mark feature actually works quite well and makes good choices" seems like a positive aspect of the program.

Yep, I noticed the same thing. Sent from the iMore App

iPhoto Library Manager and Duplifinder are my two apps of choice, but this one looks like a solid contender, too. Sent from the iMore App

The auto-mark feature actually works quite well and makes good choices, that doesn't happen very often with photo selection software - why is this bad? Sent from the iMore App

Is there any ios version of this app? That would be great Sent from the iMore App

Same question. When I'm taking stills, most of the time I take multiple shots and then decide which is the best but I don't always get to delete the rest when I'm busy. Sent from the iMore App

I believe that I have tried about everything to sort out my iPhoto library and the only tool that did the job was Duplicate Annihilator (http://brattoo.com/). As it turned out, what I thought was duplicates was also imported faces and thumbnails which Duplicate Annihilator tok care of. Duplicate Annihilator is also available for iOS devices so my iPhone photos are now also clutter free.
Thank you for signing up to iMore. You will receive a verification email shortly.
There was a problem. Please refresh the page and try again.