Going beyond cameras with the Apple Lightning to USB adapter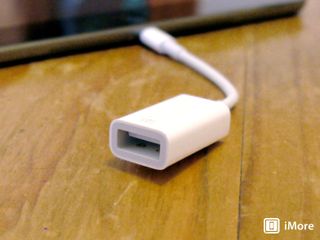 If you're new to the iPad – or perhaps even if you're not – then you may not be familiar with one of Apple's own accessories; the Lightning to USB Camera Adapter. In simplest terms, this little $29 attachment is designed to provide a connection to your digital camera allowing you to import your photos and videos onto your iPad. But since it's essentially a USB port attached to the bottom of your iPad, is it limited to just cameras? The short answer is no, and since I've just picked one up, I've spent a little time plugging various items in to the adapter, with varying results.
It's all about the power
Power is key. If whatever you're plugging in requires too much of it, you'll see a message like this one – and no, I honestly wasn't expecting a webcam to work! If you take a look at the customer reviews in the Apple Store, you'll be greeted with more than a few remarks exclaiming "this didn't work!" It's because you're plugging it into an iPad, not your computer, but if you see the message when your camera is plugged in, there is a fix.
Hunt around the settings and look for something referring to "USB Power Supply." Make sure it's off, and you should be good to go. Other devices, including even some USB flash drives I've tested prompt the same message, but in this case you're pretty much out of luck. Likewise, I've an Apple USB keyboard lying around, and lo and behold, that wanted too much power too. Shame.
Plug your iPhone into your iPad
This one came as a tip on a previous article – thanks Aaron! – and it works just great. It actually mentions doing this somewhere in the paperwork that comes in the box with the connector. So if you don't read the paperwork – guilty as charged – then you maybe wouldn't know about it.
Plug the connector into your iPad, your Lightning cable into your iPhone, and your iPad will display the same import screen as if you were plugging in your camera. This is a great, quick way of importing your photos and videos shot with your iPhone into your iPad. Editing is much better on the big screen, so this is a handy accessory to have in your bag.
It only works one way, though. You can't move anything from your iPad back to your iPhone using the same technique. For some reason, the iPhone just doesn't want to import photos from cameras. Shame.
USB microphones will work, well, some of them
I was a little surprised by this one, I have to say. Again, power is the issue here, not the fact that it's a microphone. For example, the little travel microphone I have that's pictured here – a Samson GoMic – works just fine, while the honking great Rode Podcaster we use to record our podcasts most definitely doesn't. But if you've got a smaller microphone, it could work, and it'll also work with your iPhone.
This is a pretty useful tool, particularly for anyone who travels about and needs to make high quality voice recordings on the fly. Better still, it works just fine with the stock iOS 7 voice memos app on the iPhone, and with Garageband on both iPhone and iPad. Both of which are free apps. Companies such as Blue already make microphones that specifically plug directly into your iPhone or iPad, but you could save a bit of cash by buying this $29 adapter instead.
USB flash drives
As mentioned above, USB flash drives do work to an extent. But, they seem to be recognized only as a camera would be, for importing photos. Pre-loaded .mp4 video files weren't recognized in my tests, so there's no scope to import videos to your iPad in this way it seems.
Your tips
So, those are a few things I've had lying around to test out with the Apple Lightning to USB Camera Adapter. If you've had experience with one though and have had success with using it to plug things in to your iPhone or iPad, drop a line in the comments and share your experience with us!
$29.00 - Buy Now

(opens in new tab)
Get the best of iMore in in your inbox, every day!
Or connect one iPhone to another! iChucks!

I see what you did there ;-) Could be useful to help secure an iPad mini in a couple of weeks?!

I used a basic USB keyboard, got the error but could still type on the iPad. This was common with iOS 6 too...

Whats the app behind the Samson mic? ;)

You can import your videos from flash card but you must create similar directory structure and use specific filenames format (record some video with you camera and then browse the files to get the idea how it should be done).

Does this also work for say a movie you've got in the right format? I couldn't get anything other than videos shot on my iPhone to import

You can do a quick Web search for adding video files to your iPad but I wrote up a blog post about it. Since this site doesn't allow links in comments do a search for MacITHelp.blogspot.com and Extra Storage for your iPad. It works well and is a great way to extend your storage space on long trips.

C'mon, am I really the only one thinking? If your USB-Gear pulls too much power, simply connect it to a powered hub and plug the hub into the adapter. *headshaking*

Don't have one, can't try it out :)

It does work :) With a powered hub in between you can connect a lot of things that show the power warning otherwise and have them work fine. You can also plug in most USB MIDI keyboards or audio/MIDI interfaces and they'll automatically work with most audio recording and synthesizer apps.

Only for importing; not exporting out! If you want to use hdmi it going cost you about $50 for a lightning to hmdi adopter.

Use a powered USB hub in the middle of the chain, works a treat! For instance it allows me to read a compact flash memory card from my SLR with no problems at all.

Thanks! Might update this post at some point with extra bits you guys have talked about :)

Anyone tried this adapter as a way to get digital audio signal streamed to outboard DAC?

Just tried it - sounds horrible. A to B comparison with identical audio stream (mog) from an ipad air lightning to USB to belkin powered 4 port hub vs. desktop USB to Music Streamer II is night and day without having to sit down. If you find a non-crappy solution lemme know. Very disappointed.

You can use an external DAC with the Apple USB camera adapter and appropriate USB cable for your DAC. I recommend the IFI Nano iDSD which is a portable headphone amp too. No need for a powered USB hub.

artsexcellence. com / downloads/brochures/ifi-micro-idsd/2-easy-steps-to-connect-to-Apple.pdf

How do I connect my iPad air to my keyboard station and rme 400 fire face?

Well this is cool. I was just asking if this was possible in an iPad iRC chat channel. What I want to do is a tad different than importing photos though... I'd like to have a portable USB HDD attached so I can store media on it to access on the go. I'll be flying to Milwaukee, WI in May and on the flight I'll want to watch some DVR'd TV shows that're building up (for example). Has anyone tried to attach a USB flash drive with.. say MP4s or MKVs on it and then go into an app like AV Player and see if the app sees the USB drive as a possible source for media? I'd totally go out and get one of these adapters in a heartbeat if this worked.

Can anyone tell me if this would work with a scope camera? This won't let me post a link in the comment response. But just type in scope camera at Amazon and you'll see what I mean. It's basically a USB camera that is a couple meters long and uses the laptop monitor for the camera display. I got one to look in my walls before demo and it'd be way easier to use vs my laptop as a digital monitor for the camera. Thanks!

This makes me interested in the lightning to sd card reader at the same price
Thank you for signing up to iMore. You will receive a verification email shortly.
There was a problem. Please refresh the page and try again.