Subscribe to Pocket, Evernote, Wunderlist, and LastPass for just $60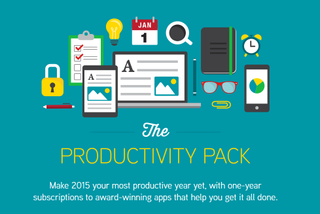 There are a number of popular productivity subscriptions many take advantage of, but for a limited time only, you'll be able to gain access to a bunch for just $60. Evernote, LastPass, Pocket, Wunderlist and the New York Times have teamed up to launch the Productivity Pack, a promotional bundle that includes subscriptions to each service at a discounted price.
The bundle itself will see you save 68% on the combined total of $185 for the one-year subscriptions. Apps are available for iOS, Android and Windows Phone, so this offer is well worth looking into if you use a service or two. Included as a free bonus is an eight-week digital subscription to The New York Times, opening up access to the main website and available smartphone apps.
This offer ends on February 13, 2015. For more information on and to purchase The Productivity Pack, head to the site linked below and take advantage of this limited time price.
Source: The Productivity Pack
Get the best of iMore in your inbox, every day!
I'm really turned off by subscription creep. In the rush to cut the cable cord and save $50-100 a month, we are replacing that with increasing mobile data subscriptions, and software subscriptions. I try to subscribe to as few things as possible and instead make cheap one-time purchases.

Amen. The last thing I need is more subscriptions. I already used Pocket and Wunderlist without subscription. I don't need the premium features. I use eWallet (which I bought) for passwords and sync across multiple platforms - I see absolutely no need for a subscription service for keeping passwords safe. If you need a free password keeper, Keepass is also good. I could see a corporation maybe finding the premium features useful, but not me.

This may be a good deal for some, but I have found I really do not need a subscription to Evernote. The free version is fine. I rarely get close to the alloted GB per month.

Don't say that too loud or they will lower the free allotted space to make sure you go over and have to subscribe.