Polar Loop fitness tracker review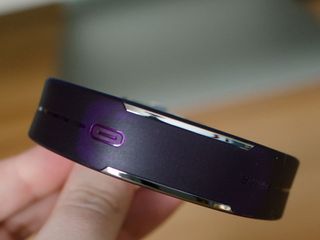 Worn like a traditional watch band with a clasp, the Polar Loop is comfortable and stylish all in one. But does function match form? How accurate is the step count? How well does goal-setting work? How good is the battery life? How effective is the waterproofing? Let's find out!
Great watch-style design that is easy to put on and remove
Water resistant up to 20m, which means you can swim and shower without removing it
Supports external heart rate sensors, although an internal sensor would be even better
Step count and calories burned are much more accurate than they are with other trackers
Software desperately needs an overhaul, and tons more features
Watch clasp can easily come undone when snagged on a sweater or jacket
Initial syncing and signup process is a poor experience and requires a computer
No built-in heart rate sensor, which a lot of competing bands already have
The Polar Loop's actual design is great. It comes with a tape to measure your wrist. Try it on and cut excess material off before fitting the clasps. The process was painless and took me less than 20 minutes. Just remember to cut little pieces at a time. You can always take more, but you can't put material back.
Once fitted, the Polar Loop is easy to put on and take off. My only issue was that sometimes it'd get snagged on a tighter sweater sleeve and the clasp would come undone. It didn't happen enough to make it a deal-breaker, but it's something to be aware of. It was also fine with water. While I didn't swim with it on — it's winter here — I did shower with it. The display goes nuts, due to the touch sensitive button, but other than that, it resisted admirably, as advertised.
It takes about 90 minutes to fully charge the Polar Loop and it lasts about 6 days. That's if you wear the band consistently, night and day.
All the data syncs to the Polar Flow app or the Flow desktop software on your computer. Setup, unfortunately, is cumbersome. When I open a fitness band, I shouldn't have to have access to a computer to use it. Unfortunately, my Polar Loop didn't want to do anything until I plugged it in and updated the firmware and created an account. Not a great experience out of the gate. Most other fitness bands I've used I could pair with my iPhone, update, and get going in minutes.
The Polar Loop only has one button and it's touch sensitive. Tap it to switch through the different display modes. They show time, activity remaining, calories, and steps.
Polar doesn't let you set a step count goal, but instead focuses on an overall activity goal. You can reach that by performing about an hour of intense movement such as running.
Daily activities are tracked at five intensity levels: resting, sitting, low, medium and high. For regular day to day activity, I managed to reach 100% of my goal by getting in around 11,000 steps or burning 2,200 calories. The days I hit 100% I only spent about 30-45 minutes at the gym and took a few short walks with the dogs throughout the rest of the day. While this system may work for some, particularly active individuals may find the inability to set higher goals a deal breaker.
Last year when I did a fitness band roundup, I found the Jawbone UP24 to be the most accurate when it came to measuring calories burned and step count. I used this as a base line while reviewing all trackers this year. The Polar Loop was always within 200 steps and about 50 calories of my UP24. To me, that makes it one of the more accurate trackers I've tested to date, and that's an important consideration.
The Polar Flow app is a different story: It holds the hardware back.
The Polar Flow app looks outdated, especially for a band that's otherwise high end. It hasn't been updated for the iPhone 6 and iPhone 6 Plus screen sizes yet, and while the breakdown of data is easy to read, there's not much you can do with it.
The main portion of the app is a circular graph that measures your activity. Tap on any section to see other details. You can tap the info button on the bottom of each day to see how you can reach your goal based on where you're currently at. You can break down data on a weekly or monthly basis. You can also receive inactivity alerts when you stand idle too long.
You can't add in workout data like you can with other fitness trackers, however, and you can't adjust sleep or set custom goals. And if you want to use the journal and diary entry feature, you have to use the Flow app on the desktop.
Unfortunately, a lot of people on the App Store are complaining of data loss in the Polar Flow app. This is something I experienced as well. For some reason, after a few weeks, data seems to just drop off out of existence. That's not good.
The Polar Loop also supports external heart rate sensors. Polar sells their own variant, or you can opt for another external sensor of your choice. Polar can't guarantee compatibility, and it's another component to manage. So, it'd be nice to see Polar come out with an updated model that integrated a heart rate sensor on the back side. Otherwise you can't use training sessions with the current Loop unless you buy a sensor.
The bottom line
The setup and software issues are major, and hopefully will be addressed soon. Otherwise, the Polar Loop hardware is excellent. if you're looking for a modest fitness tracker that's comfortable to wear, looks good, and doesn't break the bank, the Polar Loop is still an excellent choice.
Master your iPhone in minutes
iMore offers spot-on advice and guidance from our team of experts, with decades of Apple device experience to lean on. Learn more with iMore!
iMore senior editor from 2011 to 2015.