Best fitness tracker: Fitbit Flex vs Jawbone UP24 vs Nike FuelBand SE vs Garmin vivofit!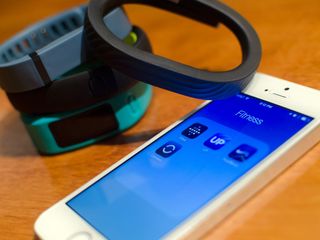 Fitness trackers are all the rage these days. The iPhone 5s already includes an Apple M7 motion co-processor that lets apps monitor steps taken, calories burned, and more. If you want a dedicated fitness tracker, though, something you can wear in the rain or in the shower, while running or while in bed, then until an iWatch comes along, you're going to have to get a Fitbit, Jawbone, Nike, or Garmin. But which one should you get? They aren't cheap and they aren't all created equal. That's why I've taken an in-depth look at the most popular ones!
Note: We initially started our tests using the Fitbit Force. We swapped it out for a Fitbit Flex since Fitbit recently recalled the Force due to skin irritation. The main differences are that the Flex doesn't have a full LCD like the Force and it doesn't track stairs. Other than that, they're pretty similar in every other way.
Design and comfort
The Fitbit Flex is made of a soft silicon material and doesn't create any discomfort when wearing it for long periods of time. This is especially important since the Flex can track your sleep as well. The problem I ran into with the Flex is that when sleeping with it on, the clasp would come undone during the night resulting in it falling off. I've never been a huge fan of the push in clasp types as it's very easy for them to snag on something and get ripped off. The same holds true for the Garmin vivofit whose design is very similar to the Flex. I had the same issues with it falling off or getting snagged if I pulled my sleeve down over it.
The FuelBand has the most secure locking mechanism since it clicks in place with a metal clip. A friend of mine tested my FuelBand for a few days and found that while playing sports like basketball, it's not pleasant when a ball hits your wrist where the FuelBand sits. It even came unlatched a few times, proving no type of clasp mechanism is completely fool proof. The UP24 by Jawbone was the most comfortable fitness band to wear and by far the easiest to put on and off. There's no display on the UP24 at all which allows for it to be smaller. It comes in several different colors and also tracks sleep. More importantly, it never fell off, which I couldn't say for the vivofit and the Flex.
When it comes to comfort, the UP24 wins hands down, if you're willing to forego a display. If that isn't an option for you, the FuelBand is second best.
Fitness tracking and app functionality
All four fitness trackers pair with companion apps on your iPhone. Fitbit's app offering pulls data from any Fitbit tracker you own. It pulls in calorie burn, active minutes, steps walked, distance, and more. Fitbit also tracks your weight loss progress if you want it to along with sleep. You can also choose to log food so you can see what your calorie intake is compared to your burn. I didn't find the food tracking portion to be very intuitive or easy to use. A major concern I had with the Flex (and the Force) was how generous it was with calories and steps. It always seemed to offer up way more activity than I feel I actually performed. The screens above are from the Nike FuelBand and the Fitbit Flex from the exact same workout. You can see the huge discrepancy. When using the Garmin and UP24, they always seemed to be more in line with the FuelBand than the Flex.
Moving on to the Connect by Garmin, it has the simplest interface and just imports everything from the vivofit when you choose to sync it. The vivofit also comes with a heart rate monitor strap which can import data right into the app as well. It's nothing fancy and has very few frills but for those worried more about stats than a pretty app, it gets the job done.
The UP24 app by Jawbone pulls in similar information but displays it differently. One of my favorite features is the Lifeline which lets you quickly scrub through your activity. You can also track food with the UP app but again, I didn't find it particularly awesome and much prefer dedicated apps like My Fitness Pal instead. UP24 can pair with other third party apps too including IFTTT, RunKeeper, Strava, and more. So that's something to think about if you're currently using any partner apps. Both the Flex and the UP24 have the ability to pester you to start moving if you've been sitting idle for too long. The vivofit has a similar function but instead shows a red bar on the display that increases and grows longer as you sit inactive.
The FuelBand SE tracks basic data like the others but also uses its own system of points called NikeFuel. This algorithm combines calories, steps, and activity to obtain your NikeFuel point count. You can compete with friends to rack up the most NikeFuel and hit milestones. Aside from the uniqueness of the NikeFuel system, I've found the FuelBand SE to be the most accurate when it comes to actually tracking calories, steps, and distance. Unfortunately it's also the easiest to fool. Just give it a few twirls around your finger and watch your step and NikeFuel count climb. As for the FuelBand app, it's well designed and easy to use. The Sessions feature for SE owners lets you track Fuel points that you rack up doing a specific activity like biking, playing basketball, or anything else. It breaks it out separately instead of lumping it with everything else.
The FuelBand app by Nike is the best of the bunch when it comes to design and usability. Garmin's Connect app is the only one that tracks heart rate while UP by Jawbone has the best third party integration. Fitbit's data concerns me as it seems to be far too generous when it comes to steps and calorie count.
Sleep tracking
The only fitness tracker out of the bunch that does not track sleep is the Nike FuelBand so if that's important to you, eliminate the FuelBand from your pool of candidates right off the bat. When deciding between the other three, it really comes down to what you want to know. If you're just tracking how many hours you're sleeping each night, all three apps can either track while you sleep or you can manually enter it in.
The UP24 analyzes and breaks up sleep the best within the app and shows you how many times you woke up, how many hours of light sleep you got as opposed to heavy sleep, and more. Just hold the only button found on the UP24 down when you're ready to go to sleep to put it in sleep mode. You can even set an alarm within the app and the UP24 will wake you up within 20 minutes of it based on where you are in a sleep cycle. The UP24 will never disturb you during a REM cycle. When it comes to comfort, the UP24 is by far the most comfortable. And as mentioned before, I had issues with the others coming off during the night which is something to think about.
The UP24 not only analyzes sleep better than the rest, it's by far the most comfortable to wear all night long.
Battery life
What kind of battery life you get varies greatly across all four trackers. I've found the Nike FuelBand SE to suck the most battery resulting in needing to charge it every three to four days. If I'm lucky I can squeeze five days out of it. It's also got bright LED lights that make it flashy but unfortunately it results it faster battery drain. The Fitbit Flex was next to die at around the five day mark. It can make it six or seven in some cases but if you're wearing it all day every day, I'd expect about five days.
The UP24 has no trouble making it a complete week with no charge mainly due to the complete lack of LCD or any kind of indicator lights minus the sleep/wake toggle. None of the bands however can hold a candle to the Garmin vivofit when it comes to battery life. It lasts an entire year. Yes you heard that right, a whole year. There is actually no way to charge it. The screen is always on but uses a technology that eats a lot less battery life than the others. Once it dies a quick trip to a supermarket or battery store and you're good to go again.
If you hate charging things, consider either the Garmin vivofit or the UP24.
Water resistance vs water proof
The Nike FuelBand SE, Fitbit Flex, and UP24 by Jawbone are all billed as water resistant but not waterproof. That means they can tolerate activities like taking a shower but you shouldn't go swimming with them on. The vivofit by Garmin is rated to be waterproof up to 50 meters which means you can wear it while swimming and performing other water activities.
If waterproof is what you want, the vivofit is the only option.
Who should buy a Fitbit Flex?
My biggest concern with Fitibit's line of products is tracking accuracy. I feel they greatly overcompensate when it comes to step count, calories burned, and distance. This makes it really hard for me to recommend it over other offerings I feel are far more accurate. However, the Flex is one of the most fashionable bands on the market. Fitbit even offers an attractive array of colored bands on their website you can swap yours for.
If you're willing to forego accuracy to make a fashion statement, there's no arguing that the Flex is a nice looking product.
Who should buy an UP24?
The UP24 is by far the most comfortable fitness tracker out of the bunch, and by far the most accurate in my experience. The battery lasts a reasonable amount of time due to the lack of a display and the app is well done. It's also the best at tracking sleeping patterns.
For those who are the most about comfort and tracking sleep habits, the UP24 is what you want.
Who should buy a Nike FuelBand SE?
Nike makes the best companion app out of the bunch and the FuelBand's latching mechanism is designed a heck of a lot better some of the others. The NikeFuel system also helps to create some healthy competition among friends which can be a great motivator for some.
If you're a competitive person, you'll love the NikeFuel system and what it can offer you and your friend when it comes to getting, and staying healthy together.
Who should buy a Garmin vivofit?
Garmin is the only offering currently available on the market that requires zero charging. A whole year on a single battery charge is pretty awesome. You can also swim with it on, which is a huge plus for those that want to track water activities. You can also order different colored bands and pop the tracker into them.
If you don't ever want to take off a fitness tracker in fear of forgetting to put it back on, get the vivofit. You won't have to take it off for an entire year, unless you choose to.
Still can't decide?
Fitness trackers are a large purchase and for many people, they just can't seem to decide on just one. If that sounds like you, I would personally recommend the UP24. It's a great middle ground that improved on a lot of things from the original version of the UP. It may not get a full year of battery life but it gets a full week and that'll be good enough for most. The UP24 is also the most comfortable to wear for long periods of time which is important if you want to track sleeping habits regularly.
What fitness tracker are you using?
If you picked up a fitness tracker, which one did you decide to go with? Let me know in the comments as well as the reason why you chose it over the others!
A special thanks to my friend Dave who pitched in by wearing multiple bands at once while working out in order to help me accumulate as much data as possible. You're awesome!
Fitbit
○ Fitbit Buyers Guide
○ Fitbit Users Guide
○ The Best Fitbit to Buy
○ Fitbit News
○ Fitbit Forums
○ Buy on Amazon

Master your iPhone in minutes
iMore offers spot-on advice and guidance from our team of experts, with decades of Apple device experience to lean on. Learn more with iMore!
iMore senior editor from 2011 to 2015.