PopSocket Might Be Next Best Thing to the Style Ring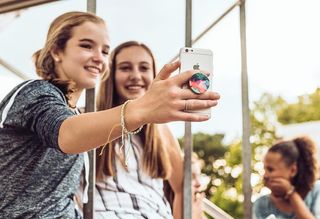 (Image credit: PopSockets)
Remember how a number of years ago — I'm talking mid-2000s when my dad got one of the first flip phones with a camera and I bragged about it to everyone and their dog — when people used to wear massive phone clips on their belts?
Remember bulky phone cases and attachments that aimed at making your phone more user-friendly but really ended up looking kind of, well, dumb?
Even though I was in elementary and middle school at the time and without a cell phone of my own (that's a lie, I got my first phone in grade 6 because yay divorced parents), I swore I'd never have anything like a belt clip or awkward case attached to my phone. I always wanted something simple or something transparent, or no case at all — you should see the state of my first two Motorola Razrs.
Fast-forward to 23-year-old me, and I cannot live without my Style Ring.
What's a Style Ring?
A Style Ring is a handy little device that's manufactured by Spigen, although there are hundreds of different dupes out there that won't be of as high quality.
It's essentially what it sounds like: a ring on the back of your phone. Is it particularly stylish? Well, that's subjective, but I've seen some non-official Style Rings with some pretty cool patterns and details. The Spigen ones in particular have colors that match perfectly with your iPhone, i.e. rose gold, gold, silver, black, and red finishes.
Two great things about Spigen's Style Rings in particular are its ability to be reused over and over no matter how many times you stick it and unstick it, and the fact that your ring comes with a little black sticky hook of sorts that allows you to hang your Style Ring in the car, in the kitchen, in the bathroom — wherever!
Okay, so what's a PopSocket then?
Using the same stick-and-go function that the Style Ring does, the PopSocket functions more like a mini-accordion or a bendy straw on the back of your iPhone: stick it on, pull it or pop up the little circle, stick your fingers around the PopSocket to secure it in your hand, and you're good to go!
See at PopSocket
So why might the PopSocket be better?
While both the Style Ring and PopSocket secure to your iPhone and different textured cases quite nicely, the PopSocket actually allows your iPhone to lay (almost) flat. With a Style Ring, your iPhone can only lay flat on its screen, and if you don't have a bezel or a screen protector, that might be a problem.
Even though the Style Ring comes in a bunch of colors to match your iPhone, if you have a case on, it can get pretty mismatch-y. The PopSocket allows you to customize and select from hundreds of different designs from Pokémon to portraits of you and your friends or your favorite celebrities to funky, modern patterns, and so, so much more!
Where can I pick them up?
You can grab the Style Ring on Amazon, or your PopSocket on PopSocket.com or on Amazon as well.
See at PopSocket
To Style Ring or to PopSocket, that is the question...
Regardless of whether you're team Style Ring or PopSocket, you do have to admit there are plenty of pros and cons for both — I mean, you can't hang your iPhone with a PopSocket, and yeah, PopSockets make a decent stand, but not as well as the Style Ring does.
Plus, with the Style Ring, you can turn your iPhone into a low-energy fidget spinner, attach it to your keys if you're in a rush and don't want to lose your iPhone, and mount it inside of your car so you can see who's calling without scrambling for your phone and getting a ticket.
It all comes down to personal preference, but the most important thing to remember is that if you want to check out either, go for the real deal, not a cheap knock-off that could leave residue behind or potentially ruin your iPhone forever.
Ring or Pop?
Do you prefer the Style Ring or the PopSocket? How 'bout neither? Let us know in the comments below!
Updated January 2018
Master your iPhone in minutes
iMore offers spot-on advice and guidance from our team of experts, with decades of Apple device experience to lean on. Learn more with iMore!
Cella writes for iMore on social and photography. She's a true crime enthusiast, bestselling horror author, lipstick collector, buzzkill, and Sicilian. Follow her on Twitter and Instagram: @hellorousseau