Power tip: How to quickly launch apps on your iPhone or iPad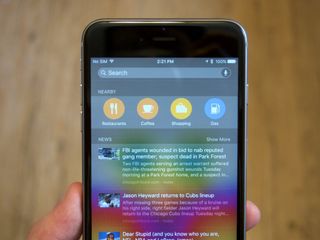 Anyone who amasses a collection of apps and folders knows the pain of trying to find an infrequently-used app on a secondary Home screen: Swiping back and forth, digging through folders, trying to remember where you hid the app or even what its icon looks like.
Forget it. That way madness lies. Instead, take charge of your iPhone and iPad — launch apps faster than you thought possible with these shortcuts.
Use Siri
The simplest way to quickly launch an app is with your voice:
Press and hold the Home button until you see the Siri screen.
Tell Siri "Launch [app name]".
Your app should launch immediately. (If your device is locked, you may have to first enter your passcode or unlock with Touch ID.)
This is great for most apps, but doesn't work so well if you either can't remember the app's specific name, or the app has a hard-to-pronounce title (I'm looking at you, Authy (opens in new tab). If you run into the latter issue, you can always spell out the name of the app:
Press and hold the Home button until you see the Siri screen.
Tell Siri "Launch CAPS [spell word]".
Use Spotlight
If voice launching isn't your thing, you can use Apple's built-in Spotlight search to not only find apps, but open them, too.
To launch Spotlight, either swipe down from the middle of any Home screen, or swipe right on the Home screen until you reach the Spotlight screen.
Type in the name of the app you want to launch. (You can also use a keyword in the app if you can't remember the exact app name.)
Tap on the app to launch it.
If you're using an external hardware keyboard, you can also trigger Spotlight at any time — from any app — by using the keyboard shortcut Command-Space. If you're in an an app and use the shortcut, you'll immediately return to the Home screen and the Spotlight screen will appear, ready for text.
If you have an external keyboard: Command-Tab
This last trick doesn't so much launch apps as let you quickly switch between your most recently-opened apps, but I include it anyway because so few people seem to know it exists. If you have an external keyboard hooked up to your iPad, you can instantly swap out your current app (or, if you're in Split View, the app on the left side of the screen) with any of the last ten apps you've recently opened.
Inside an app or your Home screen, press and hold Command-Tab on your keyboard.
While holding down the Command key, release and tap the Tab key to cycle through applications. (You can also use the Left or Right arrow keys.)
When you've selected the application you wish to switch to, release both keys.
Other launching tricks?
These are some of my most-used iPad Pro shortcuts. If you want want even more quick-launching tricks, there are some great third-party apps (like Launch Center Pro, for instance) that will let you launch apps from Notification Center. Any questions, comments, thoughts? Drop them in the comments.
Get the best of iMore in in your inbox, every day!
Serenity was formerly the Managing Editor at iMore, and now works for Apple. She's been talking, writing about, and tinkering with Apple products since she was old enough to double-click. In her spare time, she sketches, sings, and in her secret superhero life, plays roller derby. Follow her on Twitter @settern.
I'm always surprised at how few people know that spotlight search exists, or how easily you can search for literally anything on your phone. Usually when I show someone how to use it to find an app or look up a contact, they're blown away.

"Easily" is a bit of a stretch though. It's just so inconsistent in how it works. Sometimes you'll get a contact you hardly know appearing right on top the moment you type the letter his/her name starts with, while the person you contact daily isn't even listed. Same for apps, documents, etc - I get apps I hardly use appearing first instead of the apps I use every day, PDF documents I've already deleted from the device still appearing, Workflows that show a different colored icon from the one I set in the app..... more frustrating than helpful.

You can disable things you don't use spotlight for to help narrow the results. I only use spotlight to launch apps, so I disabled everything else.

Disabling things to just launch apps makes it about as useful as the Home Screen. I've disabled a lot, believe me, but there are apps I actually want Spotlight to query - Dropbox, Documents 5, Workflow, Drafts 4, etc - but displaying a text or video file I've already deleted from the Documents app, or a recipe I've already removed from IFTTT is just plain ridiculous. Worse yet, you'd think iOS would re-index stuff every now and then, but I've often seen deleted files listed in Spotlight even weeks after they've been deleted, or even after rebooting the phone.

"...makes it about as useful as the Home Screen" I disagree. If you have multiple pages or folders, Spotlight can make launching apps much better than the Home Screen. I use the same method to launch apps on the Mac. One thing that I absolutely hate about Yosemite is all the "improvements" Apple added to Spotlight that makes it work slower. Even if it's only a second or two slowed, it's enough to annoy me. I preferred when Spotlight was in the upper right, moving it to the center made it slower. Also even if you disable the Internet search function, it's still too slow for my taste.

Launch Center Pro user here. It's just more flexible for my needs since I often rely on IFTTT, Workflow or Pythonista scripts.

Notification Area Most notifications can open the app for more details. By the way, I would love StarDock Fences-style organization rather than folders. Folders make apps harder to get to… and a great place for the stock ticker and friends!

Because my girlfriend and I still share the same account spotlight is useless for me. All her relevant results show. Can't be bothered to set her up on her own account though as they are only work phones.

A tangent from this article, I rely on Launch Center Pro for getting to Wifi and Bluetooth settings preferences quickly. Im needing to re pair and re connect different devices and networks during the day.I really don't understand why they both are not part of the Control Center swipe up screen. Sent from the iMore App

Totally agree. I use Launch Centre Pro for this too, but Bluetooth devices should be available in the same way AirPlay devices are from Control Centre, so much easier. Sent from the iMore App

I use launcher. It's free but there are some limitations. Still a great way to get shortcuts to low power mode and directions home quick apart from just launching apps. I'm using a g4 now but spotlight search i really miss. I use it for everything. Hope someday they make it into a widget. I use it to convert currency, convert area from feet to sq m. A lazy calculator. Posted via the iMore App for Android
Thank you for signing up to iMore. You will receive a verification email shortly.
There was a problem. Please refresh the page and try again.