Check out Apple's new flagship Apple Store in San Francisco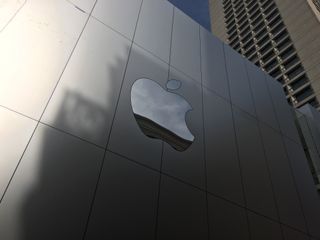 Apple's brand-spankin'-new retail store is set to open its giant glass sliding doors on Saturday, but iMore got a sneak-peek ahead of the big day.
The store features public Wi-Fi, a so-called "green wall" (a 50-foot wall of greenery), and a 6K video wall.
Angela Ahrendts, Apple's SVP of Retail and Online Stores, says the upgrade is about a whole lot more than looks:
And Apple Chief Design Officer Jonathan Ive pointed to the store's architecture as an example of Apple's focus on creating a welcoming environment:
To get an up-close-and-personal look at the store, check out our video:
Our first shots of Apple's brand-new flagship retail store:
Image 1 of 10
Curious what it was like walking into the store? We got some video of the action. Plants and artwork and clapping, oh my!
So, what do you think of Apple's new store? Are you excited for some of the new features to make their way to your nearest store? Let us know in the comments below or on all the social things!
Get the best of iMore in your inbox, every day!
Mikah Sargent is Senior Editor at Mobile Nations. When he's not bothering his chihuahuas, Mikah spends entirely too much time and money on HomeKit products. You can follow him on Twitter at @mikahsargent if you're so inclined.
It looks like a hospital. Too sterile for me.
At least the tables aren't grayscale. I appreciate that the Apple logo is still on the store.

I agree but they used to be worse - look at the photos of the oldest stores with all that metal lined walls etc. They were terrible.

Welcoming environment?! The hipster crates to sit on look incredibly uncomfortable and the place looks lile a sterile room lile a 1960s view of the inside of all buildings of the future. Posted from my Nexus 6P

Seriously have to sit on crates? They don't care about their customers anymore?

Have you actually sat on one of them? If not shut up until you do.

Yes I have sat on a crate before dbag. Thanks for playing

I've been to the store, they still suck. Considering it's a place I need to have a appointment in order to buy something.....It should have accommodating seating...just saying.

My theory is that they dont want you sitting down - it's like airports and train stations - they think it looks messy having people sitting down AND ABOVE ALL: they want you to be walking about looking and getting tempted at the devices to tempt you to buy... It is, whatever they keep saying, above all somewhere they want to push sales.

Do you think the inside of their new spaceship headquarters has wooden crates to sit on?

Hmmm, I dont know. If I lived closer Id love to give it a look in person. The trees and such like that right in the building give it a different air that I cant quite put my finger on. It makes it seem more open, like you never really came in from the outside. I agree that sitting on crates seems a little odd, but keep in mind that the place isnt officially open yet. Things may still change in the near future. As for seeming too clean, the Apple store we have here on the west side of Madison is that way as well.

Being six hours away from the closest Apple Store, I don't get to visit them very often. Luckily, I will be in near San Francisco the first week of June. I will definitely be going to see this new store.

I'm sure the crates are made from sustainable wood.
Seriously, It looked like a bunch of parents at kindergarten back-to-school night.
(Did Jim Dalrymple actually fit on one of those?)
I think Apple doesn't want to make it so comfortable that people camp out on their wifi all day.

Ok, I've been in the store. It's beautiful. The 6k screen and the massive opening 40' doors are spectacular. And for those complaining about the "sparseness," Apple stores have always had a minimalist ambience. There's more seating than just the cubes including a beautiful patio area with tables and free wifi.

Works great in a huge store, but in reality most stores arent like this.

I also don't understand - who spends hours on end chilling out in an Apple Store? Until last weekend there wasn't an Apple store near me (marseille), but there's one now, and Ill take my iPhone if it breaks, but i dont really envisage sitting about using their wifi and browsing endless rows of identical computer or ipads. i dont quite get the point of spending time in a shop. And whatever I keep hearing and reading, they do - certainly in europe - come up to you every 30 seconds and ask if you want any help - ie trying to push a sale or whatever.

There's free classes there. Final Cut, iMovie, Photos etc. Are you from out of town or a tourist? Need to check your email on wifi? Of course, no one wants to hang out at a store. Duh. But at least the ambience doesn't scream get me the F out of hear after I buy my earbuds. There's plenty of terrible retail experiences out there. Apple just doesn't want to be part of that.