The Prynt case: Harry Potter photography magic IRL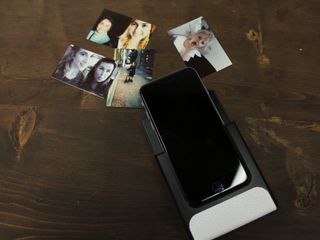 Imagine being able to take a picture with your iPhone and have it print instantly from your phone case in vivid color and high-quality detail. No wires, no ink, no waiting, no mess. Pretty cool, right?
Now imagine if these printed photos had an unlockable video clip that was activated every time you looked at the picture through your iPhone's screen – a short little piece of augmented reality capturing the moments after a photo was taken – a physical, tangible memory.
While all of this sounds like the stuff Harry Potter books are made of, the realities of the wizarding world are closer than you think, thanks to the help of Prynt's instant smartphone printer!
Back in 2014, co-founders and former engineers Clement Perrot and David Zhang founded Prynt in Paris, and after two years, dozens of prototypes, and a wildly successful Kickstarter campaign, Prynt as we know it was developed (ha, photography pun).
While the idea of the Prynt case is wickedly revolutionary and cool, is it honestly worth the $149 price-tag, and more importantly, does it even really work the way it says it does? Here are a few things we discovered while taking a peek at one of the coolest gadgets for your iPhone.
Style
Right off the hop, the Prynt is not a practical, everyday iPhone case by any means. This shouldn't really surprise anyone though, as it's quite literally a printer attached to your iPhone, so it's adding an inch or two of bulk. It's important to think of the Prynt as a camera accessory for your iPhone to help you capture the best snapshots rather than your standard iPhone case.
That being said, attaching the adaptor to your iPhone is simple as pie and once your iPhone is snugly secure in the case, it doesn't actually feel like it's going to slip out and shatter. However, the Prynt leaves half of your iPhone exposed and isn't made of a durable, drop-resistant plastic, so be careful and try not to drop it while you're out shooting or you'll probably end up breaking both the printer and your iPhone. It's more printer than "case".
The case comes in two colors, black or white, and has a smooth, matte feel to the body of the case while the grip is covered in a sort of thin, white faux-leather material. The minimalist Prynt logo is also on the front of the printer, but other than that it's a simple design.
While the case itself is quite large, the paper that comes with the Prynt is a narrower, slimmer version of Polaroid's classic film, but without the white boarder. The photos that get printed also double as stickers — just peel and stick wherever you want! As an additional bonus, the paper doesn't cost as much as you'd think; you can get 50 sheets of sticker paper for less than $25 online.
Features
Augmented reality and adapters and instant photo editing, oh my! The Prynt has a ton of features that truly make this one of the coolest toys to get creative with.
Once you get your hands on a Prynt case, you're going to download the Prynt app. The app is where all the magic happens, letting you add filters, adjust photo settings, write text on your photo, play around with editing, and so much more. You can turn your photos into black-and-white masterpieces, or give them a washed-out look with more of a vintage feel depending on your style and mood.
To print with the Prynt case, all you need to do is snap a photo or pull an old picture from your camera roll, tap the print button, wait around 20 seconds for the picture to render, watch it print, and then you have your tiny printed masterpiece! It takes around 30-40 seconds for the entire printing process, and the animation on your screen even makes it look like your photo is sliding directly out from under your phone's glass screen (which is, like, the coolest thing ever, tbh).
Perhaps the most amazing feature the Prynt has is its relatively seamless augmented reality feature that is activated within all of its printed photos. After you snap your picture, Prynt takes a 5 to 6-second video of whatever you just snapped and stores it in the cloud, linked to that physical photo/
After the picture is printed, you and your friends can use the Prynt app to scan the picture and bring the video to life on top of the photo in your hand (through the phone's screen). The video follows your photo around and loops as it goes, making it look and feel like a real-life GIF. It's practically identical to what Harry Potter has in the wizarding world, except we have to look at the pictures through an iPhone screen and the people in the photos don't talk back to you.
Design
The neatest part of the Prynt's design is that it essentially turns your iPhone into a point-and-shoot camera. You get the wider, textured grip on the right side of the case to hold the Prynt in your hand better, plus a shutter button on the top that really makes you feel like you're shooting with a "standard" camera rather than an iPhone. So again, think of this as more as a camera accessory rather than an iPhone case.
Strap hooks on the camera allow you to attach a neck or wrist strap, while an internal battery that can be charged via USB assures you won't be draining your iPhone battery as you're shooting and printing. You don't have to worry about wires or Wi-Fi or Bluetooth either – simply slide your iPhone into the appropriate adaptor, and you're ready to start shooting and recording.
The Prynt case was designed to work with a bunch of different types of phones including the iPhone 6s Plus, iPhone 6 Plus, iPhone 6s, iPhone 6, iPhone 5s, iPhone 5, and the Samsung Galaxy S5, so if you get an upgrade or change the phone you're using, all you need to do is pick up a new adapter to start printing with your Prynt again!
The Bottom Line
At the end of the day, the Prynt does everything it says it will. It captures and prints beautiful pictures almost instantly, it lets users edit and tweak their photos depending on their creative style, unlike other instant cameras from the past, and it has seamless, mind-blowing augmented reality that will help you unlock and relive memories for years to come.
Even though the case is quite bulky, think of the Prynt as a camera attachment or tool for your iPhone to help you capture the best snapshots rather than a traditional iPhone case, and if you're still bothered by the size after seeing all the Prynt's cool features, then I'm not too sure what to tell you... other than have fun in the muggle world!
Master your iPhone in minutes
iMore offers spot-on advice and guidance from our team of experts, with decades of Apple device experience to lean on. Learn more with iMore!
Cella writes for iMore on social and photography. She's a true crime enthusiast, bestselling horror author, lipstick collector, buzzkill, and Sicilian. Follow her on Twitter and Instagram: @hellorousseau