How to put on (and take off) an Incipio Destroyer case for iPad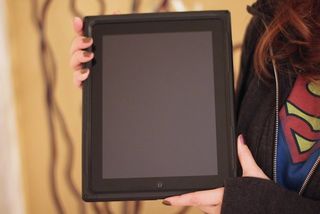 The Incipio Destroyer Case for iPad is a cute name for something that's supposed to protect your precious iPad, but protect it does. Like a tank. Seriously. It bloody well comes with a tool to secure it on and off! Does that make it difficult? Not really. I found it rather intuitive actually.
Check out the video above to see me give a try, and there are a few pictures of the final results, after the jump!
[Sponsored: If you want an Incipio Destroyer Case for iPad of your very own, pick one up at the TiPb iPad Accessory Store.]
[gallery link="file" order="DESC" columns="2"]
Get the best of iMore in in your inbox, every day!
Senior Editor at iMore and a practicing therapist specializing in stress and anxiety. She speaks everywhere from conferences to corporations, co-host of Vector and Isometric podcasts, follow her on Twitter @Georgia_Dow and check out her series at anxiety-videos.com.
Sorry but any case that needs directions other than "put it on" = "No Sale".

@hungwell2 any case that doesn't protect your device=no sale

No more reviews in the can please, sound really echoed. Plus, it's just gross. BTW, tell Renee to spring for a new sweatshirt for you...

I'm with dc. Doing the review in the bathroom is just weird. Also, when you're in there and say "this tool", it sounds like "the stool".

Nice case, but (when I get my iPad 2.0) I'll pass. Sorry, but I just like bare metal and glass...

i'm guessing all these videos were shot on the same day (i.e. renting mr. camera man for a few hours)

why does every video have to start with her showing her face. might as well rename all the videos to "whatsherfacewhothinksshespretty will show you how to __________"

Six for sure, with a possible total of 8.
on a side note, a camera tripod would be a great investment. the video appeared to get a tad shaky towards the end.

she stays wearing that superman Tshirt..

Unless the screws stay in via a rubber washer, they coulb be lost. It does look nice. If you misplace the Allen wrench, and don't have a set, you are out of luck.

Looks like a man job to me...

I love this site, the info and the videos. They are informative. Why ya'll hating? Sounds like jealousy or something.
Good stuff, thanks. Keep it up Tipb!!

Nice vid, but the case looks to be too much of a pain. I don't get the Georgia hate either, people have some crazy high standards to not think she's pretty. She may not be un-effing-believeably gorgeous, but then again, who is without extensive photoshopping.

I highly doubt they hired a camera-person...considering most of the writers use Mac, I bet at least all of them know how to effectively use iMovie...right? And who else wants iMovie for iPad?
Thank you for signing up to iMore. You will receive a verification email shortly.
There was a problem. Please refresh the page and try again.