How to put on (and take off) an Otterbox Defender Case for iPad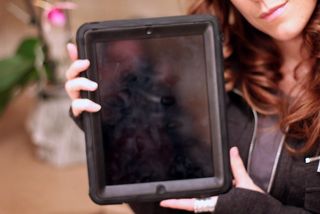 The Otterbox Defender Case for iPad is serious armor plating for your precious iPad, but like any suit of armor it can be a little bit of work to figure out just how to put it on (or take it off!).
Check out the video above to see me give a try. Just promise to laugh with me and not at me, okay?
A few pictures of the final results, after the jump!
[Sponsored: If you want an Otterbox Defender Case for iPad of your very own, pick one up at the TiPb iPad Accessory Store.]
[gallery link="file" order="DESC"]
Get more iMore in your inbox!
Our news, reviews, opinions, and easy to follow guides can turn any iPhone owner into an Apple aficionado
Senior Editor at iMore and a practicing therapist specializing in stress and anxiety. She speaks everywhere from conferences to corporations, co-host of Vector and Isometric podcasts, follow her on Twitter @Georgia_Dow and check out her series at anxiety-videos.com.
That's too much trouble. I'd rather use a skin like a Belkin grip vue and a sleeve for travel.

This case is amazing. I don't see how it is too much trouble because you never take it off. I take mine on a construction site every week and am glad to have the extra protection. I use a sleeve to protect the screen while traveling too.

When the iPad's not in use, shouldn't the kick stand be used as a front cover to protect the screen rather than having it clipped on the back all the time???

I take mine off occasionally but my iPad doesn't leave the house without it on. It's really not that much if a pain when you get used to it. It's well worth the protection you get

Heh! I read this article about 5 mins too late. Otterbox defender case for iPad arrived a few minutes ago, I put it on, and then turned on tipb.com to see this. :)

It's the porthole for the Apple logo that makes it awesome.

...ohhhh, he's the cameraman?! :O...either he likes to come over alot to film the videos, or....?!!!! o_O!!
Oh and such a bad case, looks painful XD

That is one heavy duty case. You did a great job putting it on, but I'm wondering if Otterbox couldn't have made it easier.

Good job, Georgia. Thank you.
I think I would get the version that protects the screen. That seems like the most vulnerable part.

Dear god Georgia is smoking hot!
Also I have the Otterbox and it kick's ass!

I missed the Otterbox because I was blown away by this redhead's sleeves with thumbholes and finger full of rings. Why would anyone wear something like that when doing manual tasks with delicate electronics?

I have this case and have never had any problems taking it off!!! Do you have a shield on it? Mine slides off easy! Love the case. TIPB Rocks!!

Yikes. Thx for the frightening review (I so thought you were gonna impale yourself with that knife...butter or otherwise). Can't say after seeing this that I would want Otterbox anything near my iPad.