Rayman 2: The Great Escape now in App Store!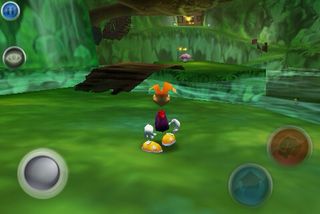 For those of us with fond memories of the Sony PlayStation and Sega Saturn comes Rayman 2. Yes, one of our favorite Mario 64 clones has made it to the iPhone [$6.99 - iTunes link (opens in new tab)].
Rayman has to escape the evil clutches of pirates that have taken over your world. Rayman plays in a 3D environment running, jumping and shooting energy to take down foes and restore peace to the world.
From the little time I have played with the title, the graphics and frame-rate are great, as well as the music. Controls are fine but could benefit from a sliding directional pad as I often found my thumb moving out of control range. However, I am getting used to it. If you are looking for some old-school 3D action platforming, check out Rayman 2 and let us know what you think!
Get the best of iMore in in your inbox, every day!
Software trainer, blogger and mobile technology enthusiast living in the suburban Midwest.
Rayman isn't exactly a Mario 64 clone. It's
much more linear and lends itself to a very different gaming experience, but I can see wat you're saying. Haha and also when you say rayman is one of your favourite clones, I hope banjo kazooie is one as Well. That game is THE best Mario 64 clone hands down!
Thank you for signing up to iMore. You will receive a verification email shortly.
There was a problem. Please refresh the page and try again.