Receive lost pet notifications and track them with Tagg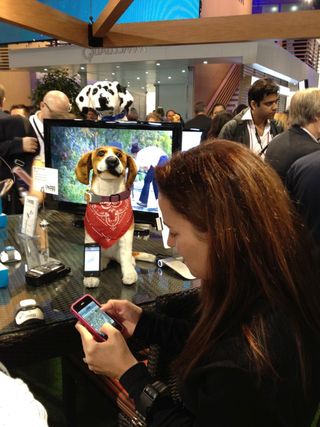 Tagg is at CES 2012 showing off their tracking app for pets. The hardware receiver is extremely lightweight and attaches directly to your pet's collar. Once activated, the receiver will continuously monitor your pet's location. If they happen to wander outside your home area, you will receive a text or e-mail notification. From there you can track your pet's location via the free application or iPhone and iPad (opens in new tab).
If you want to take your pet for a walk or travel outside your home area, a button press on their collar will deactivate notifications but continue to GPS track. Tap it back on when you'd like notifications to be active again.
The Tagg collar is currently available for $99.95. The service will run you $7.95/month with your first month free.
iMore senior editor from 2011 to 2015.
It's expensive but worth it, when you lose them it's horrible.

It's only for dogs over 10lbs. They need to make something for the smaller dogs as well. Disappointed.

Anything smaller than 10 lbs is a rodent.

Ripoff! This monthly fee garbage has to stop. By the time you pay all the fees to these clowns to track your dog, to Adobe for photo editing, to the cable guy for Internet, to the bank for mortgage, to the car comPang for lease, and saving that little boy in India, it adds up to a lot more than a f@!?ing cup of coffee everyday!!!

Would my kids get teased at school for wearing these???

Seriously. The market 1000x bigger for kids than dogs. Turn this thing into a form factor that looks like a wrist watch and your gold.

If that device could be implanted into the animal like a microchip, it would be great. But I agree.....It's nothing for a potential thief to remove a collar.

Prince will Quit... Foreverwww.musicwillchangeforever.com

wow I am buying this if my dog gets lost i will pay 10x times the price
the chip idea is not a tracking device it is only if the people that finds the animal takes it to the vet
iPod adapter
Get the best of iMore in in your inbox, every day!
Thank you for signing up to iMore. You will receive a verification email shortly.
There was a problem. Please refresh the page and try again.