Redditor creates the iPad Pro and MacBook hybrid of our dreams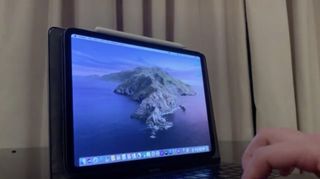 What you need to know
A Redditor created a iPad Pro / MacBook hybrid.
The iPad Pro functions as the MacBook's screen via Sidecar.
The device is reminiscent of Microsoft's Surface.
It's unlikely Apple will ever create a Surface-like device, instead choosing to make its iPad Pro a more viable laptop alternative. But that hasn't stopped one Redditor from creating his own iPad Pro / MacBook hybrid in what is one of the coolest DIY projects we've seen in a while.
Redditor AndrewKroger said he purchased a MacBook with a destroyed Retina display and created the hybrid using macOS Catalina's Sidecar feature and plenty of elbow grease.
Gee, it sounds so easy.
Kroger said the device takes advantage of Sidecar to wirelessly mirror the "once-existent Retina display."
In a video posted by Kroger, he demonstrates the hybrid device in action, using the MacBook's trackpad and keyboard to control the iPad Pro. He then uses the Apple Pencil to draw before undocking the iPad Pro and using it as a true tablet.
Check out the hybrid created by Kroger in the video below.
Get the best of iMore in in your inbox, every day!
That deserves THREE thumbs up!

That deserves THREE thumbs up - come on Phil, innovate your *** off on this one.
Thank you for signing up to iMore. You will receive a verification email shortly.
There was a problem. Please refresh the page and try again.