Reggie Fils-Aimé stepping down from GameStop board of directors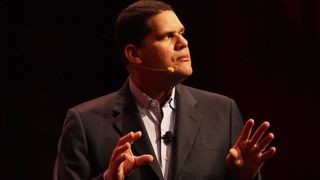 (Image credit: GDC via Flickr)
What you need to know
According to GameStop, Reggie Fils-Aimé is expected to step down from his seat on the company's board of directors.
Fils-Aimé will be joined by a handful of other members, including William Simon and James "J.K." Symancyk.
GameStop claims that the move is not because of any disagreements related to the company.
According to information from a recent GameStop investor's meeting (opens in new tab) that occurred Tuesday, Reggie Fils-Aimé and other members of the company will be retiring from the board of directors in June.
Fils-Aimé joined the board of directors for the company in March 2020, alongside William Simon and James "J.K." Symancyk, in a move that the company hoped would set them up for long-term success. Now, according to a 10-K form (opens in new tab) released by the company, Fils-Aimé, Simon, Symancyk, and a handful of others will be retiring from the board just a year later.
It's unclear exactly why the group is stepping down, but GameStop did note that it was not "because of a disagreement with us on any matter relating to our operations, policies or practices."
The retirements of the trio come after a particularly rough year for GameStop, as the COVID-19 pandemic forced many stores to stop operating in their usual way (this was after GameStop revealed it had plans to switch its strategy to more community-focused events, as well). Most recently, the company's stock was the target of Reddit's r/WallStreetBets and a highly-publicized short squeeze, which caused its price to go through a heavy period of volatility. While there's no guarantee that this is what caused many to step down, it certainly couldn't have helped, as the future of GameStop as a whole continues to look murky.
Aside from GameStop, Fils-Aimé still holds a position as strategic advisor to the board of directors of Rogue Games, a position he accepted in 2020.
Get the best of iMore in in your inbox, every day!
Thank you for signing up to iMore. You will receive a verification email shortly.
There was a problem. Please refresh the page and try again.