Researchers allegedly bypass Apple's Face ID using modified glasses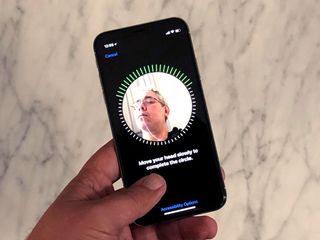 (Image credit: iMore)
What you need to know
Researchers have allegedly demonstrated how to bypass Apple's Face ID.
The method involves an unconscious participant and special glasses.
The exploit is said to take advantage of the "liveness" feature related to facial biometrics.
Researchers presenting at the 2019 Black Hat conference have revealed a possible flaw with facial biometrics, including Apple's Face ID. The exploit, however, isn't especially easy to pull off.
According to researchers, Face ID can be bypassed using modified glasses. To pull it off, you either need a willing participant or for the user to be unconscious.
Threatpost has the report:
To bypass Face ID, researchers took advantage of the system's "liveness" feature, which detects if a person is looking at their device.
When a users is wearing glasses, Face ID doesn't extract 3D information from the eye, the researchers said. So, to bypass the liveness feature, researchers created modified glasses that uses black and white tape. They then demonstrated how to bypass Face ID and transfer money through mobile payments.
In a support (opens in new tab) document, Apple explains that Face ID was designed to protect against spoofing by masks and other techniques using anti-spoofing neural networks. It also specifically mentions its attention-aware feature as extra security.
Although researchers have seemingly found a way to bypass facial biometrics using modified glasses, there are a number of factors that make the possible exploit difficult to pull off.
They did not bypass Face ID. They bypassed the attention detection "feature" of FACE ID. That is a big difference. They still need the real person.

True, they needed a real person, but the eyes are still being "spoofed" because they aren't real human eyes. So it's a partial-spoof, a cyborg of sorts... If it was just a look-a-like person, then they would be an impostor. A true spoof is an inanimate object with human traits, learn more about biometric security at www.Liveness.com.

The fact that this exploit was really difficult to pull off, and still needed the real person who set up Face ID in the first place, means that this is really a non-issue. Much ado about nothing
Thank you for signing up to iMore. You will receive a verification email shortly.
There was a problem. Please refresh the page and try again.