Resetting your iPhone SE 2 expectations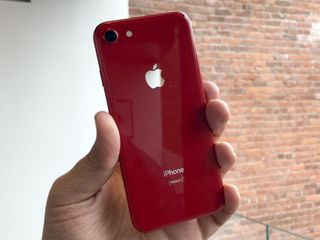 (Image credit: iMore)
Rumors of a new iPhone SE have been… confused to say the least. I think that's because the iPhone SE itself confused some people. Over the course of the last 2 years, we've heard rumors from the Taiwan trades that Apple was targeting 2018 for the next SE-like device. Obviously, that didn't pan out. Supposed leaks from case-makers suggested everything from another internal update to the existing SE, to an iPhone X-style design, notch and all. Then, from financial analyst reports, that this never announced iPhone was never going to be announced. That it had died on the product vine.
Now, supply-chain exfiltrator extraordinaire, Kuo Ming-Chi is back, back again, with a new report, tell your friends, that a next-generation iPhone SE is primed for the first quarter of 2020. And, that's causing some continued confusion. So, let's see if we can't clear that all up.
Rumors have it
Barklay's kicked off the latest round, followed by Nikkei and echoed by Bloomberg. Kuo, though, is the first to offer up details. Here's what he had to say, via MacRumors:
iPhone 8 platform, which is the same design Apple used starting with the iPhone 6, but with a glass back allowing for the potential for inductive charging
Apple A13 system-on-a-chip, which is the current-generation silicon found in the iPhones 11.
3GB of low-power DDR4x memory. The iPhone 8 has 2GB. The 8 Plus, 3GB.
64GB and 128GB storage options, which are the current entry-level options on the iPhone 8 and XR.
No 3D Touch, which means Haptic Touch like the iPhones 11.
Silver, space gray, and red color options. So, the gold of the 8 goes away but the Red that was announced the following spring comes back.
Starting at $399.
Kuo doesn't say anything about a Plus version. Nor anything about the camera system, which is more vexing. It could conceivably range from the same single, wide-angle that shipped with the 8 back in 2017, to something closer to the wide-angle on the XR, or even the same main shooter that debuted with the 11 just last month.
It would have the A13 image signal processor and neural engine, which means the same computational potential. But some of the best new features, like Night Mode, leverage the 100% Focus Pixels and other hardware aspects as well.
Then there's the question of the U1 chipset, which debuted with the iPhone 11, and may really come into its own when/if Apple Tags become a reality. That would make for a very interesting addition as well.
If we look back, this all sounds straight out of the original iPhone SE playbook from March of 2016. Back then, Apple took the iPhone 5s platform and made it… bigger on the inside. That meant updating it with the then-current iPhone 6s components like the A9 system-on-a-chip, and the 12mp camera with Focus Pixels and deep trench isolation. About the only thing that wasn't quite up to par with the flagship was wireless, which had Wi-Fi and LTE capabilities closer to the iPhone 6 than iPhone 6s. What it added, though, was NFC for Apple Pay.
But it's understanding those compromises – and when they're actually advantages to some segment of the market — that's key. And, that's something even Apple didn't grok. At least not at first.
Future past
Apple is usually pretty damn good at demand forecasting — figuring out how many of any given product they're going to sell so they know how many to make. With the original iPhone SE back in 2016, though, the story goes, Apple missed big. Or, rather, small.
They knew the iPhone SE would appeal to people who wanted a less expensive iPhone but they greatly underestimated how much it would appeal to people who wanted a smaller iPhone. Those people came out in force, and for a while there just wasn't enough product to keep up.
It was the combination of both those market segments — people who wanted a less expensive modern iPhone and people who wanted a smaller modern iPhone that made the iPhone SE as popular as it was. Serving the needs of both was better than serving the needs of just one.
But, that success, and all the rumors and hype surrounding a return of the iPhone SE playbook, has created a lot of expectational debt. And the kind not even Apple can pay off.
What it's not
Regardless of what Apple calls the next, entry-level iPhone — the new iPhone SE, iPhone 9, just iPhone, whatever — there are going to be some people who hear the SE rumors and conflate them with size. Who want Apple to take the 4-inch chassis and, once again, make it bigger on the inside. Only this time, iPhone 11 bigger.
And… that's just not happening. There's just no way to cram an A11 Bionic or any recent Apple system-on-a-chip into a device as constrained as the iPhone 5s platform.
Current silicon is a product of not just the bigger device age, but the bigger battery age as well. And they're all just too hungry to survive in something that small. Apple would have to go with much, much older silicon, which would destroy performance, or create something entirely new, which would destroy entry-level pricing.
Though, aside, there have been rumors that next year's flagship may just shrink down from the current 5.8-inches to a smaller 5.4-inches, so it's possible SE-for-size fans may have some amount of satisfaction come fall 2020.
There are also going to be some people who would be fine with the size but just want the new, modern iPhone X-style design at a much lower price.
And… that's just not happening either. Or, rather, not yet.
The iPhone 8 platform is probably mostly, if not all, paid down already. It costs Apple much less to update it than it does anything in the iPhone X era, which currently bottoms out at the iPhone XR for $599. To make an iPhone X-sized device with iPhone XR display but iPhone 11 internals would be basically making an all new device. And that, again, would destroy entry-level pricing.
No phone like home
So, which markets would the new iPhone SE-style device target? Well, first, people who still want a less expensive iPhone. The current iPhone 8 starts at $449 but pushing that down to $399 hits magic number territory. Like entry-level iPad magic number territory.
Apple has, over and over again, updated classic products with new internals so people who loved those products could update them to something with enough headroom that they could keep on loving them for many more years to come. Apple's fine with that. Great with that. It doesn't cost iPhone 11 sales. It adds iPhone SE-type sales, including upgrades.
And, yeah, that's second: People who still want a Home button iPhone, not a modern design, but with modern specs. Right now, they're holding onto their iPhone 6 or earlier, 6s or 7, not tempted enough by the 8, but something with newer silicon and camera? Take their money.
That creates two really interesting market segments for a new iPhone SE-style device. And, when you combine it with the new, much better iPhone 11 and iPhone 11 Pro branding up top, a new $399 just iPhone at the bottom balances the lineup just so well.
The name game
Now, that just leaves us with the name. Apple doesn't typically reuse names, so SE is likely out. iPhone 9 implies less than 11, which, while true, isn't something people love having in their faces. Same with 8 SE. Just iPad is something Apple's done a few times in the past but just iPhone they haven't done since the original.
So, hit like if you do, hit subscribe if you haven't already, Home button that bell gizmo so YouTube will actually tell you when the next show goes live, and then hit up the comments and let me know — what do you want from the new entry-level iPhone, and what do you think it will be called?
Get the best of iMore in in your inbox, every day!
Rene Ritchie is one of the most respected Apple analysts in the business, reaching a combined audience of over 40 million readers a month. His YouTube channel, Vector, has over 90 thousand subscribers and 14 million views and his podcasts, including Debug, have been downloaded over 20 million times. He also regularly co-hosts MacBreak Weekly for the TWiT network and co-hosted CES Live! and Talk Mobile. Based in Montreal, Rene is a former director of product marketing, web developer, and graphic designer. He's authored several books and appeared on numerous television and radio segments to discuss Apple and the technology industry. When not working, he likes to cook, grapple, and spend time with his friends and family.
I've been saying this on Facebook and on Macrumors. There is no need for a iPhone SE because we have the iPhone 8. In fact Apple already has 6 phones in their lineup. The only way I see this happening is to stop making iPhone 8's and changing out their guts with some new silicon. They could then use the iPhone SE as the lower entry phone. That's my prediction

But the iPhone 8 isn't an SE, it's not as small as the SE which was the whole point of it.

I agree with you NHunt67, I think the new "se" will be an upgraded 8 based phone, keeping touch ID, making the camera, internals and screen better. I hope so, then I can happily keep using iphones without using that stupid face id garbage.

It all comes down to usage right? When I do carry a phone on my person which is a hassle, I'm all about small and light. I would be rather happy with an iPod touch with a bezel less display. I can only imagine a world with WiFi rather than having to stuff cellular hardware in everything in order to make an on the go phone call. If we had a foldable iPod touch (dimension and weight) think two together, this would address those wanting a larger screen size and something that would fit in a regular pocket.

Agreed factoryF. I was trying to convince myself I wanted a bigger phone. I was looking at the android offerings. I would love to move to android for various reasons. However, the lack of an iphone 8 sized phone left me on iOS for the time being. Then, I started playing with the big android phones, and realized (even moreso after the 11 pro) that iOS is the OS for my mobile usage. Android is still jittery, and twitchy even on the note 10. iOS is fluid and smooth. It would drive me batty and I would just fire up my iphone again. So, why go through the agony of moving then moving right back. I would however, love to have a phone that is the exact dimensions of the 8, but with some up to date screen tech, touch ID, and the triple camera setup. Shut up and take my money. LOTS OF IT!

The thing I don't get about all this is how Apple could take an IPhone 8, which is still sells, update the processor to the latest A13, add an additional GB of memory to it, and then charge *less* for it than it does the IPhone 8. That simply makes no sense to me.

It's because 1. It was overpriced to begin with, and 2. The upgraded parts are cheaper.
Thank you for signing up to iMore. You will receive a verification email shortly.
There was a problem. Please refresh the page and try again.