iPhone SE 2 rumors: Specs, price, and features!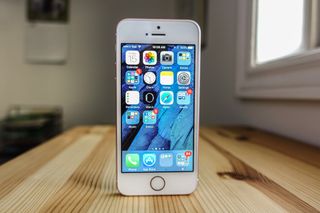 Apple unveiled the iPhone SE in March of 2016 and put a big smile on the face of anyone that prefers the smaller, 4-inch form factor. It looks just like the iPhone 5s, but has the specs and features of three years of technological advancements. Rumors abound that Apple is updating their iconic 4-inch iPhone, but what's it going to look like? What upgrades will it get? This article is where you'll find out all the latest news and rumors about the iPhone SE 2. Bookmark it and visit often. Here's everything we know about the rumored iPhone SE 2!
July 10, 2018: Analysts claim iPhone SE to be discontinued this fall
According to two analysts for BlueFin Research Partners are under the impression that Apple will discontinue the iPhone SE line later this year following the release of its new 2018 iPhones. The pair also claims that the iPhone X will be discontinued alongside the SE. As Barron's notes, they site no sources:
We'll have to wait until later this year to see if they're right.
June 1, 2019: Purported iPhone SE 2 parts leak shows... a notch!
From Sunny Dickson, on Twitter:
Dickson has leaked what have turned out to be authentic prototype and production parts in the past. (Though not all prototype parts have gone into production.)
If iPhone SE 2 really does have the notch design, it could be another indication of Face ID support, especially since an edge-to-edge display would necessitate removing the Home button and, with it, Touch ID.
This notch looks too small for the current Touch ID camera array, though, which raises yet more questions.
May 14, 2018: New report claims iPhone SE 2 to launch in September with Face ID
Another day, another suspicious report about the iPhone SE 2. According to Mac Otakara, Apple is planning on releasing a follow-up to its successful iPhoen SE this September, claiming that the phone will feature a notch for the TrueDepth camera required for Face ID. Interestingly, Mac Otakara also claims that Apple has not yet chosen the final design of the iPhone SE 2:
While Face ID making its way to the SE is certainly plausible (if unlikely, given the cost and the fact that the first SE was sold as a more budget-friendly option), the idea that Apple hasn't yet locked the design for this new phone calls this report into question. iPhone designs are typically chosen well before this point in the pre-production cycle, so it seems highly unlikely that Apple hasn't made a choice, especially give that, if the SE 2 is getting a big redesign, manufacturing partners will need to have their factories ready to accommodate it by this summer in order to ramp up production.
May 10, 2018: Sketchy rumor claims iPhone SE 2 will have a notch, Face ID or not
Olixar, a case and screen protector manufacturer, is currently offering a new tempered glass screen protector for the iPhone SE 2, a product that has not been announced, and might not even exist. Olixar, which according to MacRumors claims to have reliable supply Apple chain sources in China, is betting that the iPhone SE 2 will feature both a notch and an all-display design.
Given that the notch in Olixar's renders is much smaller than that of the iPhone X, released only last November, it seems unlikely that this device would sport Face ID as it wouldn't have the space. It's also unknown right now what Olixar thinks will happen to Touch ID on the SE 2. All in all, take this one with a massive grain of salt.
April 20, 2018: Apple might launch iPhone SE 2 this May with no headphone jack
According to a recent article from Mac Otakara (via MacRumors), case makers hoping to get ahead of the game have revealed that a new iPhone SE is on the horizon with the same size case, no 3.5mm headphone jack, an A10 chip, and possibly a Qi supported glass back. From Mac Otakara:
It's not unusual for case makers to get a jump on the competition by doing a bit of supplier digging for specs and size details of new iPhone models. How do you think so many companies have perfectly fitting iPhone cases the day Apple announces a new model?
Since the Worldwide Developer Conference (WWDC) takes place June 4 - 8, there is a strong chance, if this information is true, that Apple will unveil the second-generation iPhone SE in June.
January 29, 2018: iPhone SE 2 might not be coming after all
Once again, KGI analyst Ming-Chi Kuo has issued a note to investors (again obtained by MacRumors, this one casting doubt on the likelihood of a second iteration of the iPhone SE. Kuo cites the delay between the releases of the iPhone 8 and iPhone X as evidence that Apple doesn't have the resources for the development of a fourth new phone.
January 8, 2018: Updated iPhone SE rumored to have glass back
According to a new report the rumored update to the iPhone SE will feature a glass back. The report comes from Tekz24, citing "a very reliable source" for the information:
This change would bring the iPhone SE design more in line with the iPhone 8, iPhone 8 Plus, and iPhone X, as well as likely helping to facilitate wireless charging, which Apple added to the iPhone for the first time with its latest phones.
January 2, 2017: New iPhone SE again said to be coming in 2018
Market research group TrendForce reports that Apple will release a second-generation iPhone SE in 2018, possibly as soon as the first half of the year. The prediction came as part of a report, obtained by MacRumors, on global smartphone production trends the firm expects to see in 2018. TrendForce offers no insight into what components this new iPhone SE might use or if it will see any sort of redesign.
TrendForce also offers some supposed details on updates to Apple's flagship iPhone lineup, likely coming in fall of this year. Backing up previous reports, TrendForce expects a second-generation iPhone X, along with a 6.5-inch 'iPhone X Plus,' as well as a 6.1-inch iPhone with a similar design to the iPhone X but with an LCD display instead of OLED.
August 4, 2017: New iPhone SE could be coming in 2018
A new report from Focus Taiwan claims that a new version of the iPhone SE, Apple's smaller, more budget-friendly iPhone, will be coming in early 2018. Wistron will reportedly assemble the phone in India
What will the next generation iPhone SE be called?
Unless Apple decides to rename its entire line of iPhones after some landscape or chipset design, its highly likely that the second generation of iPhone SE will simply be called iPhone SE 2. However, some rumors have spread that the next iPhone SE might have edge-to-edge display (more on that later), and have dubbed it iPhone 9 SE or iPhone X SE.
What's in a name? Practically everything when it comes to what Apple decides to call its products. We speculate for a year (sometimes longer) and either groan or applaud when the nomenclature is officially revealed. Until we hear otherwise, however, we'll keep calling it the iPhone SE 2.
When will it be released?
We don't have a whole lot of history to go on for predicting the release of a supposed second-generation 4-inch iPhone. What we do know, however, is that the first-generation iPhone SE launched in March of 2016 and there is a rumor that Apple is planning a March event this year.
Word on the street is that Apple might announce the availability its AirPower Qi wireless charger and an updated Qi-supported AirPod charging case, as well as unveil an updated iPad. The rumors of an iPhone SE 2 announcement aren't as strong, but it makes the most sense in relation to Apple's previous 4-inch iPhone launch.
How much will it set me back?
The current iPhone SE starts at just $349. It's considered Apple's low-cost, entry-level iPhone. In order to keep with the theme, Apple would have to put a cap on the price point, which might mean a slight increase of the current price, but not significantly more (if at all) than the original price of the iPhone SE, which originally started at $399.
What about the iPhone SE 2 design?
This is the good stuff. Am I right? The whole point of keeping the 4-inch form factor is to keep it small. But will Apple stick with the same casing as the iPhone SE? or will we see something completely different?
KGI Securities analyst Ming-Chi Kuo (via MacRumors) believes a low-end edge-to-edge iPhone is heading our way. Though Kuo isn't implying that this is the iPhone SE 2 we're hoping for, he does say it'll be a few hundred dollars less than the iPhone X and be the smallest of three iPhone X style designs.
On the other hand, a "sketchy" rumor recently came out that Apple won't be changing the design of the iPhone SE at all. Instead, the insides will get some spec upgrades.
If Apple wants to keep the cost of the iPhone SE low, we're not likely to see a mini version of the iPhone X. If, however, Apple's trying to satisfy the 4-inch phone community, cost be damned, we may get all the great features of the latest and greatest iPhone in an itty-bitty package.
Will the iPhone SE 2 have Face ID?
Here's where the argument for pricing gets important. If Apple wants to keep the price of the iPhone SE to $349, or even close to that, things like Face ID (and the TrueDepth Camera system required of it) are probably out of the question.
If, however, the 4-inch (ish) iPhone is going to be posited as a mini iPhone X, then Apple may not be shooting for the low-cost buyers, but the high-end 4-inch consumers.
If the iPhone SE 2 is not going to support Face ID, then it's also less likely that would have edge-to-edge display since the Home button would need ... well, a home.
What about color options?
Currently, the iPhone SE comes in space gray, silver, gold, and rose gold, which are all the standard iPhone colors in existence.
The only thing we're missing is jet black and (Product) RED.
I'm not sure Apple will put the extra time and effort into adding jet black to the lineup. (Product) RED, however, is possible as the color variation is usually attached to an awareness campaign. We haven't seen a (Product) RED iPhone SE yet, but I could see the possibility.
What about the specs?
If there's anything that's almost a sure thing in the speculative world of whether an iPhone SE 2 will happen or not, it's the upgrade to the guts. No matter what the design, size, or features, if an iPhone SE 2 exists, it'll probably get a spec bump.
Rumors abound that the iPhone SE 2 will get the A10 chipset and continue to have 2GB or RAM with a 32 and 128GB storage tier. The battery might get upgraded to 1700 mAh (up from 1624 mAh), and though the rear camera will have the same 12 mp spec, the front-facing camera will supposedly get upgraded to 5 mp
What about the headphone jack?
Will Apple replace the 3.5mm headphone jack that currently exists on the iPhone SE? If Apple doesn't make any changes to the casing of the 4-inch iPhone, we'll probably continue to get the 3.5mm plug. Why go out of their way to change it if it's already there?
If, however, the iPhone SE design changes, there is a good chance the 3.5mm headphone jack will disappear, being replaced with Lightning port audio and Bluetooth support.
How about wireless charging?
Since Apple added inductive charging support to the iPhone X, iPhone 8 Plus, and iPhone 8 (as well as the third-generation Apple Watch and the future AirPod charging case), it stands to reason that the iPhone SE 2 will gain the same Qi standard support, especially if Apple launches the AirPower charger around the same time.
However, Apple might not be interested in making the iPhone SE 2 compatible with the Qi standard, especially if the cost is so high that it would affect sales of the low-cost option.
What do we know for sure?
Absolutely nothing. Until one of Apple's executives is holding an iPhone SE 2 in their hand on stage at an event, this is all speculation and rumor.
Master your iPhone in minutes
iMore offers spot-on advice and guidance from our team of experts, with decades of Apple device experience to lean on. Learn more with iMore!
Lory is a renaissance woman, writing news, reviews, and how-to guides for iMore. She also fancies herself a bit of a rock star in her town and spends too much time reading comic books. If she's not typing away at her keyboard, you can probably find her at Disneyland or watching Star Wars (or both).