Review: Speck CandyShell clear case for iPhone 6s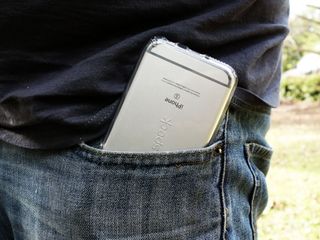 Comprised of both a durable plastic shell and a shock absorbent inner layer, the CandyShell from Speck blends both protective layers together beautifully. It's 100% transparent, even around the thicker edges, and offers a smooth feel when installed around the iPhone 6s that's not too slippery to handle. Although the case as a whole is slightly thicker than I expected, its see-through design helps to maintain a slim and sleek appearance with the iPhone 6s inside.
With the case being as stiff as it is, installation proved to be more challenging than anticipated. The CandyShell meets MIL-STD-810G drop test standards, meaning it's good to go without question for when your iPhone 6s inevitably hits the floor. The back of the case features a Speck logo below the camera cutout. The glossy case isn't perfect when it comes to preventing fingerprints and smudges; the smooth plastic does a decent job at hiding them though, and is easy to do a quick wipe-down when necessary.
Image 1 of 2
Around the edges are clear rubber covers for the volume and power buttons that add a firmness when pressed. The mute switch, speaker, Lightning port, and headphone jack are all left open and easily accessible. As mentioned before, the edges of the CandyShell make it slightly bulkier than other clear cases of its kind, but as you can see — it definitely still meets the mark for slim.
The raised bezel on the front grants plenty of clearance for the display of the iPhone 6s while faced down. Speck advertises this case as being UV and scratch-resistant, and from my time with the CandyShell, I have no reason to dispute those claims. While there have been reviews of yellowing over time, I haven't encountered the problem personally. I can say for certain that it's excellent against scratches after consistently pocketing the phone with my car keys, whereas most plastic clear cases start to show wear almost as soon as you take them out of the box.
For a clear case that adds a little more drop protection than average offering, the CandyShell is one worth considering. There's enough grip to help keep the iPhone 6s in your hand and there's not a lot going on in terms of texture, allowing more opportunity for the phone's design to shine through. It also comes with a 1-year warranty from Speck, which is a nice bonus if you run into any issues.
See at Amazon (opens in new tab)
Get the best of iMore in your inbox, every day!
Your friendly neighborhood accessories guru
I tried this case and didn't care for it. Though the Speck Candy Shell grip has been my go to case ever since it was released. Sent from the iMore App

That giant Speck-text is an absolute deal-breaker for me. Sent from the iMore App

Yeah it is larger than I expected, but at least it's clear with the rest of the case. Posted via the iMore App for Android

I have the white version, and after 3 months there are noticeable scratches all over the back of the case. It's a great case, and offers great protection, but if the white version I have is scratching I imagine over time the clear one will have the same issue.