Rhythm Thief & the Paris Caper dances onto iOS [Updated]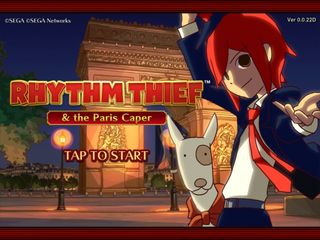 SEGA has been knocking out of the park lately as mobile games go. In the last few months, they've released the remastered Sonic the Hedgehog 2 and the robust kart racer Sonic & SEGA All-Stars Racing Transformed on mobile devices. Both games give you the console gaming experience on iPhone or iPad.
Today they follow up with Rhythm Thief & The Paris Caper, a game which came out at retail on the 3DS not long ago. Rhythm Thief combines adventure gaming with a whimsical story and music-based rhythm games to create a totally unique experience. If you enjoy games like the Professor Leyton series and don't mind paying for them, consider this one a must-buy.
Thief by night
Rhythm Thief stars a young Parisian man of 18 named Raphael. During the day, he's a mild-mannered guy living at home with his dog. At night, he suits up and becomes the dashing thief Phantom R. An orphaned violinist named Marie acts as his sidekick.
On top of performing musical crimes, Raphael's mission to find his missing father. He'll pull off capers all over Paris, including robbing the Louvre. But he might have bitten off more than he can chew when he becomes embroiled in a larger plot involving a man claiming to be the resurrected Napoleon…
Adventure time
As the Rhythm Thief, players will explore a realistic and beautifully rendered version of France's capital city. Being that this in an adventure game, Raphael will need to talk with the city's inhabitants, hunt for hidden items, and solve plenty of puzzles.
The puzzle mechanics are actually quite unique. Raphael can record a variety of sounds that he encounters throughout the environment. He then uses these sounds to solve puzzles. For instance, you might play a recording of a bulldog in order to scare off a cowardly enemy. It's fresh and fitting with the game's emphasis on music and sound.
Bust a move
Besides the fully animated story sequences and stellar soundtrack, Rhythm Thief's real draw is its rhythm gameplay sequences. During these minigames, players will need to tap and swipe the screen at the right time in order to come out on top and progress the story.
You'll run across a series of rooftops, dodging ninjas and obstacles; engage in fisticuffs with ornery assailants; play the violin as the hero's sidekick, and even take part in stylish dance numbers. Over 50 minigame missions in total will provide plenty of gameplay variety.
Not only are these segments lots of fun, but they actually fit right in with the overall story. You'll never wonder why a minigame is happening because it all goes with the flow.
Oh, and social features allow players to recruit their friends' characters and earn unique accomplices for missions.
Bonus content to come
Rhythm Thief & The Paris Caper brings the full original game (titled Rhythm Thief & the Emperor's Treasure on 3DS) to iOS. New to this one are In-App Purchases that allow players to buy coins (used to get out of tough situations) instantly. You can still find them in the environment as always, so coin purchases are entirely optional.
SEGA promises to release new side stories, minigames, and difficulty levels as In-App Purchases in the future as well. If you want a little more Rhythm Thief right this minute, the catchy 40-song soundtrack is available on iTunes right now.
Update 1
Only a day after its release, Rhythm Thief & The Paris Caper has been removed from the App Store. SEGA tells us the game will be back very soon though:
We'll update again when it returns to the App Store.
Update 2
As of January 12th, the game is back on iTunes!
Get the best of iMore in your inbox, every day!
Paul started writing about games in 2003 with his first strategy guide (Bomberman Land 2) for GameFAQs. He continued writing guides while earning his B.A. in Literature. When Windows Phone launched in late 2010, the Xbox integration lead our hero to jump on board the platform. He joined Windows Phone Central as Games Editor at the beginning of 2011, going on to review over 125 mobile Xbox titles over the years. He now leads Windows Central's Xbox One coverage, personally specializing in developer interviews, indie games, controllers and accessories, and Twitch broadcasts. Paul loves games on all platforms; he goes where the games are. Although very busy with console coverage, he sometimes contributes gaming articles to iMore and Android Central.
This is pretty cool! Sent from the iMore App

Hm. Not seeing it in the US store.

Sega pulled it temporarily to address some bugs that popped up. I've updated the article, and we'll update again when it comes back.

Thanks for the update. :)

It looks like a great game however does it still require you to be online to play?