Rovio Account will finally let you sync your Angry Birds progress across all your devices!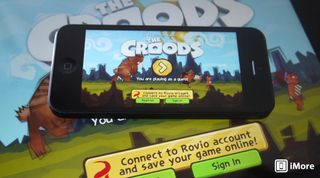 Thrilled at having completed the first 120 levels of Angry Birds, with three stars, on your iPhone, but rage-frustrated at having to start all over again to play it on your iPad? Your feelings are shared by many, and Rovio is finally coming to the rescue with Rovio Accounts.
The idea is simple: sign up for a free Rovio Account -- an Email address is all that is required -- and then login with it on all your Rovio games, across all your devices. Your game progress will then be transferred from device to device and you'll always be sync no matter where you're playing.
It's always been the hope that some combination of Apple's built-in iCloud and Game Center would provide this functionality to all developers, for all games, simply and easily, and avoid the need for users to maintain additional, game-specific accounts. A combination of Rovio's focus on cross-platform games, and ongoing issues with iCloud sync, likely made Rovio Accounts a better solution, at least for now.
Currently, the Rovio Account is available globally for The Croods, and in Finland and Poland for the original Angry Birds game for iOS. Rovio says the service will gradually roll out across other areas, as will new features. So, yes, it's pretty limited for now. However, if you're a player of The Croods and have used Rovio Account, let us know: how's it working for you?
Source: Rovio
Get the best of iMore in your inbox, every day!
Now if only they could give me back my lost progress on the original Angry Birds.

Too little too late. This was an obvious hole in their games that should have been fixed a long time ago.

Yes, I would prefer that Game Center do this across all games, but I get that it is Apple only, and don't expect developers to necessarily support multiple forms of synicng. however, when Game Center/iCloud works? it is great. I know it works on Batman/Arkham City, and would love for it to work on the Triple-Entendre games, and all others, as well as it does on Arkham City.

So far, just original angry birds, if their is no other way to do it by apps or computer with other app data transfer, they have got to do it with all the other apps including bad piggies!