12-inch Retina MacBook with no fan, new trackpad makes the rumor rounds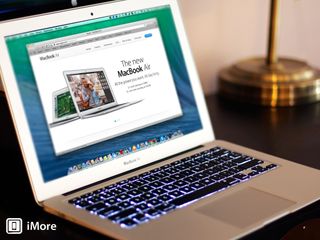 A forum post on Chinese language site Weiphone.com offers up tantalizing details on Apple's next round of MacBooks. The comments are attributed to an author with a credible track record of breaking leaks and photos for MacBook laptops in the past, according to MacRumors.com.
The poster reports that MacBook Air updates are coming soon, with MacBook Pro updates expected later this year. That's consistent with what happened last year: Apple updated the MacBook Air at WWDC, but waited until the fall to introduce updated MacBook Pros.
A new 12-inch MacBook is in the works, according to the poster. The computer eschews fans and comes with a new trackpad design that doesn't include a mechanical button, like the trackpad on current MacBook models. Such a design might enable Apple to built an even slimmer system than it does already, or perhaps use the extra space to cram even more battery capacity inside.
○ MacBook review
○ MacBook buyers guide
○ MacBook news
○ MacBook forums
○ Buy at Apple (opens in new tab)

The question is whether this would be another MacBook model to augment the current line or a replacement for an existing product. Looking at Apple's MacBook line, the 13-inch segment is the most crowded - there's the $1099 13-inch MacBook Air, the $1199 13-inch MacBook Pro, and $1299 13-inch Retina MacBook Pro.
The 11-inch MacBook Air represents the low end of Apple's product line, and it certainly has its adherents, although its display sports a somewhat unconventional 16:9 aspect ratio that's wider than other models. Would a new 12-inch model with a more conventional screen design replace that?
Perhaps, but it's also worth noting that the standard 13-inch MacBook Pro (sans Retina) is getting quite long in the tooth - it wasn't refreshed in 2013, and is the only Mac in Apple's entire product line still saddled with a legacy SuperDrive as standard equipment (it also uses a conventional hard drive, the last Mac laptop to have one).
Months ago analyst Ming-Chi Kuo suggested that Apple's going to build out the Retina MacBook Pro line with a 12-inch model, too. So it's really anyone's guess where this device might fit into the matrix.
The report also mentions an Apple wearable, with the claim that it's still in the prototype stage, not yet ready for production.
Are you interested in a 12-inch MacBook? What do you think the right price would have to be? Talk to me!
I'm hoping my company goes BYOD for laptops so I can stop using the giant brick of a Dell they provide and grab a 13" Air. Looking forward to what the updates might be.

A hundred bucks says my company "brick" is heavier than yours........I went the way of BTOD and got a 2013 MBA......best decision I ever made. I only break out the brick when my boss is in the office.

This laptop is what I have been waiting for. I hope it's for real.... Me thinks my 11" Air will be on eBay soon. Any thoughts on how apple will price this laptop? Sent from the iMore App

According to Ming-Chi Kuo, Apple may price it lower than any of the current laptops. I wonder if it might replace both the 11 inch and 13 inch Airs.

"The computer eschews fans ..." Under-clocking is one way to minimize the heat generated by a CPU. And the MB Air is the "consumer" model, so an under-clocked CPU could still provide enough processing power. But not for the Pro model. "... and comes with a new trackpad design that doesn't include a mechanical button, like the trackpad on current MacBook models." Never liked the clicking trackpad thing. I always turn on Tap to Click in System Preferences -> Trackpad. Forces me to adjust to physical clicking when I try out MacBooks at the Apple Store. I must say, though, that the physical click of the MacBook trackpad is quite satisfying. And, now that I think about it, the majority of Apple device users aren't used to clicking to select things. They're used to tapping to select things. Sure, the iPhone / iPad / iPod touch home button is clickable. But it's not used to select. Eliminating the trackpad physical click makes sense to me, and yes, it may allow Apple to achieve a thinner overall MB design. Because there's no more physical click mechanism. "Such a design might enable Apple to built an even slimmer system than it does already, or perhaps use the extra space to cram even more battery capacity inside." I'm thinking thinner. Once Apple gets the smallest MB Air up to 12 hours of battery life or so, I wouldn't be surprised if they started making the MB Air thinner.

Eliminating the trackpad click does not make any sense at all. It's one of the things that separates the amazing trackpad design from the shit trackpads on other laptops. Having the tap to click allows a lot more of an accidental tapping when you put your hand over the trackpad to get to the keyboard or just by accident. The clicking makes sense, stops this from happening. You'll be asking for touch power button, touch keyboard next

I agree with you in principle, but it all depends on how they do it. The report suggests that they're doing away with a mechanical trackpad in favor of a design that mimics the functionality using different technology. If that's the case then it's a bit more plausible.

Why make a 12" MacBook? There's already an 11" and 13". They seriously need a 12" now. Ridiculous Sent from the iMore App

I would agree with you but a 12" inch display (probably 12.1-12.5") simply means that instead of getting a 'retina treatment' 11" inch model is being canceled.
Introducing a new kind of device makes more sense than simply adding pixels to an old model since there already exists a light & portable 13" inch model with Retina Display and no SuperDrive. Interesting to see their approach because this 'notebook' can be what people thought as an upcoming iPad Pro, I don't believe it's just a new Macbook Air with upgrades and better display. There's not much else that can be done to a notebook but this device can be a statement by Apple on where the future is headed.

Makes sense that this 12" MacBook will replace the 11" and 13" Air. I wouldn't be surprised if Apple dropped the "air" moniker altogether and call this just "MacBook". Apple's only consumer grade laptop. I have no doubt it will become their top selling laptop. Sent from the iMore App

Is it worth buying a MacBook Air now? Or wait until the new one's come out, but that could be 3 months away.

I know I was thinking the same thing, I really need a new laptop and was struggling to decide on what size MacBook Air to get, the 11" or 13" love the portability of the 11" but after trying my friends the screen was to small for me, and now I see this and could be the answer perfect size screen , but it's 3 months away like you say

Yep same as me, I think the 11inch is too small because web pages are slightly too big and you have to scroll down and across for what would fit the screen on the 13inch

Exactly, so I was going to get a 13" but now I might just have to hold out till June for the 12" , and if that is also to small, then the MBA 13" will have dropped in price so will get one of those, just hard to wait till then as I need a new one now , I almost bought one yesterday as well, oh decisions , decisions

I would get the 13inch MacBook Air personally, because you could wait until June and they don't even release a 12inch mac because this is just a rumour

I have an 11" Air for my travels and I thought the same thing, especially since I'm use to my 15" Pro. To avoid this, all you have to do is use the 2 arrows in the top right corner of the screen to maximize it and it eliminates the need for side scrolling. Just my 2 cents

My rule of thumb is to buy when I need to buy, and accept that whatever I get, it's going to be replaced with a newer, better model within a few months. Otherwise buyer's remorse is inevitable.

If they can introduce the 12 inch but keep the footprint of the 11 inch I'm all in. What I'm really hoping for is an 11 inch pro with retina display. I know that's a bit of a pipe dream but oh how amazing that would be. Sent from the iMore App

Why would people question the possibility of a 12" MacBook? Considering the gigantic amount of space the unecessary bezel takes then the entire product line could claim an inch larger screen and still maintain the same footprint.

Also of note here, the 11" model is actually 11.6" screen size.
So a new 12" screen would only be 0.4" bigger. Not much at all, really. Quite trivial.
Conversely, dropping the 13" model, which actually measures 13.3", would be removing a significant and very noticeable amount of screen real estate from a smaller laptop.
But honestly, the way I read the rumor, this seems to be a different machine line all together. If the rumor is even true, well know in due time. Sent from the iMore App

The only Intel processors that wouldn't require active cooling would be either the Core i3-4012Y or the Atom Z3770. If so, this would be the MacBook slow and would be positioned as a competitor the Cromebook (perhaps with no local storage and just running web apps like iWork and such)

I have been waiting on a Retina Air. I am unconcerned if it is 12 or 13, but I want to keep it light (under 3 lbs has been perfect) as I spend a good part of my days walking/traveling to customers. My current Air 13 is fine and I won't replace it until Apple releases something compelling for my (relatively narrow) use case.

Seems odd about the screen size change but who knows. I figure it would fall into the Air line so it not something I would use unless I needed a second laptop for even lighter use. My 15" Pro that I bought a few months ago fits my needs with power and screen size but this new model should appeal to many out there. Sent from the iMore App

This would be optimal for me, as I like the 13 inch, but probably would love the 12 inch.

And I'm wondering if the panel attributed to an iPad Pro is really for this instead?

That had crossed my mind also. Never can tell what Apple is thinking.

Remove the bezels from the 11 inch air, retina display and in Space Grey, please !!

I am hoping for a touchscreen

Twelve inches would be great........just sayin.'

I don't care whether its 12" or 13" as long as its not as small as the current 11", has a retina resolution,has a good processor so that I can still play my FIFA 14 running on my windows partition and maintains the current weight of the 13".

Peter, what is your best guess on when this would be available? Sent from the iMore App
Get the best of iMore in in your inbox, every day!
Thank you for signing up to iMore. You will receive a verification email shortly.
There was a problem. Please refresh the page and try again.