Samsung opens its flagship electronics store in Sydney Australia, claims it didn't copy the Apple Store design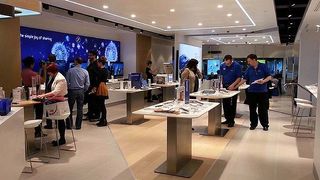 Samsung, who is currently locking horns with Apple over various infringements with regard to cell phone and tablet patents, has just opened another retail store. This store is just a block away from Apple's own store in Sydney, Australia and what's more if you walked in without noticing the missing Apple logo outside, you may think you had walked into an Apple Store. Samsung claims otherwise but this store and the last store that Samsung opened in Canada appear to come straight from the Apple book of retail. The latest store details come from a report by The Sydney Morning Herald.
Surely Samsung could have come up with at least a few original ideas; they even dress the sales staff in the traditional blue polo shirts worn by Apple Genius staff. The layout of the stores with the light wooden bench tables all laid out with working products is far too similar for it to be classed as an original Samsung idea. They say imitation is the sincerest form of flattery but it's all getting a little bit silly now. Samsung can copy only so much from Apple, at the end of the day, Apple's customer service is second to none, I bet Samsung haven't fully copied that part yet and probably never will.
Take a look at the video below which gives you a brief look around the store. What do you think? Is Samsung trying to deliberately copy Apple's proven blueprint for retail success?
Source: The Sydney Morning Herald
UK editor at iMore, mobile technology lover and air conditioning design engineer.
Looks like Samsung is good at something

thank god Samsung finally opened up this store... I hate just to notice apple stores and anyways apple stores should probability be sued by Samsung since apple obviously copied Samsung's design!!! lol a bit of satire but in all seriousness apple sucks

How dare Samsung use Blue shirts and tables. We all know that Apple invented those.

That's nothing near an Apple store! I mean, it's not like the only difference is the lighting.

Face it Apple. There is going to be competition. Deal with it. Its almost embarrassing how much they cry. "Mom. Samsung is copying me again!"

What is embarrassing is how blatantly they copy Apple. It is hilarious. They have no self respect at all.

Exactly....Samsung are a joke

+1. Apple thought they would be dominant forever and disregarding the fact that there would be serious competitors so their reaction to that sudden surprise, try to eliminate the serious competitor. Well I'm happy that samsung is standing up for itself and putting up a serious fight against Apple because I want to have other option available and not just Apple product as my choices. But of course Apple would find any way to sue them regardless of how small that infringement is like the lighting this store. But as long as as Samsung has their guard up, Apple will not have an easy fight.

The fact that Samsung has to 'claim' that it didn't copy Apple is hilarious. If you have to claim you're not copying something, you might want to rethink your design...

THIS. This is more proof than anything that they're just a tad too close for comfort.

When have they ever claimed that outside of the court case, which is an obvious place to do so? #curious

Samsung wouldn't have to claim anything if not for the paranoid Apple user & devoted Apple tech press bringing the issue up at every turn. But as long as Apple keeps having Foxconn make the tin foil hats you folks will be fine.

Maybe we can talk to a Samsung SmartGuy about the click wheel washing machine

To be honest, it looks just like every Telstra store in Australia. Did Telstra copy Apple as well?

They copied the Microsoft store. ;-) But "seriously", it looks nothing alike. The tables don't have legs like the Apple store. The walls aren't even illuminated like Apple's. :)

So they have blue shirts? Big deal. Best Buy and Sears should be the ones pissed about other companies wearing blue polos.

On top of that, blue has always been the color of Samsung, its in their logo, as well as in the logos of Microsoft and IBM. Don´t remember ever seeing a blue Apple logo though. All this "copying Apple" is really getting tired. Jewelry shops have used this design for years now, they are the ones that should be pissed.

They should change their name to iCopy

I tried to keep an open mind during the phone trial. Seriously, there is only so much you can do with a rectanglular chunk of glass. But this is ridiculous. No - Apple didn't invent blue shirts and minimalist sales floors, but Samsung didn't even try to hide the copying. I love how when asked about the similarities, the VP goes off on a different tangent about how it's a good place for customers to interact with Samsung products. I love Apple, and I have bought and enjoyed Samsung products, but that was just sad.

Looks like the layout and setup of every single mobile phone store and display area since the beginning of time.

im in all seriousness started to feel bad for apple, these guys are copying apple play by play and making millions off of it no effing joke. i have a galaxy nexus and i thing it is an original creation myself but that store touchwiz galaxy s3 this sht is getting really sad.

Why is this apple store selling all Samsung's phones? ...Awkward!

Haha. That was my first thought.

Blue shirted sales guys mean copying Apple? C'mon, Samsung's logo is set in blue. What do you expect them to wear? Silver shirts with a half eaten Samsung logo on the back?

other then both stores being light in color how are they the same. tables with phones on them, what are they supposed to do hang them from the ceiling. and for the blue shirts well samsungs logo is blue so that makes sense, wait best buy wears blue shirts did apple copy them?
im so tired of this just make phones i like.

This doesn't look like an Apple store. It looks lame.

Hmm...this is Samsung we're talking about, copying is in there genes.

Really people? This looks nothing like an apple store. This layout is found in every retail store that sells electronic devices. The blue shirts? Samsung has been rocking blue and white for a long time. Apple didn't invent retail stores or the minimalist design. Apple should honestly try to copy some more of Android's features. I'd love to have a toggle for wifi and bluetooth on the home screen or maybe change the theme without having to jailbreak.

News flash: I had my kitchen done in blond wood in 1988. Minimalism has been around for a long, long time. Samsung's logo is blue. 75% of stores in every strip mall in America look almost exactly like that, no matter what they are selling. Get over it.

( What'sApp CHAT & Viber ) : +254707792309
Apple iPhone 6 Plus at $600 & Apple iPhone 6 at $500
Sony Xperia Z4 Tablet LTE at $400 & Sony Xperia Z3 at $300
Samsung Galaxy Note 4 at $300 & Samsung Galaxy Note Edge at $400
Samsung Galaxy S5 at $250 & Samsung I9500 Galaxy S4 at $230
BlackBerry Porsche P'9982 at $700 & BlackBerry Porsche P'9981 at $500
BlackBerry Classic 16GB at $250 & BlackBerry Passport at $350
Canon Eos 7D at $450 & Canon Eos 5D at $700
PlayStation 4 at $200 & Xbox 360 Slim at $180
Promotional Offer Buy 3 Get 1 For Free.
( Call & SMS ) : +16147212357
Skype : live:sellcheaplimited
Add on BBM Chat 24HRS : 7F137F31
Write to Email : sellcheapltd@gmail.com
Message to Email : sellcheapltd@hotmail.com
Thank you for signing up to iMore. You will receive a verification email shortly.
There was a problem. Please refresh the page and try again.