Should you upgrade to the new iMac Pro?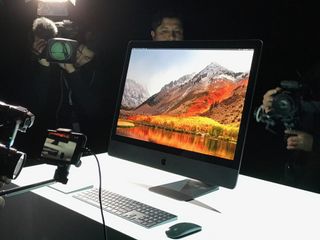 The new iMac Pro is almost here, and it is a beauty. With up to 18 cores of processing power, a VR-ready GPU, and an almost unthinkable amount of memory — up to 128GB of DDR4 ECC RAM and 4TB SSD internal storage — it's an all-in-one truly made for professional users.
Your average iMac owner may not need this power, but do you, dear reader? Let's go over the reasons why you should (or shouldn't) upgrade to Apple's newest professional machine.
Can you spare the cash?
Before we get into the iMac Pro's specs, let's face the facts: You're going to need a fair chunk of change (or line of credit) to afford this machine. The $4999 starting price for the 8-core, 32GB RAM, and 1TB model is bad enough, but if you want any of the iMac Pro's offered upgrades, you'll likely be looking at a price tag closer to $6000-$9000.
For reference, 32GB of DDR4 ECC ram goes for around $330; 64GB jumps up to $699, while 128GB is roughly double that. In short, expect to pay upwards of $1200 if you want to fully max out your RAM (and, considering that the iMac Pro can't be upgraded after sale, you may want to).
Processor power will likely be an equally big jump: Apple currently charges an additional $1200 to upgrade from an 8- to a 12-core processor on the Mac Pro; I wouldn't be surprised to see an $800-$1000 cost for the 10-core, and a possible $2000 upgrade price for the 18-core model.
Hard drive pricing is likely to add another $600-$1500 to the price, depending on whether you choose a 2GB or 4GB internal solid-state drive.
Having gone through that again: Can you (or your credit card) afford a $5000+ expense at the end of the year? If the answer is yes, an iMac Pro may well be in your wheelhouse.
Do you need multi-core efficiency?
One of the iMac Pro's biggest potential selling points among professionals is its multi-threading prowess. Rendering video, audio, and graphics work takes its toll on a processor, and computers have built out multi-core systems to help distribute that work load and make the process easier (and faster).
An 8-core machine like the iMac Pro's base model will shred through tasks a 2- or 4-core machine struggles with. A 10- or 18-core Xeon processor will make that render feel like magic.
We don't yet have full benchmarks from the new machines, but early reviews are promising. From Pulitzer-winning photographer Vincent LaForet:
If you regularly use programs that require heavy processing power or are designed for multi-threaded operations, the iMac Pro is currently the best computer Apple has to offer in that department.
How do you like your display?
The iMac Pro's display is a fantastic 5K LCD panel, providing 500 nits of brightness, 14.7 million pixels, and support for the P3 color space. But there's another computer rocking an identical display: Apple's 27-inch top-line iMac. It may not be space gray or have the processing power of its pro sibling, but if display is the only thing you care about, you can get an equally beautiful picture while paying a fraction of the price.
If you need pro graphics and pro processing power, however, the iMac Pro may be the computer for you.
How much memory and storage do you want?
While I still remember the days when 4GB of memory felt absurdly luxurious, those days are long gone. The new iMac Pro comes with 32GB of DDR4 ECC memory built-in, and you can custom order a computer with a whopping 64 or 128GB. To compare, the current iMacs and Mac Pros max out at 64GB (at a $1400 and $1200 price increase, respectively, for last-generation's DDR3 memory).
Aside from the literal upgrade cost, there's a different price for making room for all that memory: user-upgradeability. The new iMac Pro models have the memory built in, which means no post-purchase RAM upgrades (at least, not without some hefty tech repair knowledge). As such, if you want the possibility of having 128GB of memory down the line, you have to pay for it up-front. (Think of it like college tuition for your iMac.)
The same goes for solid-state storage: The iMac Pro comes with 1TB, and that's upgradeable to 2 or 4TB. With 3GB/second throughput, you'll be getting lightning-fast file reading and writing; that said, chances are if you're buying an iMac Pro, you're also going to be using an external hard drive array for most of your projects. Regardless, if you need a large amount of local storage, the iMac Pro's options are again the best you can get from Apple at present.
If you're the type of user that needs a ton of memory and storage, you can't do better than the iMac Pro when considering an Apple computer.
Do you want VR?
When it launches, the iMac Pro will be one of Apple's only options for playing in — and designing — VR spaces. Radeon's Pro Vega chip blazes past iMac models of old, offering a slew of impressive numbers on teraflops, memory, and bandwidth.
It's not the best card in the world for VR — in part due to Apple's reliance on Radeon cards over NVIDIA — but it's far from the worst. And if you don't want to hook up an external GPU solution to a MacBook Pro or pay the cash for a fully-specced 27-inch iMac with the the Radeon Pro 580, it's one of your only VR options if you want to stay in the Apple ecosystem.
If you're interested in playing or developing in VR space, the iMac Pro is the best option yet from Apple.
Do you rely on Thunderbolt 3?
Apple only offers a few computers with fully compatible Thunderbolt 3 ports, and the iMac Pro is one of them. The company has put four Thunderbolt 3 ports on the all-in-one, which together support connecting up to two 5K monitors and two RAID systems.
While the 2013-era Mac Pro technically supports driving more display power (up to 3 dual-cable 5K displays), it comes at the expense of up-to-date ports. Apple only offers Thunderbolt 2 on the current Mac Pro, and 4 USB 3 ports with the old one-way cable.
The iMac Pro also supports up to 10Gb Ethernet (for incredibly fast intranet and network storage) along with a similar SDXC slot to the one on the iMac (though the iMac Pro's also supports UHS-II).
If you need the latest in Thunderbolt and USB technology and like having extra ports for Ethernet and SDXC, the iMac Pro is the only way to go.
How badly do you want space gray?
Of all the features Apple has brought over to the Mac from its iPhone production line, I'm perhaps the biggest fan of aluminum anodization. It looked fantastic on the MacBook Pro, but it looks even better on Apple's desktop Mac. The iMac is perfectly-suited to the darker shade, and the additional anodization of its keyboard, mouse, and optional trackpad is a dynamite look for a professional desk.
If you can't live without space grey, the iMac Pro can't be beat.
Do you want to wait for the Mac Pro?
Apple's current Mac Pro — first released in 2013 — is old and aging. But there's a successor waiting in the wings. Apple is working on a new Mac Pro, which should be released… sometime before the next decade.
And therein lies the problem. We don't know how long we'll need to play the waiting game on the new Mac Pro, and if you need a new machine for your work, waiting may not be an option.
If you know you can hold off, there may be some major benefits to waiting. For one, you won't be an early adopter of Apple's newest iMac fan design; the company always has one or two minor quirks to fix in the first generation of a product, and I don't doubt the first production units of the iMac Pro will have similar foibles.
You also might be waiting for a machine with more upgradeable and swappable components: Apple executive Phil Schiller acknowledged the 2013-era Mac Pro's lack of upgradeability as one of its major flaws, and I wouldn't be surprised to see that addressed in the next version.
As such, if you know you can wait, you might be better off waiting for the new Mac Pro. But if you don't need upgradeability or prefer the ease of use of an all-in-one, the iMac Pro is mighty tempting — and available now.
Are you upgrading to an iMac Pro?
Let us know in the comments!
Master your iPhone in minutes
iMore offers spot-on advice and guidance from our team of experts, with decades of Apple device experience to lean on. Learn more with iMore!
Serenity was formerly the Managing Editor at iMore, and now works for Apple. She's been talking, writing about, and tinkering with Apple products since she was old enough to double-click. In her spare time, she sketches, sings, and in her secret superhero life, plays roller derby. Follow her on Twitter @settern.