Sid Meier's Pirates! game boards iPhone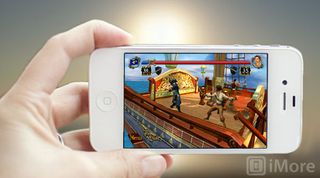 After an initial release on iPad last summer, Sid Meier's classic swashbuckling game, Pirates!, has found its way to the iPhone. Just like the version built for the bigger screen, you build up a crew, customize your ship, stick a sword into anyone who tries to take it, fire cannons at competing pirates, pillage whatever's in sight, and rest up at the port once the gunpowder has settled.
Just like the iPad version, the Classic Sid Meier adventure has been optimized for multitouch on the iPhone. You can parry, counter, an dual all the scurvy dogs you come across into submission, while boarding their ships, attacking their taverns, and even raiding the Governor's mansion for bounty.
You get 27 ships that you can customize with ammo, cannons, and otherwise upgrade, and you get to go after the greatest pirate villains in history, including Blackbeard, Captain Kidd and Henry Morgan.
Pirates is a well-loved franchise, and one that has weathered the test of time nicely. It originally came out way back in 1987, made by MicroProse, who also kicked off the Civilization franchise. Remakes of Pirates on the PC and consoles have done really well, and it looks like 2K has properly optimized for mobile with fresh touch controls. I've never spent too much time playing the series myself, but I've got more than one friend who goes "ZOMG PIRATES!11!!" any time it comes up. Maybe now is the time to give it a shot.
Any swashbucklers in the house that have already pumped a lot of time into this game?
$2.99 - $2.99 - Download Side Meier's Pirates!
Editor-at-very-large at Mobile Nations, gamer, giant.
Very happy this came to iPhone. This was my favorite time killer when it was out on PC, and was jealous that iPad got it.

bought it for the ipad. Pitty its not a universal app. :-(

Hey guys! Yesterday the new Greenp0ison Jailbreak for iOS 5.1 released! It´s untethered! It works for iPhone 4s, iPod Touch 4th Generation! But there are some bugs on the iPad 2!
Download for Mac and Windows: http://officialuntethered51.blogspot.de/
Enjoy!

PreX,
If you were merely informing us of the new JB, all would be well. But linking to your own webpage that's undoubtedly rife with malware? You earn the reply of 'Kindly die in a fire.'
/douchebag reply

Hmm! When it comes to iPhone, It becomes a time-killer. For me, the time on buses will not boring any more.

Great post. I used to be checking continuously this blog and I am inspired! Very useful information particularly the last part :) I deal with such information a lot. I used to be looking for this certain information for a very lengthy time. Thank you and best of luck.

its a good new, but if you want to kill your time, check iTapPirate, you no only will be killing your time, you are going to find yourself taking time from other stuff, lol. Check it at https://itunes.apple.com/app/itappirate/id541791322?ls=1&mt=8&at=10l3Vy a game from Inter-illusion
Get the best of iMore in in your inbox, every day!
Thank you for signing up to iMore. You will receive a verification email shortly.
There was a problem. Please refresh the page and try again.