Race for charity in Sidekick Cycle on iOS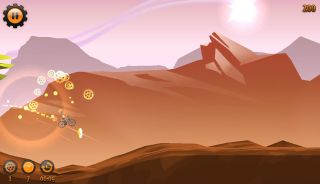 Want to do a little racing and maybe help make a difference in someone's life? Then look no further than Sidekick Cycle from Global Gaming Initiative. Sidekick Cycle is a 2D racing game in which players bike through obstacle courses filled with ramps and crazy loops. The iOS game has just received a major update that doubles its content, adding lots more levels and riders.
Now comes the part where gamers can do some good. Sidekick Cycle is free to play with in-app purchases. Fifty percent of in-app purchases go towards the "Free Bikes 4 Kidz" charity based out of Minneapolis, MN. As you can probably tell, the charity buys bicycles for children in order to help them lead healthy lifestyles.
Race to the ramps
Racing is simple in Sidekick Cycle. Your rider pedals forward automatically, so all you have to worry about is jumps and tricks. Tap the screen to jump, either to collect items or dodge obstacles. Tapping and holding causes your rider to stay in the air longer and perform flips. These flips ae great for your score, but if you don't come down on the bike's wheels you'll fail the course.
Scattered throughout each course are coins and gears. Collecting all three of a level's gears is one of the three optional challenges required to perfect the course. As for coins, they can be spent on new riders (including three new female riders), outfits, bikes, and sidekicks. Sidekicks are bug-eyed little animals that provide a variety of bonuses like attracting coins or recovery from crashes. Players can also opt to purchase coin packs from the store.
Biking world tour
Sidekick Cycle includes five free worlds, each with at least 10 courses to play. Interestingly, the African course is scheduled to unlock when the charity has donated a certain number of bikes. That should happen any time now. The publisher also sells a pack containing three extra worlds for $1.99. All of the levels, free and paid, are based on real-life environments.
Not to say that Sidekick Cycle is entirely realistic – it obviously has lots of impossible jumps and loops. The visuals need some pizazz, some inspiration. And when the rider crosses the finish line to a crowd of non-animated African-looking villagers, the game is just wearing its charitable roots on its sleeves. The crowd doesn't mesh with the bikers; at least make them bounce up and down or something.
Sidekick Cycle is an enjoyable title that will go over especially well with the younger crowd and fans of stunts and obstacle course games. Get it now on iPhone and iPad. To learn more about Free Bikes 4 Kidz, check out www.FB4K.com. More info about Games for Change can be found at www.gamesforchange.org.
Master your iPhone in minutes
iMore offers spot-on advice and guidance from our team of experts, with decades of Apple device experience to lean on. Learn more with iMore!
Paul started writing about games in 2003 with his first strategy guide (Bomberman Land 2) for GameFAQs. He continued writing guides while earning his B.A. in Literature. When Windows Phone launched in late 2010, the Xbox integration lead our hero to jump on board the platform. He joined Windows Phone Central as Games Editor at the beginning of 2011, going on to review over 125 mobile Xbox titles over the years. He now leads Windows Central's Xbox One coverage, personally specializing in developer interviews, indie games, controllers and accessories, and Twitch broadcasts. Paul loves games on all platforms; he goes where the games are. Although very busy with console coverage, he sometimes contributes gaming articles to iMore and Android Central.