EA removes The Simpsons: Tapped Out from the App Store due to server capacity issues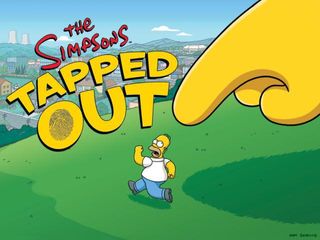 EA has severely underestimated the popularity of any game that involves characters and voices from the hugely popular animated TV series The Simpsons. After releasing its latest game called The Simpsons: Tapped Out, it has now embarrassingly had to remove it from the App Store as its servers are being slammed and user experience is being badly affected.
The game is still playable if you already managed to grab it; but it is no longer listed in the App Store. The game involves rebuilding Homer's home town of Springfield after a nuclear explosion. Players rebuild the city and gain game currency which is measured in donuts by completing tasks along the way; players can also buy donuts through in-app purchase to advance more quickly through the game.
EA hasn't said when the game will be back in the App Store but we will keep an eye out for it and let you know as soon as it does!
Source: Facebook via MacRumors
Get the best of iMore in in your inbox, every day!
UK editor at iMore, mobile technology lover and air conditioning design engineer.
I have it and I cannot play it. Always pops up with "server errors, trying again in 60 seconds" and then it counts down...and repeats. Lame.

Does the same thing to me.

Free Download Super Mario Bros updated GAme for Windows and MAChttp://www.iphonefre.com/free-download-mari0-a-super-mario-bros-and-portal/

It wasn't just the server issues...but the insane amount of bugs the game had. Like every EA game, it failed at multiple levels. Severely disappointing. I hope they fix the bugs before they break it back. Embarrassing is the right word here.

I played it and it shut-down twice near 742 Evergreen Terrace. I then got the wait 60 seconds. I hope they fix this along with the Rock Band games so I can purchase music without Network Connection issues.

Please let me know if you're looking for a uothar for your blog. You have some really good posts and I believe I would be a good asset. If you ever want to take some of the load off, I'd absolutely love to write some articles for your blog in exchange for a link back to mine. Please blast me an email if interested. Regards!

I downloaded the game the first day it was available and played - still can play it. I launched it a few minutes ago and no "server error" message showed up, however every time I tried yesterday and for about a week now, it came up. Usually after the timer is done, it launches fine.

So, is it safe to say that EA... "Tapped Out"?

I loved as much as you will receive ceraird out right here. The sketch is attractive, your authored subject matter stylish. nonetheless, you command get bought an impatience over that you wish be delivering the following. unwell unquestionably come further formerly again since exactly the same nearly a lot often inside case you shield this hike.

Ha!) Just play this game when US is sleeping!) my timezone is GMT+7, so I m fine))

It being pulled from the elhsves. Why? Here is a rundown of the iPad:-It doesn't have an SD card slot or USB slot. You want to load all your photos on it? You need to buy a special dongle and attach it to the iPad. Ah yes, that's convenient and cost-effective.-You need to lay it flat and look straight down at it to type on it. It's not like a netbook or laptop where the keyboard is flat and the screen is in front of your face.-You can buy a keyboard accessory you can spend extra money to turn a low-power netbook-type tablet into a non-portable desktop computer. Meanwhile there are products like Lenovo U1 Hybrid where you can slip the tablet into a netbook shell and turn it into a portable, foldable laptop.-Apple wants to say it will be great for reading books and magazines, but it has a bright, glossy LCD screen. Meanwhile, electronic book reader devices use an electronic ink technology that doesn't strain the eyes and can be used in the sun.-You cannot multitask. You can only do one task at a time. If you want to surf the web and type into a document, you can't. You need to exit one and then open the other.-No flash support. Enjoy the web without much of its content!-It costs $500, minimum, and has a 1 ghz processor. Products with similar specs and abilities cost less than that.My netbook has a 1.6 ghz Atom processor and cost me $200. And my netbook has an SD slot so I can make the hard drive space as large as I want. And my netbook has USB ports. And I can do multiple tasks on my netbook. Fact is, tablets have been around forever and the mainstream market didn't want them. Just because they've slapped an Apple logo on it, should people suddenly want it?

Still, i think it´s great that i get reminders like "It´s been a while, time to check your Springfield" even though the entire freaking game is down!!

Hi
I am a member of the game but my bf accidentally removed it so how can I download it so I can play it?

When you download apps there saved onto your itunes account so go to the app store then go to updates at the top it should say purchased then click that and search for the app and you should find it

This is an update: After visiting Springfield Prime the game goes back to the opening animation over and over... .

Thanks for blogging our iPhone app Oleg!We also pivrode a boardgame version of Helvetiq with 2 swiss games in 1: an unusual trivia quiz and a strategic game to play swiss politics. check out our website, helvetiq.ch.Oh, and it's available in 4 language versions including English just like the iPhone app.cheers

Who is still playing? Add me as friends....my username is Kameyou

Who ever still plays add 19pdh89

For Current players it works fine now
PLEASE ADD:
FairyxTail
i play everyday =D
(adding more 'friends' = more experience guys)

Hello, still playing, add me: DarknessGilead
:)

My wife and myself have the game and works find , we did have problems at the start but all good now , but have notices that there is no Mr Burns lover ( Smithers ) ?

the game keeps closing down mid play on my iphone!! is there a fix??

Still playing??Add me: gazzagoolie

Still playing, add me: DarknessGilead

Hi,
I'm Still playing, add me: DarknessGilead
Thank you for signing up to iMore. You will receive a verification email shortly.
There was a problem. Please refresh the page and try again.