Siri keeps improving but can't top Google Assistant in new tests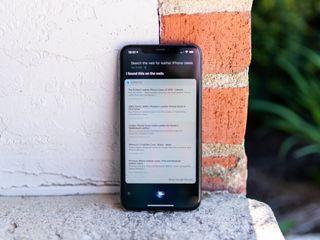 (Image credit: iMore)
What you need to know
Loup Ventures performed tests and found that Siri continues to improve when it comes to understanding and answering questions.
Although Siri has improved the assistant still lags behind Google Assistant.
The data shows Siri is particularly good at "phone-related functions."
A new study from Loup Ventures finds that when it comes to understanding and answering questions, Apple's Siri has gotten smarter with each passing iteration. In fact, the data shows that Siri is closing the gap on Google Assistant.
The study asked today's top three smart assistants—Siri, Alexa, and Google Assistant—the same 800 questions covering five categories. Some of the questions include: "Where is the nearest coffee shop?," "Who do the Twins play tonight?," and "How do I get too Uptown on the bus?" The questions were designed to test the acumen of these assistants during everyday scenarios.
It's worth noting, however, that the smart assistants were quizzed on smartphones, not smart speakers, where Assistant and Alexa primarily call home. Loup Ventures said it did this because "use cases vary," and the underlying technology is similar.
Although Siri was unable to best Google Assistant, Apple's technology did outperform its rivals in some situations and is slowly closing the gap on Google.
According to Loup Ventures, Siri is particularly adept at phone-related functions, such as calling, texting, emailing, calendar, and music.
Ultimately, Google Assistant came out on top, correctly understanding all 800 questions and answering with 93% accuracy. Siri, meanwhile, was able to understand nearly all 800 questions and answered with 83.1% accuracy. According to Loup Ventures, Siri falls short when answering questions related to commerce and information.
You can get more insight into the test from Loup Ventures right here.
Get the best of iMore in in your inbox, every day!
The study is ridiculous. Siri can't interact with any third party product or service. I don't use any Apple services or apps, so Siri is 100% useless on my iPhone. Never used Google Assistant, but Alexa can interact with any service out there, so is by far the best AI.

Siri can actually interact with third party apps, to a degree (e.g. you can use Siri to order an Uber)

Bixby has good phone related functions, too. That is not the disparity most people notice when using these assistants.
Thank you for signing up to iMore. You will receive a verification email shortly.
There was a problem. Please refresh the page and try again.