Six great Mac games to play over Christmas break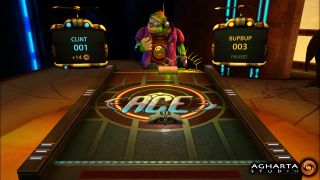 With the Christmas holiday upon us tomorrow, some of us may find ourselves with a bit of extra time on our hand this weekend. So I've rounded up a few fun new diversions for your Mac that you can download and play over Christmas break without breaking the bank - I've kept it to less than $20.
Baldur's Gate II Enhanced Edition
Beamdog's resurrection of the classic adventure role playing game originally developed for PC and Mac is better than ever, thanks to added content, remastered graphics and numerous improvements to gameplay. Baldur's Gate II is more than a decade old but you wouldn't know to look at it. For the uninitiated, BG II is based on Dungeons & Dragons rules - one of the most authentic RPG experiences you can get on the Mac.
Rayman Origins
This side-scrolling platformer features the beloved character Rayman as he goes on a quest to save his home, The Glade of Dreams, from hordes of nightmarish monsters. You'll have to run, jump, swim, swing and more as you travel through jungles, mountains and deserts. You can play solo or with others, with local co-op play for up to four players. Feral did a great job with the Mac conversion.
Shufflepuck Cantina Deluxe
One of my favorite "old school" games from the black and white Mac era was Broderbund's Shufflepuck Café, a futuristic air hockey game featuring alien opponents. French developer Agharta Studio resurrected it as Shufflepuck Cantina for iOS in 2012, and they're back this year with a Mac and Windows version called Shufflepuck Cantina Deluxe. Thirteen opponents, dozens of upgrades, 350 missions and 120 mini quests give you plenty of gameplay, for a fair price. If you're a retro Mac gamer, see how this classic has been updated for 2013.
Borderlands 2 Headhunter Pack 3: How Marcus Saved Mercenary Day
If you're looking for something a little more holiday-festive, check out the newest Headhunter Pack for Borderlands 2. This add-on for the ever-popular FPS from Aspyr Media and Gearbox finds you on the battle-scarred world of Pandora during Mercenary Day, a Christmasy holiday, where Marcus has to face off against (and melt) the Abominable Mister Tinder Snowflake. Loads of fun - just remember that you need the full Borderlands 2 game to play.
If you need Borderlands 2:
It's available as an in-app purchase from the version downloaded through the Mac App Store. IF you've acquired Borderlands 2 for Mac elsewhere, visit here:
Eldritch: Mountains of Madness
Eldritch is a first-person action game that draws its inspiration both from "roguelikes" (games that feature randomly generated levels and other features) and horror fiction writer H.P. Lovecraft, the creator of the Cthulhu mythos. It costs a scant $7.50 (on sale for a limited time), and the developers have recently released Mountains of Madness, free DLC for the game inspired by Lovecraft's short story of the same name. If you like roguelikes or Lovecraft, check this out!
Eldritch:
Out of the Park Baseball 14
December's nearly over and it seems like spring is a million miles away. If you need some baseball fun to keep things lively during the cold winter months, Out of the Park Baseball is back with a new version for the upcoming 2014 season. OOTP is arguably the best baseball management game around. Bear in mind that this isn't an arcade-style game - you're controlling the front office as the general manager, scouting, contracts, making trades, handling drafts and managing finances.
Hopefully you've found something on this list that looks fun to play. If you have other Mac games you want me (and other iMore readers) to know about, post them in the comments!
Master your iPhone in minutes
iMore offers spot-on advice and guidance from our team of experts, with decades of Apple device experience to lean on. Learn more with iMore!