Add customization options to 'slide to unlock' text with Slider Pro [Jailbreak]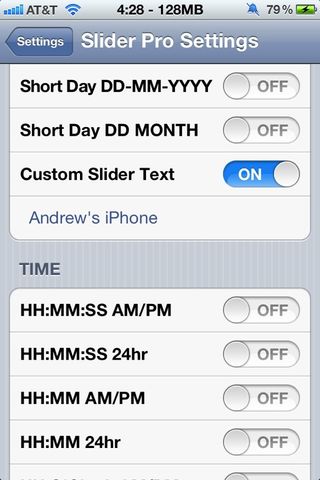 Slider Pro is a lightweight but useful jailbreak mod in Cydia that lets you customize the slide to unlock text on your iPhone, iPad, or iPod touch. It comes with a handful of great presets including adding the date and time to your lock slider. Time and date are available in a number of different formats. If you'd just like to add custom text to the slider, you can do that as well. Once installed you can just pop into your general Settings app and customize it from there.
If you're looking to add functionality to your lockscreen but don't want to overload your jailbroken iPhone with too many tweaks and mods which may conflict with each other or just bog down your device, then this may be the way to go. It's especially convenient if you have an app like IntelliscreenX or LockInfo and want to hide the lock clock to create more room for additional widgets. It'll allow you to use space that's already there in a more efficient way.
Slider Pro is already available in Cydia and will run on any iOS device running iOS 4 or higher. If you're looking for even more tweaks and utilities to install, check out our guide to the best jailbreak applications for iOS 5.
More jailbreak resources:
Get the best of iMore in in your inbox, every day!
Andrew Wray is a Salt Lake City, Utah based writer who focuses on news, how-tos, and jailbreak. Andrew also enjoys running, spending time with his daughter, and jamming out on his guitar. He works in a management position for Unisys Technical Services, a subsidiary of Unisys Corporation.
What is the stock ticker widget you have there? Been searching for one for some time with no luck. Thanks.

I have an iPhone 4S - don't enable "hide slider" and "tap to unlock", or you'll be locked out.

I try to download it and it says in red "HTTP/1.1 404 Not Found" twice... why?

Not working for me, maybe because I have a customized Slider icon????

There's an older tweak called LabelSlide that is very similar, for those of you having trouble with this one.

mine fully downloads but then when i go into setting's it's not in there. anybody else have the same problem?

I have aoethnr video for how to use greenpois0njust go watch that one and if you still have a problem then tell me again

Thank you a bunch for sharing this with all folks you actually recognize what you are speaking approximately! Bookmarked. Kindly also talk over with my web site =). We may have a hyperlink trade arrangement among us
Thank you for signing up to iMore. You will receive a verification email shortly.
There was a problem. Please refresh the page and try again.