Sling TV adds AMC, opens its doors for everyone to try out the Internet TV service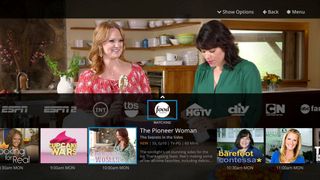 Sling TV, the Internet-based TV service that was first announced by Dish at CES 2015, is now available for anyone to access following an invite-only beta testing period. Dish has also announced that AMC has been added to its list of networks that can be accessed with its basic fee of $20 a month.
Sling TV (not to be confused with the Slingbox television set-top box), can be accessed on the iPhone and iPad via an iOS app. Dish is offering users a seven day free trial, so you can see if this "cord-cutting" option is right for you before paying the monthly fee. In addition to the $20 tier, which offers a collection of 15 channels, customers can pay for additional collections of sports, news and kids channels for $5 a month each.
Source: Sling TV (opens in new tab)
Get the best of iMore in in your inbox, every day!
I have been writing professionally about technology and gaming news for 14 years.
I am trying this now and I think it is a great start but I do not believe I will continue my subscription past 7 days. Not having DVR functionality is a big miss for me. I am also not seeing AMC on the channel list yet.

Yeah everybody is reporting that AMC in offered in the package yet I see nothing on SlingTV mentioning AMC.

So will it work with Apple TV? I've seen listed that it supports IOS?? I don't really want my kids using my iPad for it. I bought a Chromecast in anticipation of Sling TV, but it is not supported, so it looks like I'll be returning it....

You can chromecast your screen to make it work. I tried it and it does work. Roku is better interface but I have chromecast on all my TVs so I am with you on the desire.

Basically the app on iOS can AirPlay to the Apple TV for the time being. It works good for me. I'm positive Chromecast support will come sooner than later. An AppleTV channel will also come but the interface guidelines that Apple has for the AppleTV are the only thing that have delayed the Sling TV channel on there. Once Sling works around it, the channel will be there.

Edit: Never mind. The app doesn't even support AirPlay right now.

Whelp then I'm not interested! Could of been a slam dunk with AirPlay. I don't really want to invest money into cords when most likely a new Apple TV will be out and  watch Sent from the iMore App

I believe AirPlay is coming on the next update. I read that it would be added once Sling TV became public.

I was able to AirPlay it, took me 3 trys, but managed to get it working.

It's kind of retarded. Who wants a bunch of "live" tv channels filled with commercials? When I watch tv, (I have directv) I go straight to the dvr list and choose a program. I forward through commercials. Heck, I couldn't even tell you which night a show airs. It's just on my dvr list. I seldom watch anything live. Even my college football and basketball games are on dvr. Or I got to watch espn app on apple tv and watch a replay.

I'm with you. I watch nothing live unless I want the TV as background noise. Being able to pause, rewind, and fast forward are basic to my viewing wheelhouse. This cord cutting with on-demand viewing and control of the feed is where this all needs to go.

The only appointment television I actually make appointments for are for live sports. You'd be surprised how many people like to watch live sports on the go or even at home without having to pay for more channels they don't even watch on their satellite service. That's much more of the point here. Adding AMC is another good step forward because there are just those lunatics that MUST watch things like 'The Walking Dead' at the precise moment it airs. Another things is that the interfaces for DVR on all these cable providers are horrible, clunky, and slow.

I do. I watch sports live. I watch a lot of soccer games and watch them live. . There are no commercials except halftime. But i'm not bothered by commericals. Now sling tv is currently a nonstarter for me until they add NBC Sports because that's the channel The English Premier League is on. I also would like to watch national news and I want to see what's live.

I hope that will change soon. We are less than a month in. I want to be able to stream on more than one device at a time.

I wonder if I can AirPlay it? This service is useless if I have to watch tv on my iPhone/iPad Sent from the iMore App

You can use AirParrot 2 to get SlingTV on the AppleTV. No idea if SlingTV will ever support Airplay (my guess is no).

AirPlay mirroring works. Black screen on the phone with controls while the tv plays the show. Sent from the iMore App

The price you pay in US for cable is insane for the amount of ads you get.. I watch sometimes online US Tv and it's disgusting.. Every 5 min ads.. You are not watching Tv with ads, you are watching Ads with Tv.. Here in my country Bulgaria we pay $3 for HD Cable with more than 150 Channels.. Biggest providers charge $8-$20 (For $20 you get HBO HBO Comedy HBO Go Cinemax and Cinemax 2).. And we don't have as much ads like you. Maybe 5 min in every 45 min watching time. Feel sorry about you.

Sling is owned by Dish, which means very little in the way of sports.

nice idea, but they need a lot more channels and the ability to actually watch it on my TV without requiring me to hook a computer up to it before i buy it.
Thank you for signing up to iMore. You will receive a verification email shortly.
There was a problem. Please refresh the page and try again.