Where Nanoleaf stands with Apple HomeKit in 2023 — and where it's going
Nanoleaf is a smart-home pioneer, and it's only growing.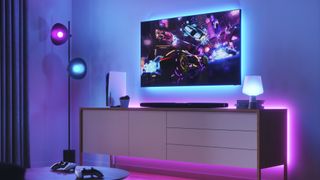 (Image credit: Nanoleaf)
Apple Home was first revealed way back in 2014, and almost a decade since its initial release, the smart home ecosystem has seen mixed results. It's generally considered to be a quality smart home app for people who use a lot of Apple products, but there are limitations. Not every smart home accessory supports HomeKit, and support pales in comparison to competing ecosystems from Amazon and Google.
That is, until support for Matter rolled out, which has the potential to bring parity to the smart home race. Matter is a universal standard for your smart home, and accessories that support the new standard will be compatible with Apple, Amazon, and Google's smart home ecosystems. But not much is changing in the short term because it will take time for accessory makers to update their products and services to be compatible with Matter.
One of the accessory manufacturers leading the charge is Nanoleaf, which sells an assortment of smart lighting solutions, from bulbs to LED shapes. That shouldn't be surprising, considering that Nanoleaf was one of the first to support HomeKit nearly a decade ago.
But what does Nanoleaf's early adoption of Matter mean for Apple Home users in 2023? We spoke to Nanoleaf's own co-founder and CEO, Gimmy Chu, to find out.
How Nanoleaf got its start with Apple Home in 2014
Nanoleaf began in 2012, with the goal of developing the most energy-efficient lightbulb on the market. The company continued to make smart lights with the help of successful Kickstarter campaigns through 2014, which prepared Nanoleaf to become one of the first to support HomeKit. Though there can be some difficulties with being the first to support a new standard, Nanoleaf moved forward with supporting Apple Home despite being a young smart home manufacturer.
"When you think about the fundamental reason why we create products, it's really about creating products and technology that don't exist on the market today," Chu said. "As a brand, we like to push the boundaries of what exists. When we started thinking about smart lighting, that was no different."
The big shift came in 2016 when Nanoleaf first revealed its modular smart lighting panels. Those could be rearranged in seemingly-endless combinations based on your style, and controlled through a smartphone or smart home assistant. They also came with unique features, like a music visualizer that activated the smart lights based on the beat of the song playing nearby.
Nanoleaf developed its own app that could be used to fine-tune the smart lights beyond what Apple Home offered. Though that application has over a million users today, Nanoleaf's corporate leaders saw the value in Apple Home, and continued to heavily support it. The convenience of a central smart home application like Apple Home has advantages over specialized apps, as Nanoleaf found.
"A lot of times I like controlling my products through either Google's app or Apple's app, more so than the Nanoleaf app," Chu said. "And the only reason for that is because all of my other smart home products are already on the Apple and Google apps."
Nanoleaf's robust support for scenes and automations in Apple Home
Things changed for Apple Home users in 2021, when Nanoleaf debuted a feature called Nanoleaf Scenes. The new way to control Nanoleaf lights worked tightly with Automations and Scenes in the Apple Home app, which made the accessories some of the most useful in the HomeKit ecosystem.
With Scenes, you can create a color pattern and save it for future use. Static Scenes display a single color and dynamic scenes would shift between different hues — all of which could be customized by the end user. There is also a Rhythm Scene, which would change the lighting based on sound characteristics, like sound frequencies, volume, or beats. Last but not least, Interactive Scenes respond to touch and even let you play arcade-style games with your Nanoleaf lights.
That's great news for Apple Home users since these Nanoleaf Scenes can be added to Apple Home as Scenes and Automations in the HomeKit ecosystem. They have to be first created in the Nanoleaf app, but they'll appear in the Apple Home app afterward.
"A brand's app should offer more complex features that Apple and Google don't offer," Chu said. "With our products, it could be around scene configuration and designing automations that are specific to our products."
Once the Scenes are added to Apple Home, the fun really begins. You can then create HomeKit Automations relating to your Nanoleaf lights. For example, you could set an Automation that tells your Nanoleaf lights to start a Rhythm Scene when music is playing. Or, your Nanoleaf lights can be configured to activate a Static Scene when you return home.
If you're deep into the Apple Home ecosystem, the experience with Nanoleaf products gets better. Scenes in Apple Home can be triggered through voice assistants, so asking a HomePod or HomePod mini to "start the Blaze Scene" will instantly activate that Scene on Nanoleaf lights.
What Nanoleaf's shift to Matter means for Apple Home users in 2023
Nanoleaf has supported other smart home ecosystems for years, so the shift to Matter won't mean as much for the company's users. However, Nanoleaf's accessories were particularly useful for Apple Home users, and that isn't changing. Features like Scenes and Automations have robust support in the Apple Home app, and they work with Apple products well.
"Apple makes it really easy," Chu said. "You just slide down from the top right corner, and you can do shortcuts with your favorite devices. It does change the game a little bit."
However, Nanoleaf believes that the transition to Matter will save the company time in the development process, which will have an effect on the average user. Previously, Nanoleaf had to work to earn certifications for each smart home ecosystem, from Apple Homekit to Razer Chroma. That took time and research and development funding, which can now be used for other consumer-facing features.
"We spent the last 10 years just trying to turn on and off light bulbs in all these different [smart home] languages," Chu said. "Now, we can actually use that same engineering time to develop more interesting experiences for our customers."
There's a benefit for companies that support smart home ecosystems like Apple, too. "Now, they don't have to worry about which devices they are interoperable with," Chu added. "They can actually focus on adding value at the platform level."
The first Matter products from Nanoleaf are part of the company's Essentials line, which includes light bulbs and light strips. But since Nanoleaf already supported Apple Home, much of the user experience will remain the same as the company's products begin to support Matter. Nanoleaf confirmed that it is working on adding Matter support for the rest of its products, which is tentatively planned for later this year.
For now, Apple Home users can continue to use Nanoleaf lights with their HomeKit Scenes and Automations. Looking ahead, they can expect to receive new features both from Apple and Nanoleaf as the industry's shift to Matter has ripple effects across the market.
"This is very much a transition time for the major platforms, but there's a very strong reason as to why they're doing this transition," Chu said. "This is the future of smart home."
Master your iPhone in minutes
iMore offers spot-on advice and guidance from our team of experts, with decades of Apple device experience to lean on. Learn more with iMore!