Smart Switch vs Smart Bulb: Which Is Best for Your Smart Home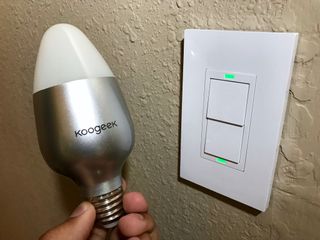 Smart bulbs, like those from Philips Hue (opens in new tab), are wireless lightbulbs. Smart switches, like the one from Elgato's Eve line (opens in new tab), are wireless in-wall switches that are installed in place of regular light switches.
Both smart bulbs and smart switches provide unique benefits; you may find one or both work great for your smart home setup. In other words, neither smart bulbs nor switches are inherently better — it's all about what works best for you. To help you decide what to choose, let's take a look at some of the reasons you might add smart switches and bulbs to your smart home.
Looking to add a splash of color?
If you want to add some fun splashes of color to your home, smart bulbs are your best bet. Smart switches replace the light switch that's installed in your wall, not the bulbs in your home. They can turn on and off (and possibly dim) the bulb(s) you've got connected to the light fixture, but they're not going to change your bulb's colors.
This HomeKit-enabled smart bulb from Koogeek, however, can produce about 16 million different colors. Using your phone or your voice, you can dim the bulb, turn it on and off, and change its color.
Swipe to scroll horizontally
Category
Features
Base type
E26 (Medium screw base)
Rated power
8 watts
Bulb equivalent
60 watts
Number of colors
16 million colors
Color temperature
2700K-6000K
Lumens
500 lumens
CRI
> 80
Bulb lifetime
25,000 hours
Beam angle
199.9°
Material
Plastic and Polybutylene terephthalate (PBT)
Input
120V AC, 60Hz 0.2A (Max.)
See at Amazon

(opens in new tab)

$36.99
If you just want a way to shut off the lights without getting out of bed, switches and bulbs will work for you. If you want to set the mood during a horror movie by bathing your walls in an eerie orange glow, you're gonna need some multi-color smart bulbs!
Do you have multi-bulb fixtures? How about candelabra bulbs?
Each of the living spaces in my home (bedrooms, living room, dining room) is equipped with one of these fan-and-light combo fixtures and each of the four fixtures has four candelabra-style bulbs. Not only were my smart bulb options limited due to the fact that there weren't any viable candelabra-style bulbs available to me at the time, but they were also limited due to the potential cost to replace 16 regular bulbs with smart ones. I knew I didn't want to spend that kind of money just to be able to dim and turn on and off the lights and I also wanted to be able to control my fans. This is where in-wall switches came into play.
How to add your existing lights and fans to your HomeKit-enabled home
By installing an in-wall switch (or two!), I was able to add wireless control to my fans and lights without breaking the bank. Two of the four fan fixtures in my home had wiring for both the fan and the light; I was able to install dimmer switches for the lights and on/off switches for the fans in those two places. For the rest of the rooms, I opted for simple on/off switches.
For simple on/off control and a modern design, I recommend the Elgato Eve Light Switch ($44). It's HomeKit-enabled and is controlled over Bluetooth. For dimming control, you can't go wrong with Lutron's Caséta dimmers ($159.90 for the starter kit) (Lutron also makes simple on/off switches). If you've got separate wiring for control of your fan and lights but only have space for one switch, check out this unique HomeKit-enabled smart switch from Koogeek ($47.99) — it's one of my favorite smart products in my home.
Swipe to scroll horizontally
Elgato Eve Light Switch
Lutron Caséta Starter Kit
Koogeek Two-Gang Smart Switch
Price
$44.00
$159.90
$47.99
Link
See at Amazon

(opens in new tab)

See at Amazon

(opens in new tab)

See at Amazon

(opens in new tab)
Do you DIY?
Smart switches require some electrical wiring knowhow because you're replacing your run-of-the-mill light switches with wireless ones. I've found every smart switch I've ever tried to be incredibly simple to install — smart switch manufacturers tend to over-explain and most will provide all the necessary hardware in the box. That said, you're still having to fiddle with electrical wiring and that requires a bit of knowledge and a lot of safety. Although there are consistent regulations for residential wiring, your home wiring setup could vary. Depending on how individual rooms are wired to provide power to the receptacles and lighting, you could end up in a confusing mess of multi-colored wires sprouting from your wall. Put simply, know what you're doing before you take off the faceplate. If you don't know what you're doing, hire someone or call someone who does.
If there's any doubt in your mind about installing smart switches, hire a professional or go the way of the smart bulb. Better safe than shocked.
Do you rent?
Renters should be doubly wary of in-wall switches. Depending on your rental agreement, you may find you've violated your lease by replacing the hardware that came with your residence. Read over your lease, talk to your landlord, and make sure you save the original hardware that came installed when you moved in. When you move out, remember to reinstall the original fixtures (save your boxes)!
If your landlord doesn't give you permission to install switches, it's safer to go the way of the smart bulb. Better safe than evicted!
Thoughts?
If you've read through the list of considerations, I'm curious to hear your thoughts! Do you think you'll go with smart bulbs for your home? Smart switches? Both? Give us a shout in the comments or send me a tweet over on Twitter.
Get the best of iMore in in your inbox, every day!
Mikah Sargent is Senior Editor at Mobile Nations. When he's not bothering his chihuahuas, Mikah spends entirely too much time and money on HomeKit products. You can follow him on Twitter at @mikahsargent if you're so inclined.
If you are changing out switches, three way (or more) switches are the most challenging. Those are the ones at the top and bottom of stairs where you can turn the light on or off at either end. If you don't know what you are doing with these, don't play with them, find someone who does understand them. Various smart switch implementations work these differently as well. Understand how they work before getting into it. For candelabra bulbs you can buy a candelabra to medium base adapter. Home Depot has them on the shelf. They do make the bulb stick out a bit farther than it did (1/2- 3/4") but I found that in ceiling fans, which seem to like candelabra sockets, it works OK. Gives you a lot for options in bulbs. One other thing to think about is the majority of Smart bulbs are LEDs, You can put them in most any application. Most of these are dimmable. If you go the Smart switch route, you need to be careful on the bulbs that switch runs. If the switch does On/Off you can put pretty much any bulb in the socket, incandescent, LED even CF. If the switch supports dimming, you are more limited. No CF, incandescent OK, LEDs need to be dimmable LEDs. There are non-dimmable LEDs and you can't have a dimmer control them. You get unpredictable results, flickering, not turning all the way off, etc. Another thing to consider is if you use smart bulbs in a fixture currently run by a switch, you need to leave the switch on all the time. There are little covers you can buy that fit over the wall switch that makes it harder to turn off. Not impossible, just keeps people from doing it accidentally.

For my house, the rule of thumb is that lamps get smart bulbs and (almost) everything else gets switches. I say almost because some of the previous electrical renovations done to my 250+ yr old house were what I will generously call odd and overzealous. I have several 3-way and 4-way switches to lights where the switches are 15-20 ft from each other. I also have at least 2 switches that control nothing that at all. It's like someone was just taking a test for their electrical wiring skills with mixed results. One of the first things I did with smart switches were the front and back porch lights. I use Wink to control them, and I have them set for sunset to sunrise. It is particularly helpful in the winter when it gets dark early so I don't have to come home to a dark doorway.
Thank you for signing up to iMore. You will receive a verification email shortly.
There was a problem. Please refresh the page and try again.