U.S. smartphone penetration crosses 50%, but iOS tails Android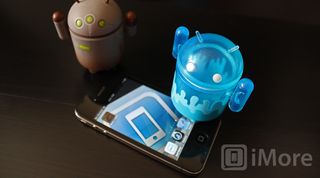 It's finally happened. If the latest numbers can be believed, smartphone adoption now rests at 50.4% of the overall mobile market, which is up from 47.8% in December. That means more people in the U.S. now own smartphones than feature phones. The tide has turned. The paradigm has shifted. We're the majority.
Well, sort of. Though there's still some contention as to whether or not Android is in fact beating out iOS as the leading smartphone operating system in the U.S., Nielsen's latest research shows that Android is leading the way with a 48.5% share. Nielsen also figures. They looked at all sorts of demographic data too, including that there were slightly more female mobile subscribers in Q1 2012 than males, but the split was fairly even (50.9% versus 50.1%). 67.3% of Asians surveyed had a smartphone as their primary handset, which which was a significant lead on the other ethnic groups; U.S. Hispanics enjoyed 57.3% smartphone penetration, followed by 54.4% among African Americans and 44.7% of white people.
I'm often iffy about comparing iOS and Android market share directly considering their wildly varied manufacturing circumstances; if Android gets to add up all of its smartphone manufacturers as if they're a singular driving force for the platform, shouldn't Apple get to count iPad and iPod touch numbers in OS market share research? That said, I wouldn't take it too personally that the numbers from Nielsen showed that Android was beating out iOS in the U.S. since Apple is pushing their platforms in many directions where we still aren't seeing much of Google's operating system. Besides, Apple is still making boatloads more money than anyone else. And they're often doing it in spite of the carriers.
But back to the big news. If any of you were smartphone users back in the day of the Treo or Windows Mobile, of Symbian or BlackBerry, did you imagine the day would come when most people in the U.S. were smartphone users? And did you think it would take this long? Did you think it would take longer?
Smartphones used to be for the geeks and the go-getters. Now they're for almost everyone, and the almost is rapidly fading. How long until all phone users are smartphone users?
Source: Nielsen
Master your iPhone in minutes
iMore offers spot-on advice and guidance from our team of experts, with decades of Apple device experience to lean on. Learn more with iMore!
Editor-at-very-large at Mobile Nations, gamer, giant.