Solar and fuel cell farms for Apple's North Carolina data center now completely operational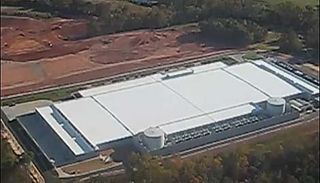 The solar farms and fuel cells meant to power Apple's data center in North Carolina are now all online, and we have a better idea about how it all works. Apple's sites are the largest privately-owned clean energy centers in the country, and consist of two solar farms and and a fuel cell farm. The whole apparatus feeds into the power grid, and then Apple uses the energy it needs, according to Katie Fehenbacher at Gigaom:
The solar farms use high-efficiency panels, and one of Apple's farms contains 50,000 panels in 100 acres. These panels also follow the sun throughout the day to ensure maximum energy absorption. The fuel cell farm is smaller, and uses methane biogas to produce its energy.
Apple decided to build its own solar power because back in 2010 and 2011, they couldn't buy clean power from the local utility, Duke Energy. They still can't though Duke has taken steps to gain regulator approval to use clean energy sources to provide power. They've been very secretive about this project, and are taking what they've learned from it into similar future endeavors. Apple is currently building another solar farm like the North Carolina facilities near their Reno data center.
It also seems likely that Apple's foray into clean power lit a fire under Duke Energy. Since clean energy wasn't available from Duke when Apple was making their decisions a few years ago, they had to go their own way. Duke undoubtedly sees an opportunity to provide power to, and thus make a lot of money from, large internet companies like Google and Facebook, both of which have data centers in North Carolina. It's likely that they view Apple's data center as a missed opportunity. Google recently announced that they'll be working with Duke on the energy company's clean energy pilot program.
How do you feel about Apple's green energy projects? Would you like to see them do more? Sound off in the comments.
Source: Gigaom
Get the best of iMore in in your inbox, every day!
Joseph Keller is the former Editor in Chief of iMore. An Apple user for almost 20 years, he spends his time learning the ins and outs of iOS and macOS, always finding ways of getting the most out of his iPhone, iPad, Apple Watch, and Mac.
I think that this is the best and most efficient way to utilize solar energy- no need for local storage- provided there is no cost penalty to Apple. Sent from the iMore App

I wonder about the economics of selling power to Duke Energy and the re-buying power. How much does Duke take off the top in this deal? Sounds to me like over regulation in North Carolina prevented Apple from just building and using their own power so they had to implement this convoluted plan. Shame. Sent from the iMore App

I absolutely think Apple should pursue clean energy solutions. I'm sure they receive a payment for their energy contribution to the local power grid as well.
Heck, if I could afford to put an array of solar cells on my roof, I'd be in!

Well done Apple. Clean and green energy plus highly recyclable products. Giving the example and setting the trend in the most Eco friendly way. Sent from the iMore App

Way to go green apple. It's always great to see that big company's like apple are environmentally friendly. Sent from the iMore App

Last year I wrote my thesis on CSR, so this fits right into my field. I absolutely love the job apple has been doing with this. Though my thesis didn't deal with apple I did mention this project in reference to the positive effects of CSR. Sent from the iMore App

I really love this. I am a Green Party member and an overall Earth lover. Apple making clean green energy their main focus in the future will pave the way for many companies to follow suit. Stories like this make me love Apple even more and my loyalty to the company is stronger now than it ever has been. Their new Spaceship campus will also be a huge green energy project and it really shows their intentions as a large tech corporation. Sent from the iMore App

Apple should build more of these places in Arizona. We rarely DONT have sun. I guess that's why their Safire place here in Mesa will be solar also!! Sent from the iMore App

"Now witness the firepower of this fully ARMED and OPERATIONAL battle station!" Fortunately for Google, Apple's solar farm and data center is barely "operational" compared to Google's data centers' services.

What happened to those big innovative blocks of battery power invented by that Indian guy? They're using it at a lot of places like eBay and Google. Sent from the iMore App

It's refreshing to see companies actively stepping up and pursue clean energy solutions. I wish more and more companies can do the same. Sent from the iMore App

Great for Apple. Sent from the iMore App
Thank you for signing up to iMore. You will receive a verification email shortly.
There was a problem. Please refresh the page and try again.