From Solar Warfare to Dragon Maker, cool iOS games from TegTap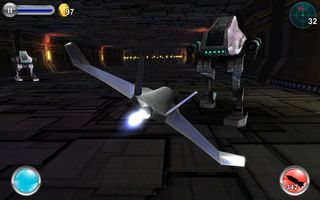 TegTap is a two-man app development studio based in Arizona with a surprisingly diverse selection of games under its belt. The studio has published a variety of kids' apps for iOS, including Dragon Maker, My Fairy Pony, and Dino Digger (some of which are also available on Mac).
On the other end of the spectrum, TegTap's flagship title Solar Warfare is a full-fledged sci-fi shooter aimed at the more hardcore gaming crowd. With smooth 3D graphics, gigantic bosses, and intuitive controls, Solar Warfare made a strong impression during the Big Indie Pitch competition at Apps World.
Solar Warfare
If you enjoy shoot-em-ups, you'll feel right at home with this 3D sci-fi shooter. The controls for your ship are fluid and easy to grasp. Tilt the device in any direction to aim, and then hold anywhere on the right side of the screen to fire rapid shots. A button at the bottom-right corner fires powerful homing missiles that must be purchased from the shop.
The ship automatically flies forward by default. You can also speed it up by holding the thruster button at the bottom-left corner of the screen, hopefully zooming past incoming fire, and even stop the ship's forward momentum by pressing and holding anywhere else on the left side of the screen. The ability to stop in place provides a greater degree of control than you'd usually get in games like this, and makes aiming easier too.
After scouring a planet's surface of enemies, players will complete a level and receive ratings for their performance. You can also visit the shop then and spend the currency collected during the level. The shop sells weapon and shield upgrades, plus missiles and extra lives that will make it easier to complete future missions.
My Fairy Pony
Here's a game targeted at girls (and those brony guys that everyone likes to tease). Players get to customize and interact with four cute ponies in a full 3D environment. Change the pony's color, shoes, add wings and a horn, or even a My Little Pony-like cutie mark on its side.
All four of the player's ponies roam around in a detailed wilderness environment. Besides watching and interacting with the ponies, players can search for chests scattered throughout the landscape. Open a chest and you'll either receive a new customization part or carrots to feed to the ponies.
My Fairy Pony is a fun, simple game that pony fans will love.
Dragon Maker
If ponies aren't your kid's thing, perhaps he or she will enjoy this dragon-themed game instead. It works exactly like My Fairy Pony, except with dragons instead of ponies. Players can change the colors of each part of the dragon, creating some bold and unique combinations. You can even change the color of the fire they breathe.
Like TegTap's pony game, kids will spend their time looking for chests when not interacting with their dragons. There are always three chests spread around the environment, with a new one appearing whenever another gets emptied. The chests in this game contain either dragon parts or marshmallows, a young dragon's favorite treat.
Dino Digger
For fans of the real-life reptiles on which dragons are based comes Dino Digger. Aspiring paleontologists can dig up dinosaur fossils by swiping back and forth across the dirt on their screens. After revealing all of a fossilized skeleton, you can then view the entire thing in 3D. Tap the skeleton or shake the device and the bones will react.
Dino Digger even lets players switch to an island environment and see how the uncovered dinosaurs looked when they were alive. With 12 prehistoric creatures to dig up and play with, Dino Digger provides a great way for young gamers to learn about dinosaurs.
Balloon Maker
This game is aimed at very young children who are just learning to use a touch screen. Tap anywhere on screen to create a balloon. The longer you touch the screen, the larger the balloon you'll create. Kids can create lots of balloons at once, which will then bounce away from each other realistically.
Tap a balloon to pop it. Flip the device around and the balloons will still float up, just as in real life. Shaking the device causes the background to switch from day to night. There are no wrong moves or menus to confuse your child in Balloon Maker – just lots of balloons to fill and pop.
Master your iPhone in minutes
iMore offers spot-on advice and guidance from our team of experts, with decades of Apple device experience to lean on. Learn more with iMore!
Paul started writing about games in 2003 with his first strategy guide (Bomberman Land 2) for GameFAQs. He continued writing guides while earning his B.A. in Literature. When Windows Phone launched in late 2010, the Xbox integration lead our hero to jump on board the platform. He joined Windows Phone Central as Games Editor at the beginning of 2011, going on to review over 125 mobile Xbox titles over the years. He now leads Windows Central's Xbox One coverage, personally specializing in developer interviews, indie games, controllers and accessories, and Twitch broadcasts. Paul loves games on all platforms; he goes where the games are. Although very busy with console coverage, he sometimes contributes gaming articles to iMore and Android Central.