Solve word puzzles with Decoder Ring Gold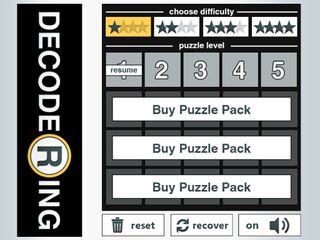 Touch screens are perfect for newspaper-style games like Sudoku and crosswords. Why not make a game that combines both of those games then? That's what Decoder Ring Gold from Chicago-based developer Babaroga sets out to do. Sequel to 2009's Decoder Ring, the Gold version is a fun little freemium app for iPhone and iPad that should especially appeal to word game fans.
Spot the letter
A Decoder Ring Gold puzzle consists of a large grid of squares. Normally, some grids have letters in them while others have symbols. The object is to replace the symbols with the correct letters in order to spell words. Both horizontally and vertically, every line of letters should spell a word. It's the same rules as crosswords, but without the clues.
To solve the puzzle, you'll scan around and search for a word that is only missing a letter or two. Then place a letter in the empty spot to create a word. Remember, the empty spots all have a symbol in them. You can search for other instances of that symbol in order to make sure the letter really belongs in that space. If the letter wouldn't fit in another place with the same symbol, it's clearly not the right letter. That's the Sudoku influence.
Decoder Ring Gold puzzles can be as easy or difficult as you want them. Turn on the Check function and an incorrectly placed letter will show up red. With Check turned off, the game won't point out errors. I recommend playing that way, otherwise it gets too easy.
Additionally, each puzzle can be played on four different difficulties. The higher the difficulty, the less letters will be filled in when the puzzle starts. Crank the difficulty to max and you won't start with any letters at all, which would make the puzzle super tough to complete.
Presentation
Decoder Ring Gold has a sleek black and white design (with a splash of Babaroga red) that meshes well with its crossword puzzle inspirations. The sounds and visuals for placing letters and completing puzzles provide just the right amount of intensity to the otherwise low-key presentation.
Speaking of presentation, the game doesn't actually start out with a tutorial. The absence of one could prove confusing since this is an original puzzle game, not an established one. Thankfully the Help button brings up a screen that explains how to play the game.
Pricey puzzles
Decoder Ring Gold comes with five puzzles by default, all of which can be played on multiple difficulties. If you want to play more, you'll need to purchase additional puzzle packs for $1.99 each. All four packs will run you $7.96. I'm a fan of Babaroga's games and I understand they need to make money, but a player will run through a level pack fairly quickly. 99 cents per pack would be much more appropriate for the amount of content they bring.
Still, word puzzle fans will have a lot of fun with this game. If you enjoy the genre, it's definitely worth trying the free puzzles. Should you get the itch and want more puzzles, they're only an In-App Purchase away.
Master your iPhone in minutes
iMore offers spot-on advice and guidance from our team of experts, with decades of Apple device experience to lean on. Learn more with iMore!
Paul started writing about games in 2003 with his first strategy guide (Bomberman Land 2) for GameFAQs. He continued writing guides while earning his B.A. in Literature. When Windows Phone launched in late 2010, the Xbox integration lead our hero to jump on board the platform. He joined Windows Phone Central as Games Editor at the beginning of 2011, going on to review over 125 mobile Xbox titles over the years. He now leads Windows Central's Xbox One coverage, personally specializing in developer interviews, indie games, controllers and accessories, and Twitch broadcasts. Paul loves games on all platforms; he goes where the games are. Although very busy with console coverage, he sometimes contributes gaming articles to iMore and Android Central.