Some watchOS 4 features missing from Series 0 Apple Watch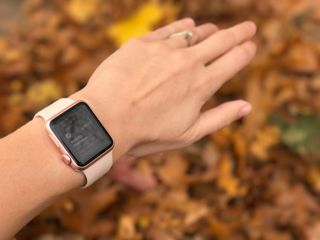 With watchOS 4, there are dozens of new features and design tweaks that improve the Apple Watch's usability. Unfortunately for early adopters, some of those features have been excluded in the first-generation Apple Watch.
To be clear, the first-generation Apple Watch is not Apple Watch Series 1. It's the first Apple Watch that Apple sold in April of 2015. Around here, we call it Series 0. If you purchased your Apple Watch new on or around September 2016, you probably don't have a Series 0 Apple Watch.
The excluded features, as first noticed by J Travers and confirmed by an Apple Support document (opens in new tab) about watchOS 4, include the ability to automatically start a synced music playlist when starting a workout and the resting heart rate feature Apple demoed on stage a the fall Apple Event.
There is no information at this time whether those missing features will later be added to Apple Watch Series 0, or why it was left out of the watchOS 4 launch for the first-generation model.
Though it's only two features, it's unfortunate that early adopters don't get the full treatment. Maybe it's time for that LTE upgrade after all.
What do you think?
How do you feel about the features left out of the first-generation Apple Watch? Is it small potatoes compared to the dozens of features that are included?
Lory is a renaissance woman, writing news, reviews, and how-to guides for iMore. She also fancies herself a bit of a rock star in her town and spends too much time reading comic books. If she's not typing away at her keyboard, you can probably find her at Disneyland or watching Star Wars (or both).
Ok so I wasn't crazy, I noticed the resting heart rate feature not working but didn't know about the music one. Bummer, but everything else works so I'm good.

I couldn't care less. It would only drain my battery that much faster. The battery on mine is shot, I can't even get through half the day with it. Can't wait for my Series 3 to arrive.

I didn't get the new watch face either, and I've had the beta since it was released at WWDC. Not a big loss though.

My battery doesn't last the whole day now on watch os 4. I'm not doing anything unusual. The now playing screen and the weather updating I think is the culprit. Hopefully Apple gets a fix out soon...

Thanks for sharing, I ain't going to upgrade my 1st generation watch, probably will keep the old version forever...so what is the point having apple then if a new os release messes up with the battery and pushes ppl to buy new hardware ? If it is the only scheme that apple have to boost their sales, then I am really thinking to have android. It is cheaper and apparently more reliable ! Apple is no longer a symbol of innovation but a symbol of waiting money, a symbol of showing of ! I don't know where this company will be in a couple of years, probably in a big distress as it is going to lose a lot of clients ! Tim Cook seems not to care, as he is not the majority shareholder...

No biggie here. When my Watch 3 arrives today, my Watch 0 will be used only when my Watch 3 is charging—probably only when I'm in bed. I'm also noting reduced battery life on Watch 0 with Watch OS 4 and on my iPhone with iOS, the latter being a far bigger concern, since I still seem to end the day with 35-40% charge on my Watch (compared to 50-55% before Watch OS 4). 25-30% at the end of the day on my iPhone doesn't leave much margin for error.

I don't mind the missing features on my Series 0, but the battery does run low quicker on both my watch and my iPhone 6s Plus. I hope this gets sorted out soon even though I'll be moving to iPhone 8 as soon as it arrives in South Africa, my 6s Plus is needed by my daughter.

I'm sticking with my original Apple Watch. It still works just as good as any of the current ones, including the Series 3. The only thing I need it for anyway is time, city navigation when traveling, SMS/iMessage, reminders, alarm, and occasionally music control. I don't use it for anything else.
Thank you for signing up to iMore. You will receive a verification email shortly.
There was a problem. Please refresh the page and try again.