Sonos Play:1 vs. Bose SoundTouch 10: Which should you get?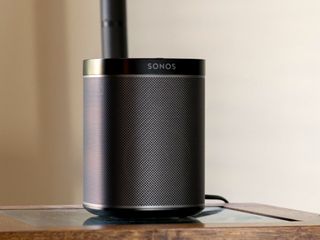 If you're shopping for a whole-home audio system this season and you're trying to decide between Sonos and Bose this means two things: You really care about premium audio quality and you're ready to spend some money to get it.
Both systems connect beautifully for multi-room audio and support major audio streaming services. They're both easy to expand by adding additional speakers as you grow your system. And both have excellent app integration to control your listening experience from your device or computer.
The Sonos family of speakers compare closely with the Bose Soundtouch lineup. Which is best for your home
If you're building your first whole-home music system, you'll likely want to start with a few standalone speakers and build up from there. Eventually you may want to integrate a Bose or Sonos (opens in new tab) home theatre setup to your audio system, but you can get started by connecting individual speakers in different rooms of your house.
Both Sonos and Bose have great products to customize and build your whole-home audio system, and the Sonos Play:1 and the Bose SoundTouch 10 are great places to start!
Sonos Play:1 vs Bose SoundTouch 10
The Sonos Play:1 and the Bose SoundTouch 10 are perfect entry points to begin building a system to pipe music through every room in your home.
The Sonos Play:1 (opens in new tab) is powered by two Class-D digital amplifiers which run more efficiently and with less heat than traditional amps, allowing an extraordinary amount of audio power to be generated in a small speaker case. These amps are tuned to match the Play:1's speaker drivers and shape, producing crisp high-frequency response through one tweeter and full mid-range frequencies and base through the mid-woofer.
The Play:1 punches above its weight considering its small form (a 4.5 inch square base about 6 inches tall) and weighs only 4 pounds. This compact size makes it convenient to move the speaker from room to room (until you've finished setting up your whole-home audio system). With buttons on the top of the unit, you can control playback and volume right from the speaker, which is a handy feature if your streaming device is in another room. The Play:1 also features an ethernet port so you can hard-wire the speaker into your home router if it's set up in a section of the house with weak Wi-Fi or if you want to connect an Apple Airport Express to AirPlay audio to the speaker (Sonos does not support AirPlay otherwise).
The Bose SoundTouch 10 (opens in new tab) pushes massive sound through its primary 55mm full-range driver. There is a 3.5 mm input on the back to plug in an additional audio device, which is helpful if you want to connect a non-Bluetooth audio player, and is a feature not available in the Play:1. There is a USB port on the back of the speaker; however it is for setup and servicing functions, not playback from USB connections.
The SoundTouch 10 is a little larger than its comparable Sonos offering (the base is about 3.5 inches by 5.5 inches, and the speaker is 8 inches tall) but weighs less than three pounds, making it convenient to move between rooms if you desire. The speaker has six preset buttons on top which are programmable to different audio sources and streaming services through the SoundTouch app. Once you have configured the presets, you can stream internet radio stations, without using the app or an external device. Volume and playback buttons on the speaker allow you to control functions even if the streaming device is not nearby, and the SoundTouch 10 comes with a remote control with a 20 foot range.
Connectivity
Both the Sonos and Bose SoundTouch speakers allow you to send music wirelessly, though they work a little differently.
When you set up your first Sonos speaker, it will use your home's Wi-Fi to create its own, dedicated wireless network called SonosNet. This wireless system exists outside of your home's Wi-Fi and is the primary method your Sonos system will use to communicate with other speakers in the system and to stream music. SonosNet will reduce congestion on your home Wi-Fi, and will allow you to easily add additional speakers, making it simple to expand your home audio system.
The Bose SoundTouch system allows you to connect to other speakers and devices through Wi-Fi or Bluetooth. Primarily your speaker system will communicate with additional speakers and share music through Wi-Fi; however, it's nice to have the Bluetooth option if you want to stream something from your phone (like Youtube) and have it come through your Bose system. Previous generations in the SoundTouch lineup supported AirPlay; however speakers in the third generation and on no longer support this feature. This means you can't stream music directly from your iOS device, you'll have to go through the SoundTouch app.
App Experience
The Sonos Controller App and the Bose SoundTouch app have very similar features.
Both let you program and control speakers throughout your home to play music. You can choose to have the same music on multiple speakers, or different music on individual speakers.
With the Bose SoundTouch speakers, you have to use the app if you want to program internet radio stations to the preset buttons on the top of the speaker. When Bose first introduced their SoundTouch lineup, they had to be initially set up by plugging the speakers into a computer, configuring them, and then placing them in your home. Now set up can be completely done through the app.
The Sonos App will allow you to set up and manage new speakers as you expand your system. If you are using an iOS device, you can use Sonos Trueplay (which is built in to the iOS app) and it will use your device's microphone to calibrate your speakers for optimum performance in whatever room you set up your Sonos. Keep in mind, though, Trueplay is only available on iPhone and iPad.
With the exception of Trueplay, the Sonos and Bose app experience are pretty similar. One important difference between the apps is the integrated services each system supports.
Supported Services
This is where you'll find a major difference between Sonos and Bose.
Sonos supports significantly more streaming services than the Bose SoundTouch (opens in new tab) lineup of speakers. Both systems will play existing music on your computer or device one way or another, but the integrated experience between the Sonos Controller and supported music streaming services like Apple music is very slick.
It's important to know the free versions of services (like spotify, Google Play Music, etc.) will not work with the apps on either systems, so if you're planning on getting the best experience from your streaming services, you should be prepared to upgrade to the premium versions. A workaround for the Bose system is to stream via Bluetooth from the streaming app of your choice; however, this means you won't be logged in through the speaker's controller app, so you may only be able to stream on one speaker at a time.
If you're planning on managing your streaming music through paid services like Apple Music and Spotify, then the Sonos family of speakers offer the best support.
See Bose SoundTouch 10 at Amazon (opens in new tab)
Which is right for you?
Both Sonos and Bose make superior audio products. The wireless speakers in the Sonos family and the Bose SoundTouch lineup will give you great performance and will be easy to build a whole-home audio system from.
Our very own Rene Ritchie crowned the Sonos the best wireless speaker system and had this to say about the Play: 1:
A big difference comes in the app experience, and specifically, the way the apps integrate paid music streaming services. Sonos has a much larger offering of supported platforms to stream music through their app. Bose only has a handful currently, however, you can access internet radio stations right from the speaker after you've configured the speaker's preset buttons, which could be appealing to some users.
Sonos has an advantage through their supported streaming systems. In the key areas of audio quality, expansion capability, and ease of setup, both are on par. Even when you look at the prices, similar models between the two brands are priced almost identical.
See Sonos Play:1 at Amazon (opens in new tab)
Get the best of iMore in in your inbox, every day!
"Siri, write a really funny bio for me to use for Mobile Nations" "Okay, Drew, here's your really funny bio: How-to writer, fiddle player, retro gamer."
"When you set up your first Sonos speaker, it will use your home's Wi-Fi to create its own, dedicated wireless network called SonosNet. This wireless system exists outside of your home's Wi-Fi" Not quite - Sonos only uses SonosNet if at least one of the speakers (or the optional Boost device) is connect to your router via a cable. If there's no hard connection with any of your Sonos devices to your router, then your WiFi network is used instead. More info here: https://sonos.custhelp.com/app/answers/detail/a_id/3046/kw/what20s...

That has not been true for about 2 years now, you can connect directly to wifi now and you do not need anything connected to your router.

You've misread my comment - please read again. I've acknowledged that you do not need to connect anything to your router: "If there's no hard connection with any of your Sonos devices to your router, then your WiFi network is used instead." The article incorrectly states that the Sonos system creates its own dedicated network - SonosNet - when connected to your WiFi network. This is not the case. A dedicated SonosNet network is *only* created when one of the devices is hardwired to the router. You can find out more about this on the Sonos web page I linked to.

Sonos all the way. I held off for years due to the cost of entry but now that I've picked up a single speaker over time I have built up quite the collection. Highly recommended.

Yeah, definitely Sonos here.

Could you please explain how to use an Ethernet cable from an Apple Airport Express to Airplay to a Sonos Play 1 speaker as you mention in your article? I can't get it to work. Am I missing something? It would be great to be able to do that!
Thank you for signing up to iMore. You will receive a verification email shortly.
There was a problem. Please refresh the page and try again.