On Sous Vide, Your iPhone, and Cooking Food to Perfection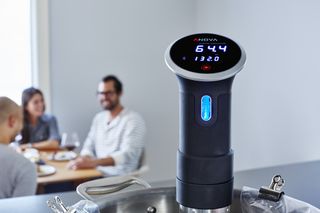 Sous vide, which literally translates to "under vacuum," is a cooking method whereby food is sealed in a plastic pouch or bag and slow-cooked using a temperature-controlled water bath. Many of the most common methods for cooking food — in a pan on the stove, in the oven, on the grill, in the microwave, etc. — are imprecise and often result in a lot of moisture loss (especially in meats). There's nothing worse than an overcooked steak or dried out fried potatoes (especially together!); the vacuum-based sous vide cooking method keeps your steak's juices in place and prevents your potatoes from drying out.
The method's seemingly magical (and damned delicious) output has made sous vide popular outside of five-star restaurants; and as the method's popularity continues to grow, so too does the market of sous vide products — and yes, that includes "smart" products.
Anova Sous Vide Precision Cooker
The Anova Sous Vide Precision Cooker is just one example of the growing "smart" sous vide market.
This Wi-Fi- and Bluetooth-connected precision cooker clips to the side of your water bath container and maintains a precise temperature for whatever you happen to be cooking up. You can, for example, grab some pork chops, season them accordingly, seal them in a sous vide bag, and drop them into your Anova-heated water bath. You'll walk away with a perfectly cooked, deliciously juicy couple of pork chops that might just have you throwing away your grill (and stove, and microwave, and … well, you get the idea).
If you're thinking about getting into sous vide the Anova Sous Vide Precision Cooker is a great choice. Its Wi-Fi capabilities mean you can control the temperature of your water bath remotely — even while you're away from home. It's also worth pointing out this is a popular precision cooker; the Anova maintains a 4.5 star rating on Amazon with nearly 2,000 customer reviews.
It's also the top pick for the best sous vide gear at The Sweethome. From their review:
That last bit — the adjustability across container size — is important. Sometimes you're going to be sous vide'ing a big ol' steak and sometimes you're going to be sous vide'ing a tiny little cake.
Joule: Sous Vide by ChefSteps
We'd be remiss if we didn't give Joule by ChefSteps some serious props. The Joule is a svelte but powerful precision cooker with a nifty trick: Its magnetic base gives you the ability to cook in shallower, stainless steel pots; you don't need deep sous vide containers because you don't have to worry about fastening a clip (though you can if you want).
ChefSteps says the Joule is both the smallest sous vide tool on the market and contains the most powerful heater. That means your water bath gets hotter quicker, so you'll be able to get your recipe rolling in less time.
There are two more reasons Joule is serious competition for the Anova: Its app and its connectivity. The app is filled to the brim with videos and detailed photography and walks you through the process of cooking your food — it'll even show you photos of how done your food will look based on the temperature you choose for the water bath. When your food's finished, you'll get a push notification letting you know.
The Joule features both Bluetooth and Wi-Fi connectivity, so that push notification can hit you even if you're away from home. And — get this — you can control Joule with Amazon Alexa! Check out the following video to see what's possible:
Mellow
If the Anova or Joule still seem like too much work (or aren't quite compatible with your busy schedule), the Mellow might be the sous vide tool for you. This thing comes pretty doggone close to being an in-home personal chef.
So get this: Not only does the Mellow cook your food with the coveted sous vide method, it can actually keep your ingredients refrigerated until it's time to cook! For example, you could head to the kitchen before bed and use the device's iOS app to let Mellow know you want a couple of poached eggs at 8 a.m. Once your eggs are in their pouch and hanging out in Mellow's water bath, the device will keep them cold until the precise time necessary to have 'em cooked up for your 8 a.m. breakfast. That, folks, is the future. That, folks, is really friggin' awesome!
The company says you don't have to use a full-on vacuum sealed bag to use Mellow — it'll cook food in any food-safe bag. It also includes a built-in scale for weighing out your food and can cook up to six portions at a time.
If Mellow seems like the right sous vide tool for you, you can pre-order the appliance on the company's website. Mellow is expected to ship in early 2017 (which is quickly coming to an end). It's also worth noting the company missed its original ship date in 2015. If you go with Mellow, it may be better to wait until the appliance comes out of pre-order stage and starts shipping.
Bags and pans and torches, oh my! 🔥
One final note: Cooking food — especially meat — with hot water might make for a superior taste, but that doesn't mean it'll have a superior look. Without the intense heat of traditional cooking methods, your meat isn't going to get a crispy coating around the outside. Sous vide recipes recommend searing the meat in a pan or using a culinary torch to crisp up your protein.
As for bags, sous vide chefs and hobbyists can't seem to agree — some think vacuum sealing is the only way to sous vide properly while others say you can get a better outcome using ziplock bags. I recommend you give both a try and decide which works better for you. It's worth noting the vacuum sealing method requires buying a vacuum sealer; the ziplock method begins and ends at a box of ziplock bags.
Do you sous vide?
Do you have a sous vide setup at home? Thinking about getting one? Did this article make you as hungry as it did me? I wanna hear all the details! Gimme a shout in the comments below or over on Twitter!
Master your iPhone in minutes
iMore offers spot-on advice and guidance from our team of experts, with decades of Apple device experience to lean on. Learn more with iMore!
Mikah Sargent is Senior Editor at Mobile Nations. When he's not bothering his chihuahuas, Mikah spends entirely too much time and money on HomeKit products. You can follow him on Twitter at @mikahsargent if you're so inclined.