Space Black Apple Watch (steel) in pictures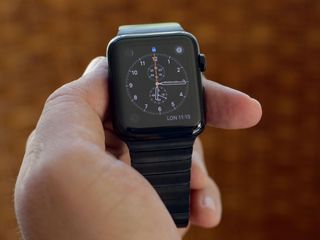 Technically Space Black is a diamond-like coating (DLC) on the stainless steel of the Apple Watch, but those are just words and they don't really do justice to how this model turned out. It's darker than it was back in September when Apple showed it off for the first time, and the new tone really does seem like something made of shadow and light. It took a while to ship — even the very first orders didn't arrive for several weeks. But holding it now, I can't help but think it was worth it.
Image 1 of 5
Here's what the Space Black casing looks like with the Space Black Link Bracelet, the black Leather Loop, and the white and black Sports Bands.
Image 1 of 6