Snapchat Spectacles: Everything you need to know!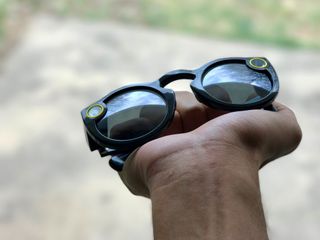 It used to be if you wanted to order a pair of Snapchat Spectacles, you'd have to either visit the Spectacles store in New York City or wait for a robot vending machine (yes) to visit your area. Now you can order them online!
May 17, 2018 - Sick of circles? Snapchat tests different-shapes export frames
Snapchat Specs have changed a lot of things when it comes to sharing content on social media, but one thing that's kind of annoying about the videos you get is the circular format.
Now Snapchat has announced that the platform is experimenting with differently shaped frames for export: specifically circular ones with a white boarder, circular ones with a black boarder, and 16:9 rectangular horizontal video.
July 18, 2017 - You can now order Spectacles on Amazon!
If you've been itching to get your hands on a pair of Snapchat Spectacles, you may finally have your chance!
Snap Inc. (the company that owns Snapchat) is now selling Spectacles on Amazon in black, coral, and teal! You can snag a pair of Spectacles for $129.99 in any of the three colors. If you want them soon, you'll need to move quickly! Amazon's still quoting two-day delivery times for Prime members but those dates could start to slip as people hear the news.
See at Amazon (opens in new tab)
So, what exactly are Snapchat Spectacles?
The new Snap Spectacles are essentially sunglasses with a built-in camera that records your life in 10-second snippets, so you can produce some hand-free Snapchat action.
How do they work?
Specs make memories, from your perspective.
Press the button to make a 10-second Snap.
Lights show friends you're snapping.
Wirelessly add your Snaps to Memories on Snapchat.
Specs charge in their case.
Where can I pick them up?
Believe it or not, you can only pick up the spectacles from Snapchat's Minion-esque machine. The only Spectacles vending machine available right now is in Venice Beach, CA, but you can keep up to date on where other boxes will show up with this handy map.
You can also purchase them from the Spectacles website and now on Amazon (opens in new tab)!
How much do they cost?
Around $130!
So? What do you think?
Will you be rushing out to grab a pair of Snapchat Spectacles? Or do you think they're a waste of moolah? Let us know in the comments below!
○ Download Snapchat (opens in new tab)
○ How to use Snapchat for iPhone
○ How to delete your Snapchat account
○ Snapchat help
○ Shapchat news

Get the best of iMore in in your inbox, every day!
Cella writes for iMore on social and photography. She's a true crime enthusiast, bestselling horror author, lipstick collector, buzzkill, and Sicilian. Follow her on Twitter and Instagram: @hellorousseau
As if Snapchat wasn't stupid enough, now we are going to have dopey millennials walking around making dumb videos of their entire day.

http://i3.kym-cdn.com/photos/images/newsfeed/000/731/143/3e3.jpg

I actually think this is interesting from a historical perspective: capturing snippets of a person's life. To bad it only ties to the app. Not interested in that.

You can export the video and save it / post it elsewhere.

What's the over/under for the first Snapchat Spectacles privacy lawsuit? I can tell you that I wouldn't be too happy about some Snapchatting twit recording me without permission.

People record and take photos of people everyday without permission. Imagine how many photos there are out there with you in the background? What about Dashcams? People walking by will get captured in that too, and people in the backs of cars. It may be unfortunate for you, but you have to accept reality in that we're entering a future where more and more people are recording things each day, and you'll be in some of those.
Thank you for signing up to iMore. You will receive a verification email shortly.
There was a problem. Please refresh the page and try again.