Star Wars: Card Trader gets huge update with artwork from The Force Awakens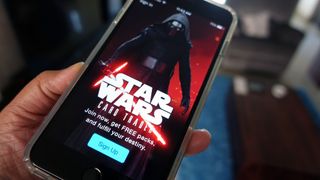 Star Wars: Card Trader lets you buy, sell and trade virtual trading cards based on the sci-fi movie franchise. The app is picking up an update that coincides with the launch of The Force Awakens, featuring a slew of content in the form of art and story cards that are based on scenes and characters from the movie.
Here's what's on offer with the latest update:
Concept Art Cards – Early concept artwork created by official Lucasfilm artists:

Fans get an exclusive, inside look into the creation of the film with early drafts and designs of characters and scenes before they were even physically created in the development process
15 digital trading cards will be available on Friday (12/18) at 12:01 a.m. EST.
Two award cards in Smuggler's Den – Smuggler's Den is a feature inside the app where fans can trade in several cards for one extremely rare card. Upon collecting all 15 Concept Art cards within 24 hours, they will get an ultra-rare card from the Smuggler's Den in exchange for their 15 cards. If they can do it by Sunday (within 48 hours), they will receive a different rare card in exchange for their 15 cards.

Story Cards – Hand-painted cards of awe-inspiring frames of scenes in Act 1 of Star Wars: The Force Awakens:

First card available on Friday (12/18), with a consistent release of the series of over 30 cards
Each card will be released in the order of the story itself allowing the player to re-live the story of Force Awakens with real painted versions of scenes

Armory Cards – Cards, 100% exclusive Topps designs, highlighting the massively iconic weapons in Star Wars: The Force Awakens:

The weapons in Star Wars are as vital to a character as their actions, outfits and quotes
This is the first armory series since Elegant Weapons, which was famous among the community for being one of the rarest and most sought after cards the app has ever seen
First card available on Friday (12/18), with a consistent release of over 10 cards in the series

Game Assets – Spotlight the new key artwork and icon featuring Force Awakens characters and artwork
Star Wars: Card Trader has in-app purchases for buying additional cards.
Get the best of iMore in in your inbox, every day!
The clumsiest man in tech.
Star Card Trader is A Scam
This message is to warn potential first time app users, so all you Star Wars geeks mind your own business. This app is a scam on every level. The stated odds on pack pulls are BS. I opened 75 straight packs minutes after a new set was available and I did not get one insert and only got 8 red variants, which means they are basically useless. That's like 375,000 credits. It looks like Topps rigs their pulls so you'll buy packs. And if you think you can trade to get what you want, you can forget it. People want outrageous deals for their inserts. A lot of traders are rude and insulting and will give you a 1 star rating if they don't get exactly what they want even if you're making a fair offer. They don't know about real world trading and just hoard white cards hoping smuggler's den (Topps) will throw them some table scraps. But the worst part of all is Topps Senate. They act like a bunch of freaking Tyrants. If they think you're trades are uneven, they will suspend your account, they say you can appeal, but they rarely reverse suspensions. You can't call them on the phone and there are long waits for email replies. The cards you buy are not yours. If you get locked out, you can't sell or trade them, but in their kindness lol, they will let you look at them. They will also let you keep buying cards and packs on their app even after you are permanently suspended. If you get suspended, they do not notify you. You only find out when you try to trade. So if you buy cards within that time, you just lost them, no trading or selling them, a total scam. If you get caught buying or selling cards on eBay, you're done. No second chance. So how stupid is an app where you buy cards that you don't even own. All you can do is look at them. Look, just go to eBay find a high quality JPEG and save them to you tablet or phone, you'll save yourself a lot money and aggravation from this pathetic app.
Thank you for signing up to iMore. You will receive a verification email shortly.
There was a problem. Please refresh the page and try again.