Stargaze like an expert with the Hiuni smart telescope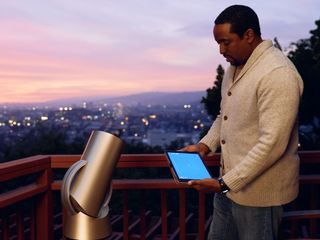 Let's face it — not everyone has a cool astronomer friend that can come over for some hang time when you decide it'd be fun to whip out the old analog telescope. And while it's likely you know a few things yourself if you own a telescope in the first place, you may still be missing out on some stellar viewing opportunities. Enter Hiuni: a connected telescope that aims to make amateur stargazing easier and more intuitive than ever.
The idea for Hiuni was born when CEO Jack Chen, a dad unsatisfied with the natural science and education tools provided to his children by their school, and Andrew Wong, a fellow father and sky-admirer, decided they wanted to create a telescope that would offer impressive functionality while being near-effortless to use by everyone, regardless of their age or level of experience. Hiuni's name, after all, is a portmanteau of "hi" and "universe," illustrating the their dedication to making interacting with the celestial accessible to more than just seasoned professionals and die-hard hobbyists. After forming a team to help them achieve this goal, they all worked together to create multiple prototypes, improving upon each until they decided they were ready to share their project with the world via crowdfunding.
So what is Hiuni exactly?
Simply put, Hiuni is a Cassegrain-style computerized telescope with a companion app. It has no eyepiece — you view all the images through the tablet of your choice. It consists of multiple sensors, two mirrors, a corrector lens, and other optics technology, and includes detachable legs so you can set it up anywhere you like.
How does it work?
According to the Hiuni's Kickstarter page, here's how to use it right out of the box (and once you've downloaded the companion app):
Once turned on, Hiuni will self-calibrate.
Connect your iOS or Android tablet to Hiuni via the Hiuni app. (You can do this via a local Wi-Fi network or, if you're in the middle of nowhere to make sure you get a better view, Hiuni's own Wi-Fi signal.)
Choose an observable celestial object.
Hiuni will navigate to your selection on its own.
Basically, Hiuni uses its sensory array to figure out where it is. It will then use a platesolving algorithm to analyze the picture, detect star patterns, and match it with the sky database within the app. If you prefer a more freewheeling approach, you can also take control with the virtual joystick within the Hiuni app to position the telescope yourself, exploring as you please. Hiuni offers two live views of the sky above you as well, so you can choose how you experience the heavens:
Can the app do other things as well?
You bet. On top of allowing you to get a good glimpse at stars and other astronomical objects, Hiuni's educational app offers a ton of cool and helpful features that will allow you to make the most of your experience.
Good to See Guide: This is where you go within the app to find out what celestial objects are currently viewable in the night sky. It will also tell you what objects will become viewable over the course of the night and when.
Celestial Events Calendar: The Hiuni app will create a calendar of celestial events specific to your location so if something really incredible is happening you won't miss it. This includes eclipses, equinoxes, meteor showers, planetary meetings, and more. You can even choose to bookmark an event if you want so you'll get notifications when it approaches.
Augmented View: As you're exploring the night sky, you can choose to use Hiuni's augmented view to learn a little bit more about what you're currently seeing. The app will use its SkyMap database to overlay educational information over the live image of your chosen planet, star, or galaxy.
Educational content: The Hiuni app also uses "the interactive capabilities of tablets" to allow individuals to access multimedia educational content like videos and audio clips, viewing modes like Discovery and Guided Tours, and challenges that involve badges and mini games.
Shared viewing: If you're hosting a bit of a stargazing party and you want everyone to be able to see what you're seeing without crowding around the tablet, you can share Hiuni's view with other smart devices by allowing them to scan the QR code generated by the app.
Photo capture: See something you want to remember forever? You can also use the app to capture photos of anything you're observing at an image resolution of 1,280 x 1,024 pixels.
How do I get one?
Thankfully, Hiuni has already far surpassed their funding goal (and did so in under 24 hours, no less). If you support Hiuni on Kickstarter now, you can get your hands on one for $489, which is honestly pretty affordable for a good telescope — especially considering that when Hiuni is officially released, it will retail for $1,190. Each telescope comes with a charger, a protective carrying case, and access to the Hiuni app. Units are expected to ship sometime around June 2019.
Note: Backing crowdfunded projects involves a certain level of risk. Though this project is fully funded, there's still a chance it may never come to fruition.
Thoughts?
Is Hiuni something you think you'd utilize? Share with us in the comments!
Master your iPhone in minutes
iMore offers spot-on advice and guidance from our team of experts, with decades of Apple device experience to lean on. Learn more with iMore!
Tory Foulk is a writer at Mobile Nations. She lives at the intersection of technology and sorcery and enjoys radio, bees, and houses in small towns. When she isn't working on articles, you'll likely find her listening to her favorite podcasts in a carefully curated blanket nest. You can follow her on Twitter at @tsfoulk.