Steve Jobs given huge star studded tribute at the Webbys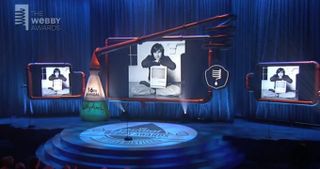 During the annual Webbys award show nearly a dozen high profile celebrities, politicians, and people of note gave a huge tribute to the late Apple co-founder, Steve Jobs. The tribute was shown on a huge video screen and simultaneously streamed over the web.
John Hodmgan and Justin Long introduced the segment, paying homage to their long-running series of Get a Mac ads, with Hodgman pretending he'd never heard of any other ads from Apple. They then introduced Richard Dreyfuss, who'd narrated the famous Think Different ad.
Dreyfuss preceded his tribute with the internet equivalent of a political statement, telling Mark Zukerberg and Eric Brin [sic] that if they want to take our privacy away, they should tell us all the private details of their private lives, and if they want to change the world, they should pay for it because it's "theft". He then told the audience he wasn't kidding. He returned to that theme later, casting Google and Facebook alongside politicians, car companies, home renovators, and other high tech companies as part of a world "drowing in fraud". He contrasted them with Steve Jobs, who Dreyfuss said "go it". In a world of senselessly, dishonesty, denial, and ignorance, where words are shared by the good and the bad, Dreyfuss said, the difference with Steve Jobs is that he meant it and did it. Again and again. He finished with the five words -- "exception that proves the rule".
Hodgman and Long returned to introduce the video tribute, which featured former U.S. President Bill Clinton, George Lucas, Vint Cerf, Arianna Huffington, Bono, Buzz Aldrin, Sarah Silverman, a group of school children, former U.S. Vice President and Apple board member Al Gore, Jimmy Fallon, Stephan Colbert, Jon Stewart, and U.S. President Barack Obama all expressing their thanks to Steve Jobs.
Jobs was thanked for a hand held internet, for saving lives with Product Red, for spreading American ingenuity world wide, and for exploring beyond our reach. Al Gore called Jobs "insanely great". Jimmy Fallon said Jobs "made turtle necks sexy again". Stephan Colbert said Jobs thanked Jobs for a "meticulous attention to detail". Barak Obama thanks Jobs for "thinking different", and said that when it came to Jobs only one word was needed -- "amazing".
The Webbys tribute to Steve Jobs is the latest of many that have already seen in the past. We have witnessed similar tributes given at the Grammy's in February and at the 84th Academy Awards ceremony. You can see the video below, unfortunately it is Flash only.
Source: CNET
Master your iPhone in minutes
iMore offers spot-on advice and guidance from our team of experts, with decades of Apple device experience to lean on. Learn more with iMore!
UK editor at iMore, mobile technology lover and air conditioning design engineer.