Steve Wozniak laments power of big tech, says Apple should split up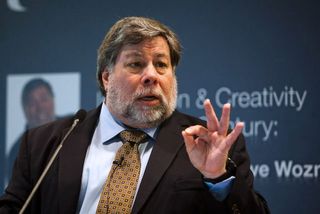 What you need to know
Steve Wozniak appeared on Bloomberg TV, where he talked about breaking up Apple.
Wozniak said he wishes Apple had independent divisions in "far away places."
He also said he's in favor of breaking up big tech because of how powerful they've become.
Apple co-founder Steve Wozniak recently appeared on Bloomberg TV, where he talked about a number of topics, including Trump's ongoing trade war with China, Apple's pivot to services, and the importance of privacy. Wozniak also shared his thoughts on big tech, and how he believes Apple should have split up a long time ago.
On big tech:
Wozniak went on to say he doesn't like seeing companies with a big presence in one market subsume another.
"I'm pretty much in favor of looking into splitting up companies," Wozniak said.
On Apple splitting up:
According to Wozniak, out of big tech, Apple is the best of the companies, because it cares about its customers. Wozniak noted that Apple focuses on making good products, not tracking its users to make a profit.
Ultimately, Wozniak said he's in favor of more competition, because it forces companies to improve their products, which is better for the consumer.
"Competition forces companies to make good products and be the best at it, and not just say, 'We've got you trapped,'" Wozniak said.
"I'm always for the consumer over the producer," Wozniak said.
He sounds like a Good Little Socialist. Being successful is not a crime. You don't just "break up" successful companies. That is an extremely stupid thing to do. There are a bewildering array of companies, products and services to choose from. I CHOSE Apple, after trying a few others. No one is "trapped". Talk about First World Problems: Trapped by your phone! There are people trapped in the desert with no water. Get over yourself Steve.

You sound like a Good Little Right-Wing Reactionary Hyper-Capitalist who hasn't a clue how to define Socialism.
Thank you for signing up to iMore. You will receive a verification email shortly.
There was a problem. Please refresh the page and try again.